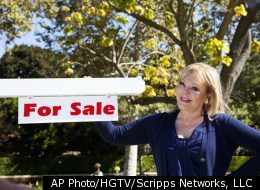 Welcome to the world of celebrity real estate, where unbelievable coastal and city views, waterfalls, and biometric-secured wine cellars seem to come de rigueur, and the homes are so big that sometimes only aerial photographs can do them justice.
But alas! This year -- more than any other -- proved that celebs, just like us, are subject to the highs and lows of the housing market. In 2011, stars listed and sold at a loss, consolidated and downsized, unloaded homes post-split, and even quit the city to settle in the 'burbs.
Who were the biggest names making the biggest moves in the Los Angeles real estate scene this year? Here's our year-in-review of celebrity homes.
Celeb Real Estate of the year
Only an aerial shot of this massive compound could do justice to the 57,000-square-foot mansion that once belonged to the late-Aaron Spelling and his wife, Candy. "The Manor" has been on the market since 2009, when Candy listed it at $150 million. It languished there until June of this year, when 22-year-old Petra Ecclestone (heiress to the Formula One fortune) paid $85 million in cold hard cash for it. Since then, Candy has temporarily relocated to a 6,000-square-foot unit along the Wilshire corridor while she waits for her new Century City penthouse unit to be constructed. Can you imagine the job of downsizing here? Actually, you don't need to imagine anything because HGTV did a show on Candy and her moving stress. "It wasn't just 56,500 square feet, I had 17,000 square feet of attic and I had to do it in 30 days," she told The Huffington Post. "I had to put all the emotions aside and [say], let's organize this and get this done. It was time." Check out photos of Candy Spelling's former mansion.

Ellen Degeneres dropped a huge mega-million-dollar property on the market this year, and picked up a (relatively) modest Malibu home. But more on that later. Her Beverly Hills estate, listed in June at an estimated $49 million, has 15,000 square feet of living space: 9,000 square feet in the main house and the rest split up across two adjacent guest homes. The compound is actually an amalgam of three different properties that Ellen began acquiring in 2007. In total, there are nine bedrooms, and the expansive grounds feature several gardens and koi ponds, a pool and state-of-the-art security. In 2008, Ellen and her then-girlfriend, Portia DeRossi, put up some white tents and boxed pink roses in the backyard and tied the knot. Check out photos of Ellen Degeneres' Beverly Hills Estate.

"Ohana," Jennifer Aniston's Beverly Hills estate, is likely the highest priced celebrity sale of the year (apologies to Candy Spelling, but the jury is still out on whether you count as a celeb). Aniston bought the 10,000-square-foot home in 2006 for $13.6 million and poured millions more into renovations that include a biometric security system and a "two-in-one kitchen" that hides a professional catering kitchen behind the main one, according to Forbes. And much to the surprise of real estate watchers, "Ohana" was quickly snapped up in mere months for an estimated $37-$38 million, enviably close to her astronomical asking price and raising the bar of hope for all other wanna-be home sellers in Beverly Hills. The actress made a few other bold real estate moves this year, too. She purchased two apartments in New York for a total of $7.7 million (to combine them into one unit) and started leasing a two-bedroom love nest with boyfriend Justin Theroux in the Hollywood Hills in August. And in November, she reportedly plopped down another $9 million for a Gramercy Park condo, one with room for a baby nursery. Hmmmm..... Check out photos of Jennifer Aniston's "Ohana."

Mark Wahlberg listed his Beverly Hills home in September, and it's stuffed to the brim with fun, sporty features that just scream Marky Mark: a 2,500-square-foot detached gym, a full-sized boxing ring and a full-sized Boston Celtics-themed basketball court. Then there are just those features that scream Beverly Hills: putting green, waterfall and grotto. All this for the low, low price of $13.9 million! AOL Real Estate notes that the home was on the market in 2008 for $15.9 million, which means that the down economy has tempered his expectations a bit. He paid $4.95 million for it in 2001. Check out some pictures of Mark Wahlberg's home on Realtor.com.

This mid-century Malibu modern went straight from one mega-celeb to another. Brad Pitt's bachelor pad (he bought it post-Jennifer but pre-Angelina) came on the market in August for $13.75 million. Flanked by both Point Mugu State Park and the Pacific Ocean, the home has to-die-for vistas and, more practically, has Coastal Commission approval for someone to add a second story. Expect that someone to be talk show host and comedienne Ellen DeGeneres, who bought it for $12 million. While the sale price was lower than what he asked, Pitt did pretty well for himself on this one, considering he bought it in 2005 for $8.4 million. See photos of Brad Pitt's former Malibu home.

Fashion designer Vera Wang gave her nod of approval to the Trousdale Estate rebuild, designed by developer for the stars Steve Hermann. For $10 million, Wang is now the proud owner of an almost entirely glass home, complete with a 30-seat home theater, sunken living room and swimming pool. The home is spare, sleek and earth-toned, just like Wang's fall 2012 bridal collection. See photos of Vera Wang's new home.

Count Matthew Perry as another fan of Steve Hermann's uber-modern contemporary designs. The actor plunked down $8.65 million in August for a Hollywood Hills stunner with a "wet edge" pool (complete with an underwater pool window), custom theater with velvet seating, and views for miles. Meanwhile, the actor put his West Hollywood condo on the market for $2.995 million. AOL Real Estate notes that Perry bought the unit from Sir Elton John in 2005 for $3.2 million. Perry, a Realtor's dream client, also listed a Hollywood Hills midcentury modern at $5.695 million, and two weeks earlier put his 3,677-square-foot ocean-view Malibu home on the market at $13.5 million. What's up with all that anyway? See photos of Matthew Perry's new home.

It's been a messy year for Ryan Phillippe, to say the least. In July, he found himself in the delivery room awaiting a child he wasn't sure was his. On the real estate side, he listed his Hollywood Hills pad for the exact same price he tried -- and failed -- to sell it for a year ago. We can only assume that Phillippe thinks his five-bedroom, 7,600-square-foot home is well worth the $7.45 million he keeps insisting on for the asking price. The Asian-inspired home features a wall of flowing water, a pool, fire pit and a custom home theater with an electric projector screen. Check out photos of Ryan Phillippe's home.

Tiger-blooded Charlie Sheen pulled off a real estate miracle this year, selling a house for $2.9 million that he bought in 2007 for $2.575 million. The buyer was actor Simon Helberg, star of "The Big Bang Theory," who clearly must have money to burn. Sheen and then-wife Brooke Mueller had the 4,200-square-foot house on the market since at least the middle of 2009. Built in 1927, the restored interior features Bouquet Canyon stone flooring, trestle-style vaulted ceilings and a formal dining room. There's also a great tiled courtyard and a pool. But that wasn't the only thing -- real estate-wise -- that Mr. Tigerblood did. In the spring, he bought producer Mike Medavoy's Beverly Hills house for $7 million, thinking he might want some of his ex-wives or baby mamas to live closer (the home was a block away from his residence). Perhaps because no one seemed to take him up on it, he put his own home on the market just a few months later for $7.2 million. Good thinking, Charlie. Check out more pictures of Charlie Sheen's homes here and here.

Unlike Ryan Phillippe, Ashlee Simpson knows that if no fish are biting, something needs to change. The home she shared with then-husband Pete Wentz and their son Bronx was listed in 2010 for $4 million. When that didn't happen, she re-listed in April of this year for $3.69 million. But that wasn't the only change Simpson made to her home life this year. In February, she filed for divorce from Pete. The family's five-bedroom home has an art studio, dance room, media room, service entrance, meditation garden, fire pit, pool with spa, and cathedral-beamed ceilings in the living room. Check out more photos of Ashlee Simpson's home.

Former 98 Degrees singer Nick Lachey did what a lot of Angelenos do after they settle down: leave the city and move to the Valley. In June, Nick listed his Bel Air bachelor pad for $5.9 million, just weeks before his wedding to actress Vanessa Minnillo. He had bought the home from Heidi Klum and Seal back in 2006 for $5 million and remodeled it, replacing the floors, kitchen and bathrooms. Looks like it was all in preparation to move to the 'burbs. A month after he and Vanessa got married, the couple bought a home in Encino for $2.85 million. With two more bedrooms and almost twice the square footage of his Bel Air place, it's no wonder the couple went Valley on us. See photos of Nick Lachey's new home.