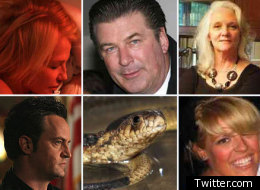 Oh, Twitter. You just never stop giving, do you?
While 2011 may have belonged to the likes of old vets like @robdelaney and @meganamram, it also saw a host of new users who delighted us to pieces.
Below is a roundup of our 11 favorite new Twitter users. Check out our picks and let us know your favorites in the comments, or by tweeting us at @HuffPostComedy!
The Best New Twitter Feeds Of 2011
It seemed like there was an epidemic of animals escaping from zoos in 2011, and fortunately, each one ended up with its own Twitter feed. But the Bronx Zoo's Cobra mastered the medium.

The reason we can all quit Twitter in 2012.

If you're like us, you NetFlixed "Sea Of Love" recently solely because Ellen Barkin joined Twitter and everything she said and did was so good, you just needed to watch her take advantage of Al Pacino again. You did that, too, right?

The veteran writer, actor and director added "Twitter master" to his list of credits this year.

God, Mom, why can't you be more like Aunt Diane?

Matt Damon made a movie called "We Bought A Zoo." Then, some anonymous pranksters made a Twitter account celebrating/parodying it. We'll leave it to you to decide which one achieves the higher level of art.

Yes, it's stereotypical and yes guys say just as many dumb things, but still... this account had us giggling despite ourselves. And the new video series (featuring Juliette Lewis) is monstrously funny.

That New Age, overprotective mom you hate.

Was she this racist and aggravating in high school?

Remember "Studio 60 on the Sunset Strip"? If your answer was, "Not before all the amazing 'Studio 60' Twitter accounts started," you're pretty much in the same boat as everyone else. The short-lived Aaron Sorkin-penned melodrama about a comedy show only lasted one season but has been given extended, ironic life, thanks to a slew of Twitter accounts based on its characters.

Sadly, we can only call him King of Twitter emeritus. While his life on on the social media platform was as brief as, well, a tweet -- beginning and ending in 2011 -- it was glorious. So much acrimony, so much passion.