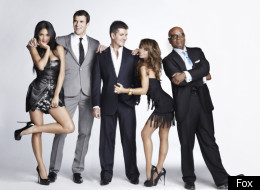 There are plenty of great "Top This" and "Best Of That" lists this time of year. Though I have a hard time playing favorites -- especially in a year that's so chock-full of TV goodness -- I do love giving out superlatives.
Like the splashy declarations stamped on high school yearbooks, I've got my own "most" picks for all things TV. From the most improved reality star to the most wasteful use of ink, this was one of the most most-full years in recent memory, but I narrowed my list down to 10.
What shows do I dig the most? And who gets the prize for worst most superlative? Click below to find out ...
The Most Must-Read Most List of 2011
I've had "Smash" on the brain for months now, and the show's premiere is still two months away. Luckily, the marketing department over at NBC has taken a shine to this show too, so the viral videos and frequent re-screening of the pilot episode will have to tide me over until the Feb. 6 premiere date. Just a warning now though: If you don't at least give this show a chance, I'll cry. Also, don't call it a grown-up "Glee."

My name is Maggie, and I'm a Kardashian-aholic. I hate admitting that, but after devoting hours upon hours of my life to keeping up with all things K this year, it's just a fact. But that insane "Fairytale Wedding" sham really rubbed me the wrong way. Though signing an anti-Kardashian petition felt like a conflict of professional interests, now I'm much more wary about letting myself enjoy their shows when I have to watch them.

Nothing makes me sadder than this year's lack of Oprah's Favorite Things. Of course I knew that when Oprah signed off from her daytime talk show gig, the annual extravaganza would be kaput as well; but I had no idea I'd miss the audience freak-outs and faintings and the exclamations from lady O as much as I did. I keep YouTube-ing old clips, but it's just not the same without Oprah shouting that this person's getting the latest cool gadget and that person's getting it, too. Oprah, please come back, even if only for a once-a-year special.

Season 1 of "Real Housewives of Beverly Hills" was not too kind to Camille Grammer. Her crumbling marriage to a more well-known star, her over-use of the word "pernicious" and her electric cigarette-smoking psychic friends ... it basically couldn't go anywhere, but up for Camille. But she's surprised even me this season with her gentle attitude, brutal honesty, dancing and flirting with Brandi. Thanks to Bravo for letting loose the artist formerly known as Kelsey Grammer's wife!

Take one starlet who loves the limelight, but leaves people pretty divided on the love-her-or-hate-her debate. Add a star who kind of appears to say no to fun, whose career could best be described as confused and troubling. Then, throw them on stage together for song-and-dance numbers and jokes in front of the who's who of the silver screen? What horror could I possibly be describing? Of course, that dismal Anne Hathaway-James Franco Oscars hosting debacle. Please hear me out, Academy: Never again.

"Homeland" hit it out of the park in its stellar first season, and if you didn't watch (or worse -- you watched an episode or two and didn't think it was for you), then you've got some homework to do. The cast is phenomenal, but it's the pace of the twists and turns that kept me literally gasping and sitting on the edge of my seat week after week. A+.

"Happy Endings" should've failed: ABC premiered it in April and burned off Season 1 two episodes a time through May, then threw in the 13th episode on a random August night. But fans somehow caught on and thankfully loved it as much as I do. Season 2 has brought more laughs with baby Ts, Fred Savage, a sweet '80s limo, vision boards, gumbo, Megan Mullally, Baby Bjorn Halloween costumes and more. I love (to the power of love) this strange and a-mah-zing crew.

"The X Factor" was not a good show. Can we say that now? The second coming of the great Simon Cowell proved that no one was actually home on their knees praying for the second coming of Simon Cowell, not to mention all the drama that came along with it. Cheryl Cole was a judge, got fired, re-hired, then fired again. Why? So Nicole "I'm More Than a Pussycat Doll" Scherzinger could be upgraded from co-host to judge to replace her? Sad move. Now, with its first season wrapped, it's sounding like host Steve Jones might be out, and Nicole might jump back to the hosting role she never should've been upgraded from. It all adds up to me still not caring.

After all that ink (and virtual ink for us Internet folks) that went into picking apart and analyzing the imploding, vitriolic Charlie Sheen/"Two and a Half Men" mess, we were forced to write about something much worse: Charlie Sheen's new show, "Anger Management," getting picked up by FX. Sad, sad proof that no one in this town is ever really unhirable.

I've been pleasantly surprised by how many people, men and women alike, have told me they're obsessed with "Revenge." This show could've very easily gone off the rails with all its mystery and revenginess, but the cast -- including dueling Hamptons divas played by Emily VanCamp and Madeleine Stowe -- embraces the camp factor and makes over-the-top look effortless.