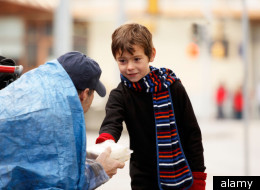 As we reflect on a year of climbing poverty rates, homelessness and other crises near and far, we recognize those whose good works have helped others and look to 2012 for their increasing reach.
The charities below have worked tirelessly in 2011 to fight everything from hunger to polio, and will undoubtedly be called on in increasing ways during the coming year.
Check out the causes to watch in 2012 and see what you can do to make a difference.
SLIDESHOW:
With recent reports revealing homelessness among children has spiked 33 percent in the past 10 years, there will be an increasing need for aid in the coming year. Organizations such as The National Coalition for Homelessness provides options to help through a national directory of organizations that support homeless families. The National Alliance to End Homelessness provides a directory of issues such as chronic homelessness, families, veterans -- as well as ways to help.

2011 was the year for water as a cause. Assuming the premise that everyone everywhere has the right to clean drinking water, an increasing number of organizations have been working to establish safe water systems in developing countries worldwide. Water for People, for example, brings together local entrepreneurs, governments and communities to find solutions and, ultimately, end the cycle of poverty. charity:water, has funded 4,282 well implementation projects in 19 countries. Keep an eye on these organizations' increasing reach in 2012.

For the third consecutive year, food pantries have had to contend with a 1 in 6 hunger rate, a staggering percentage that keeps them from serving all the clients they see. See how you can help organizations such as Feeding America, which partners with a network of food banks, and Meals On Wheels, which delivers food to those in need, devise innovative fundraising campaigns to meet the increasing demands that come their way.

Once the nearly 39,000 remaining troops in Iraq come home, nonprofits that cater to veterans will have to step up their efforts to make sure they can fill their clients' needs. Such charities include Homes For Our Troops, which provides adapted homes for injured post-9/11 troops and ServiceNation, an organization that aims to give veterans their sense of purpose back through volunteering. Check out how you can help in the coming year.

We've made large strides in fighting numerous diseases and illnesses this year. With a large push to get past the 99 percent Polio eradication mark this year, for example, expect to see even greater results in 2012 through organizations such as the Global Polio Eradication Initiative. Similarly, organizations such as UNICEF, Nothing but Nets and Malaria No More have been working to fight malaria by distributing awareness as well as mosquito nets to cut transmission of the disease.