Best Place To Shop For Clothing. Period: Penelope's, 1913 W. Division St.
There is never a day where a trip to Penelope's sounds like a bad idea. If there is one store in Chicago I would like to turn into my closet, it's this one. The store has the best head-to-toe brands, and their prices aren't heart-stopping either. The lovely couple that owns the store has spot-on knowledge (and instincts?) about what people in Chicago want to wear.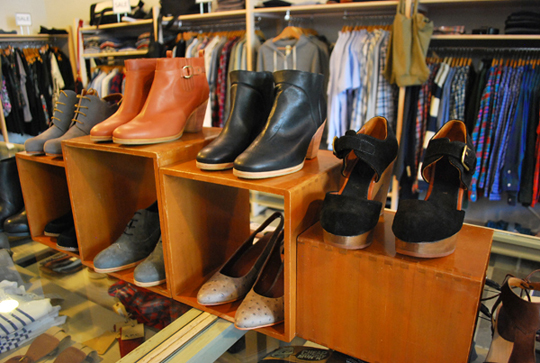 Penelope's, photo by Shani Silver

Best Place To Find A Gift For Someone You Don't Know That Well: Sprout Home, 745 N. Damen Ave.
Sprout Home will end all trips to flowers-in-plastic stores forever. You can easily map out a plant-plan for your own home here, or just pick up something well-potted and lovely to give as a gift.
Best Place To Shop For A Guy: In Store: Vintage Smith, 2041 N. Damen Ave. Online: Buckshot Sonny's
Vintage Smith is a brand-new vintage shop that's well-stocked with the clothing and accessories your man has always wanted, but never had. Nudge him over this way while you're shopping two doors down at Roslyn. Buckshot Sonny's is a Chicago-based online store full of man-gifts that women will want, too. The focus in on handmade goods created by people who still know what the word "craftsmanship" means.
Best Place To Ruin Your Finances: Robin Richman, 2108 N. Damen Ave.
Just leave your inhibitions in the car, trust me. You could try to find less expensive, less awesome version of whatever you find here somewhere else, but why would you? Know what to expect before you go and this place will become a dreamland.
Best Place To Stretch Your Dollar: Akira, 1837 W. North Ave.
Akira is a sure-fire store for event-specific shoppers. Typically when you're in a rush or you're looking for something for a purpose, you don't want to spend a ton of money. Akira is good about keeping affordable cuteness around in case of emergencies.
Most Curated Store: Sofia, 72 E. Oak St.
Sofia understands (in a non-pushy way) that shoppers don't always know exactly what they want. Every single staff member in this store is knowledgeable not only about brands and trends, but what will look good on an individual. They've got a great eye.
Best Newcomer: The Edit, 1917 N. Damen Ave.
As with new restaurants, ambience matters, and The Edit will win you over five seconds after you're in the door. The store's design is just as impressive as its clothing, which should be the case with all truly great stores.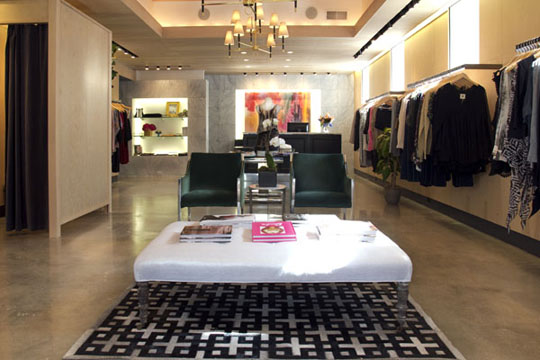 The Edit, photo courtesy of Boldface Chicago

Best Consistently Awesome Brands: Eskell, 1509 N. Milwaukee Ave.
I place a great deal of trust in Eskell, because they've earned it. Several of the brands in my closet were introduced to me at Eskell, and the store has consistently stocked them since, so I always know I can find what I need (or want). I'm also a fan of their in-store events and sales, the vibe in here is very welcoming.
Best Local Label: Elise Bergman, Various locations
Elise Bergman consistently impresses me with her zen-like, cool-girl clothing. I love that Chicago gets to claim her. Her collections are really focused and cohesive, in other words you'll want every piece with equal passion.
Best Place To Find Inspiration (And Stuff) For Your Home: Post 27, 1819 W. Grand Ave.
I've looked into just forwarding my mail here and moving in. There is no better store for vintage furniture in Chicago, in my opinion. Beyond that, the store will actually help you figure out what to do with that amazing end table or accent chair. It is an impeccably styled space that offers just as much by way of inspiration as merchandise.
Best Bags: Sir & Madame, 938 N. Damen Ave.
This store deserves a mention because while they stock clothing and shoes for men and women, I'm consistently impressed by their bag-designing skills. I've always loved their sturdy totes and canvas luggage, but they've got a red leather clutch/ipad case that I have inappropriate feelings for.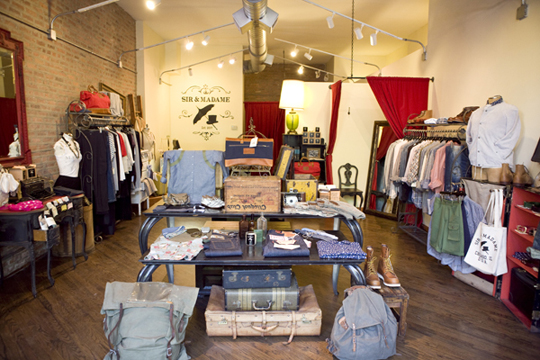 Sir & Madame, photo by Heather Talbert

Best Gifts That Come In A Bottle: Lush Wine & Spirits, Various locations
No-brainer gifts live here. Everyone loves receiving something drinkable, and Lush is well stocked with righteous bottles for collectors, or drink-me-now host gifts. Better still, there are always open bottles around for impromptu sampling. My suggestion? Go shopping on Sunday afternoons during their free tastings.
Best Chicago-Based Online Shop: TwentyThirtyFourty
This shop is dangerously well-stocked. You won't find any filler clothing here, it's just the good stuff. On the upside, they're not wasting your time, but on the downside, hide your paychecks.
Best Mens Accessories: A TIE (no pun intended), between Artfully Disheveled and Chivalry is not Dead
I love what's happening in menswear. It once seemed impossible to get men to care even about the way their clothing fit, but now they're all about accessories, too. These two companies create brilliant prints and really well-made, thoughtful products. They're inspiring me to learn how to tie a tie (properly).
Best Place To Dig For Gold: Salvation Army, 4141 W. North Ave.
I'm a huge fan of thrifting. What started as a joke in high school has evolved into a full- fledged treasure hunt in adulthood. My favorite find to date is a yellow Ferragamo clutch I found for $6. The Salvation Army on North Avenue is very well known for having tons of furniture, plus the space is huge so they don't have to do that upper/lower rack thing.
SUBSCRIBE TO & FOLLOW THE MORNING EMAIL
The Morning Email helps you start your workday with everything you need to know: breaking news, entertainment and a dash of fun. Learn more