Debbie Harry of Blondie Backstage Applying Makeup

"A Look Back" is a daily column that highlights a moment from fashion's fabulous past. Today's pick is of Blondie singer Debbie Harry putting her makeup on backstage in 1979. What a rock star!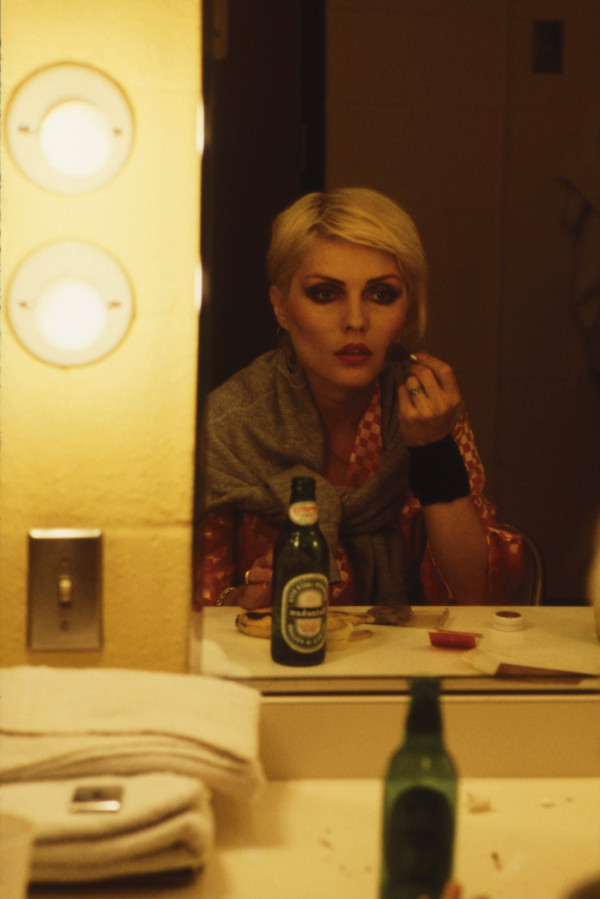 Redferns
Take a look out our previous A Look Back photos in the slideshow below.
Read Full Entry Here Getty

Read Full Entry Here Getty Images

Read Full Entry Here Getty Images

Read Full Entry Here Getty Images

Read Full Entry Here ; Getty Images

Read Full Entry Here; Getty Images

Read Full Entry Here Getty photo

Read Full Entry Here Getty photo

Read Full Entry Here Getty photo

Read Full Entry Here WireImage photo

Read Full Entry Here Mondadori via Getty Images

Read Full Entry Here Getty Photo

Read Full Entry Here Getty photo CORRECTION: An earlier version of this slide caption stated that this image was from 1969.

Read Full Entry Here Getty photo

Read Full Entry Here Getty

Read Full Entry Here Getty

Read Full Entry Here Getty

Read Full Entry Here Getty

Read Full Entry Here Getty

Read Full Story Here Getty Images

Read Full Entry Here Getty Images

Read Full Entry Here Getty Images

Read Full Entry Here Getty Images

Read Full Entry Here Getty Images

Read Full Entry Here Getty Images

Read Full Entry Here Getty Images

Read Full Entry Here Getty Images

Read Full Entry Here Getty

Read Full Entry Here Getty Images

Read Full Entry Here Getty Images

Read Full Entry Here Getty Images

Read Full Entry Here Getty Images

Read Full Entry Here Getty Images

Read Full Entry Here Getty Images

Read Full Entry Here Getty Images

Read Full Entry Here Getty Images

Ready Full Entry Here Getty Images

Read Full Entry Here Getty Images

Read Full Entry Here Getty Images

Read Full Entry Here Getty Images

Read Full Entry Here Getty Images

Read Full Entry Here Getty Images

Read Full Entry Here Getty Images

Read Full Entry Here Getty Images

Read Full Entry Here Getty Images

Read Full Entry Here Getty Images

Read Full Entry Here Getty Images

Read Full Entry Here Getty Images

Read Full Entry Here Getty Images

Read Full Entry Here Getty Images

Read Full Entry Here Getty Images

Read Full Entry Here Getty Images

Read Full Entry Here Getty Images

Read Full Entry Here Getty Images

Read Full Entry Here Getty Images

Read Full Entry Here Getty Images

Read Full Entry Here Getty Images

Read Full Entry Here WireImage

Read Full Entry Here AFP/AFP/Getty Images

Read Full Entry Here Getty Images

Read Full Entry Here Getty Images

Read Full Entry Here Getty Images

Read Full Entry Here Getty Images

Read Full Entry Here Getty Images

Read Full Entry Here Getty Images

Read Full Entry Here Getty Images

Read Full Entry Here Getty Images

Read Full Entry Here Getty Images

Read Full Entry Here Getty Images

Read Full Entry Here Getty Images

Read Full Entry Here Getty Images

Read Full Entry Here Getty Images

Read Full Entry Here Getty Images

Read Full Entry Here Getty Images

Read Full Entry Here Getty Images

Read Full Entry Here Getty Images

Read Full Entry Here Getty Images

Read Full Entry Here Getty Images

Read Full Entry Here Getty Images

Read Full Entry Here Getty Images

Read Full Entry Here Getty Images

Read Full Entry Here Getty Images

Read Full Entry Here Getty Images

Read Full Entry Here Getty Images

Read Full Entry Here Getty Images

Read Full Entry Here Getty

Read Full Entry Here Getty

Read Full Entry Here Getty

Read Full Entry Here Getty

Read Full Entry Here Getty

Read Full Entry Here Getty

Read Full Entry Here Getty

Read Full Entry Here Getty

Read Full Entry Here Getty

Read Full Entry Here Getty

Read Full Entry Here Getty

Read Full Entry Here Getty

Read The Full Entry Here Getty

Read Full Entry Here Getty

Read Full Entry Here Getty

Read Full Entry Here Getty

Read Full Entry Here Getty

Read Full Entry Here Getty

Read Full Entry Here Getty

Read Full Entry Here Getty

Read Full Entry Here Getty

Read Full Entry Here Getty

Reach Full Entry Here Getty

Read Full Entry Here Getty

Read Full Entry Here Getty

Read Full Entry Here Getty

Read Full Entry Here Getty

Read Full Entry Here Getty

Read Full Entry Here Redferns

Read Full Entry Here Getty

Read Full Entry Here Getty

Read Full Entry Here Getty

Read Full Entry Here Getty

Read Full Entry Here Getty

Read Full Entry Here Getty

Read Full Entry Here Getty

Read Full Entry Here Getty

Read Full Entry Here GERARD JULIEN/AFP/Getty Images

Read Full Entry Here Getty

Read Full Entry Here Getty

Read Full Entry Here Getty

Read Full Entry Here Getty

Read Full Entry Here Getty

Read Full Entry Here Getty

Read Full Entry Here Getty

Read Full Entry Here WireImage

Read Full Entry Here AFP/Getty Images

Read Full Entry Here Getty

Read Full Entry Here Getty

Read Full Entry Here Redferns

Read Full Entry Here Getty

Read Full Entry Here Getty

Read Full Entry Here Getty

Read Full Entry Here Getty

Read Full Entry Here Getty

Read Full Entry Here Getty

Read Full Entry Here Getty

Read Full Entry Here WireImage

Read Full Entry Here Gamma-Keystone via Getty Images

Read Full Entry Here Correction: An earlier version of this slide stated that this photo was taken in 1956. It was actually taken in 1965. Getty

Read Full Entry Here Getty

Read Full Entry Here WireImage

Read Full Entry Here Photo by Francesco Scavullo, from "Nostalgia In Vogue"

Read Full Entry Here Getty

Read Full Entry Here WireImage

Read Full Entry Here WireImage

Read Full Entry Here Getty

Read Full Entry Here Getty

Read Full Entry Here Photo by Chris Von Wangenheim, from "Nostalgia In Vogue"

Read Full Entry Here WireImage

Read Full Entry Here Getty

Read Full Entry Here Getty

Read Full Entry Here Redferns

Read Full Entry Here Redferns

Read Full Entry Here Redferns

Read Full Entry Here Getty

Read Full Entry Here Michael Ochs Archives

Read Full Entry Here Getty

Read Full Entry Here Michael Ochs Archives

Read Full Entry Here Getty

Read Full Entry Here Getty

Read Full Entry Here Getty

Read Full Entry Here Getty

Read Full Entry Here Getty

Read Full Entry Here WireImage

Read Full Entry Here Redfern

Read Full Entry Here Getty

Read Full Entry Here Getty

Read Full Entry Here Fredereik Florin/AFP/Getty Images

Read Full Entry Here Getty

Read Full Entry Here Getty

Read Full Entry Here WireImage

Read Full Entry Here Gamma-Keystone via Getty Images

Read Full Entry Here Getty

Read Full Entry Here Getty

Read Full Entry Here Getty

Read Full Entry Here Getty

Read Full Entry Here WireImage

Read Full Entry Here WireImage

Read Full Entry Here Getty

Read Full Entry Here WireImage

Read Full Entry Here Getty

Read Full Entry Here Redferns

Read Full Entry Here Michael Ochs Archives/Getty Images

Read Full Entry Here WireImage

Read Full Entry Here Getty

Read Full Entry Here WireImage

Read Full Entry Here TIMOTHY A. CLARY/AFP/Getty Images

Read Full Entry Here WireImage

Read Full Entry Here Ron Galella/WireImage

Read Full Entry Here Getty

Read Full Entry Here Getty

Read Full Entry Here WireImage

Read Full Entry Here WireImage

Read Full Entry Here Getty

Read Full Entry Here Getty

Read Full Entry Here Getty

Read Full Entry Here Getty

Read Full Entry Here Getty

Read Full Entry Here Getty

Read Full Entry Here AFP/Getty Images

Read Full Entry Here Getty

Read Full Entry Here Getty

Read Full Entry Here WireImage

Read Full Entry Here WireImage

Read Full Entry Here WireImage

Read Full Entry Here Getty

Read Full Entry Here Getty

Read Full Entry Here Getty

Read Full Entry Here WireImage

Read Full Entry Here Lei Magazine

Read Full Entry Here WireImage

Read Full Entry Here WireImage

Read Full Entry Here Getty

Read Full Entry Here Vogue

Read Full Entry Here

Read Full Entry Here ABC via Getty Images

Read Full Entry Here Getty

Read Full Entry Here

Read Full Entry Here WireImage

Read Full Entry Here AFP/Getty Images

Read Full Entry Here Getty

Read Full Entry Here Getty

Read Full Entry Here

Read Full Entry Here WireImage

Read Full Entry Here

Read Full Entry Here Getty

Read Full Entry Here Getty

Read Full Entry Here WireImage

Read Full Entry Here Getty

Read Full Entry Here WireImage

Read Full Entry Here WireImage

Read Full Entry Here Getty

Read Full Entry Here Getty

Read Full Entry Here WireImage

Read Full Entry Here WireImage

Read Full Entry Here Getty

Read Full Entry Here

Read Full Entry Here Getty

Read Full Entry Here

Read Full Entry Here Getty

Read Full Entry Here WireImage

Read Full Entry Here Getty

Read Full Entry Here AFP/Getty

Read Full Entry Here Getty

Read Full Entry Here Getty

Read Full Entry Here

Read Full Entry Here

Read Full Entry Here WireImage
CELEBRITY RELATED LINKS YOU MAY LOVE:

Is Kim Kardashian's Look Fashion-Forward Or A Fashion Flop? - People Style Watch

The Top 10 Red Carpet Looks Of 2011 - Lucky

Rosie Huntington-Whiteley's Chic Seasonal Layers - FabSugar

Gallery: The 10 Most Narcissistic Things For Sale At Gaga's Workshop - The Gloss

Olivia Wilde Lets Out Her Inner Party Girl in Revlon's New Ads - Racked