Rihanna Tweets Sexy Bikini Photo From Barbados (PHOTOS)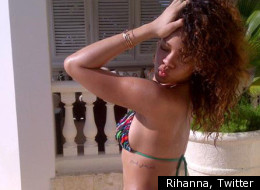 It seems like just about every celebrity jetted off to somewhere fabulous and warm this holiday season and Rihanna is no exception.
The "We Found Love" singer surely induced pangs of jealousy from those of us stuck in colder climates, when she tweeted a photo of herself basking in the warm glow of the Barbadian sun. Wearing a tiny bikini, Rihanna puckers up for the flirty photo and later posted a photo of her sexy silhouette along with the hashtag "#barBADos."
Rihanna is clearly enjoying her time at home working on her tan:
The sun just went hiding somewhere, and I'm still not dark yet!!! Wtf

— Rihanna (@rihanna) December 29, 2011
PHOTOS:
Check out more of the best beach bodies of 2011: