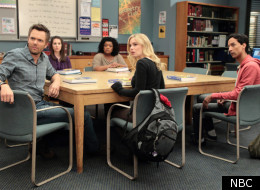 There are so many great TV things to be excited about in 2012, but we also need to take a moment to honor the shows and characters that will not be with us in the New Year.
From big character deaths (spoiler alert: you've been warned) to canceled shows we hate saying goodbye to, and even a certain set of sextuplets that grew up on the small screen, this is our salute to TV's dearly departed of 2011.
But don't look at this as the saddest of our year-end lists. Sure, for most of these, it's the end of the road, but for others (ahem, "Community") it's a reminder to keep rallying for a return. Take a look at our 12 picks, and tell us what you'll miss most from the small screen in 2012 in the comments.
Pine Valley and Llanview have been in our lives for nearly half a century. A world without Erica Kane being held at gunpoint by her lookalike is something we don't like to imagine. The ABC soaps's sign-offs come in a blaze of real-life drama as their plans to move online crumbled in a very public arena. Talk about a dramatic exit fitting for the likes of Erica and Viki Lord. At least we have a couple weeks left of "One Life to Live." The final episode airs on the unlucky Fri., Jan. 13.

Let's take a moment to bid farewell to Jimmy Darmody, the prodigal son of "Boardwalk Empire." If he were still with us, he'd probably raise a glass of whiskey and drink "to the lost." So now that he's among them, it falls upon us to do the same for him. Darmody was headstrong, impulsive and ultimately too damaged by his incestuous past to take Nucky Thompson's bootlegging throne, but he made "Boardwalk's" second season a lot of fun by trying.

The daytime TV landscape will simply never be the same without its lovably goofy grandfather, Regis Philbin. His retirement from "Live!" leaves a crater-sized hole in our hearts, and no fresh, young co-host of the week will be able to fill that void. We'll miss watching Regis forgetting celebrity's names, making awkward small-talk with Kelly Ripa and struggling with technology. We hope to see him playing the Andy Rooney role on someone else's show sometime soon. Until then, shine on, you crazy diamond.

Millions of people -- including a big chunk of the audience of "Game of Thrones" -- knew what would happen to a key character in this fantasy saga. But knowing what was coming next made it no easier to watch, and no less heartbreaking (look away if you haven't seen the first season of the show). The way director Alan Taylor filmed Ned Stark's execution was so sensitive and immediate that it was impossible not to feel the anguish of Ned's daughters, Arya and Sansa, and the aristocrat's own regret and tragic resignation. Ned's death scene was one of the great heartbreaking moments of 2011, and proved that the HBO show was going to be every bit as emotionally gripping as George R.R. Martin's books.

This little horse brought so much joy to the citizens of Pawnee (and viewers) in just a few appearances. His tiny heart -- and rather large member -- will forever be in our hearts, even if Ben Wyatt never got onboard the Lil Sebastian love train.

Maybe it was the perfectly parted hair, the striped tie or the preppy uniform, but Blaine Anderson became every Gleek's "Teenage Dream" in the mere matter of an episode. And while we'll still get to see Blaine walking the halls of McKinley High -- hopefully, hand-in-hand with his boyfriend Kurt -- we're going to miss Blaine as a Warbler. "Uptown Girl" just wasn't the same without him.

We had seen Matt Saracen grow from a fumbling teenage boy to a State champion quarterback and self-assured leader on "Friday Night Lights." We had been with him through all of the ups and downs, from winning State to losing Julie, to finding a father figure in Coach Taylor, but that just made it harder to say goodbye to #7. Matt's heartbreak over the loss of his father in the pivotal episode "The Son" is still fresh in our minds, as is the ecstatic joy he felt when his high school sweetheart Julie Taylor said she'd marry him. We'll miss Coach and Mrs. Coach too, but there was something about Matt that made you want to believe in him -- and we did.

Though we breathed sighs of relief when we learned that Jon and Kate Gosselin would no longer have a on-screen soap box, the end of "Kate Plus 8" -- and previously, "Jon & Kate Plus 8" -- also had us saying goodbye to their sextuplets. Since they were born, Americans have been watching Alexis, Hannah, Aaden, Collin, Leah and Joel grown up -- from a trip to Disney World to genital observations from Joel to the arguments over who's the most Asian. Obviously, some memories have been tarnished since their parents became tabloid fodder, but we'll miss the adorable half-dozen we've watched grow up.

Ted Danson means so many things to so many TV fans, from "Cheers" womanizer Sam Malone, "Damages" baddie Arthur Frobisher and playing "himself" on "Curb Your Enthusiasm," to stepping into his current post as the crime lab newbie over at "CSI." But it was Danson's turn as "classical liberal" (translation: pothead) George Christopher on HBO's recently canceled "Bored to Death" that reminded us what a truly good actor Danson is. He kept up with co-stars Jason Schwartzman and Zach Galifianakis on many on-screen adventures, and was scene-stealingly high for a good majority of them.

Five years, four seasons, and many wig changes after Miley Cyrus first entered America's consciousness as "Hannah Montana," the Disney Channel series came to end in January 2011. Long before Annie Leibovitz photos, award show pole dancing or salvia smoking, Cyrus was the adorable offspring -- both on- and off-screen -- of country music legend Billy Ray Cyrus. As the titular star of "Hannah Montana," she lived the dual lives of a pop star and regular California teenager. Though we have long missed Miley's simpler times, the series finale marks our last "sweet niblets," perhaps our final look at the actress as a blonde, and maybe one of the last times Billy Ray will mock his own mullet. At least we still have another episode of Disney Channel's "Wizards of Waverly Place" in 2012 to look forward to.

We miss everything about this low-key but affecting show, but the diner scenes on "Men of a Certain Age" always stood out for their winning depiction of the complex camaraderie that existed among the show's three lead characters. As they downed their lunches, Joe, Owen and Terry teased each other, made halting confessions and merely enjoyed each other's company. Thanks to the show's deft writing and perfect performances, we felt like we were at that table, sharing their challenges and small victories.

For true Human Beings, the biggest blow of 2011 was the news that "Community" would be put on the shelf until further notice. That's pretty much proof that we are living in the darkest timeline. We have faith that it'll come back, and come back strong, but there's only so much abuse an underdog show can take. Until the day we can spend our Thursday nights with the Greendale gang again, we'll hang our sexually-loaded, perverse school flag at half mast in solidarity with our favorite TV study group. Six seasons and a movie!