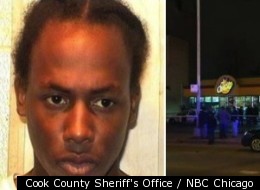 A Chicago man was charged Friday morning in connection with the brutal shooting at a Church's Chicken restaurant in the city's neighborhood that killed two teens and injured five others this week.
Arthur Chaney, 23, of the 6600 block of South Peoria Street, was charged with two counts of first-degree murder and five separate counts of attempted first-degree murder Friday, the Chicago Sun-Times reports.
Killed in the Tuesday shootings were Dantril Brown, 17, and Jawan Ross, 16, both Chicago high school students. Both were inside the Church's Chicken, located at 66th and Halsted streets, around 6:50 p.m. Tuesday. At that time, a man apparently became involved in an argument with someone outside of the eatery before he chased that person into the restaurant and opened fire on those inside.
Police say the shooter missed his intended target, according to CBS Chicago.
Family and friends of Brown and Ross were distraught by the violence that broke out at Church's Chicken and claimed their loved ones' lives because they were in the wrong place at the wrong time.
"He is not even a man yet," Michael Howard, uncle to one of the victims, told ABC Chicago. "He is still a young man, still in school and someone took his life like it was a joke."
Georgia Jackson, Ross' grandmother, told the Chicago Tribune she was "very relieved because that was bothering me so bad, that he was walking the streets and could do this to someone else's baby."
"This guy, he didn't know my grandson so why is he out there shooting all willy-nilly? Why did you do this to my baby?" Jackson continued.
Chaney's arrest record includes four counts of aggravated unlawful use of a weapon, charges that were ultimately dropped. He also was convicted in 2009 for not having firearm registration and was sentenced to one-year of court supervision, the Tribune reports.
Chaney is due in bond court Saturday.
WATCH a previous report on the Church's Chicken shootings: