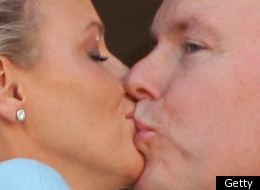 There are few things in life potentially more awkward than smooching your boyfriend or girlfriend while everyone you know is watching. But that's exactly what society asks from brides and grooms -- to make promises of forever in front of a room full of people, then seal those vows with a kiss.
Given the pressure, it's no wonder those kisses sometimes turn out a little... awkward. Besides, who has time to plan a lip lock between dress fittings, meetings with the caterer and seating-chart meltdowns?
But in 2011, there were five couples who would have done well to set aside some time to plan their wedding day smooch. Click through the slideshow below to see who topped the list of this year's most awkward wedding kisses.
In what had to be the most cringe-worthy kiss of the year, virgins Shanna and Ryan shared their first kiss ever on their wedding day on TLC's "Virgin Diaries." Ryan pretty much devoured Shanna's face.

Prince Albert of Monaco and his bride, Charlene Wittstock, shared a very stiff kiss after saying "I Do" on their wedding day in July. The uncomfortable lip lock followed months of rumor mongering by European tabloids that Princess Charlene was set to run out on her Prince. On the day of her marriage, the Princess told Vogue, "It is a shame that those rumors came at such a bad time, but I think they were timed to sabotage such a happy occasion. They are categorical lies."

Despite the glamor (and price tag!) of their wedding, Kris Humphries and Kim Kardashian shared a wooden and unfamiliar first kiss on their wedding, made more awkward by the pair's 18 inch height difference.

If the age gap between Courtney Stodden, 16, and actor Doug Hutchison, 51, wasn't enough to make you shake your head, the couple's icky first kiss might change your mind. Click here to see the smooch.

The royal couple of Bhutan had a gorgeous wedding in October. The youngest king in the world -- age 31 -- married a commoner in one of the year's most ornate wedding celebrations. But their first kiss was a little... awkward. Looks like the Queen wasn't quite ready for this one.