The Biggest Deja Vu Moments Of 2011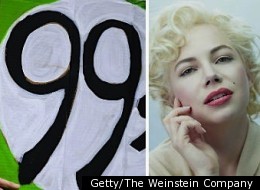 The past has never been as easy to cut and paste as it was in 2011. Two decades ruled this inaugural aught -- the 1990s and the 1960s.
The 90s -- if you're in your early twenties, this is when you played with Beanie Babies, Tamagotchis, yo-yos, and pogs and watched "Legends of the Hidden Temple." If you're a little older than that, this is when you wore clunky black shoes, dirty plaids, dirty hair, and a disaffected scowl. And now, in 2011, regardless of how old you actually were in the real 1990s, you can swim in the huge puddle of cultural backwash that's swishing around the country.
When VH1 came out with "I Love the 90's" in 2004, it was 'too soon.' Apparently, that's not true anymore: This year we saw New Kids on the Block tour with the Backstreet Boys, the return of "Clarissa Explains it All" and other Nick classics, and the appearance of a certain former Speaker of the House.
The 60s were lurking, too. The Beatles were more in the news than pretty much any contemporary band on the radio, television flooded with "Mad Men"-era dramas, and, across the country, people marched in protest against governmental policy.
Some critics wonder if we're living in a piecemeal culture, made up of screenshotted YouTube videos meme-ified into GIFs and tweeted, respect for and knowledge of history forgotten amidst the billion tabs open in the browser. We can't say if that's true, but we will say that next year, we're hoping for the '70s comeback we all so richly deserve.
Read on for our list of deja-vu moments:

On Nick at Nite, which used to play re-runs of "I Love Lucy," "The Munsters," "The Honeymooners" and other classic sitcoms from the 1950s, we saw the return of "Clarissa Explains it All," "Pete & Pete," "Kenan & Kel," "All That," and "Rugrats." Yes children, it's been 50 years since 1994. Called "The '90s Are All That," Nick at Nite's new lineup is like a programming block of nostalgia porn for twenty-somethings. Remember when Sam climbs through the window on his ladder and it's like, 'cue guitar motif' we're gonna, like hang out now? Remember 'Good Burger'? Remember Chuckie? Remember Lori Beth Denberg? Remember Petunia, little Pete's mermaid tattoo? So does everyone else.

Nine years after they so cruelly axed it, VH1 has decided to revive Pop-Up Video, otherwise known as the reason anyone knows that Ace of Base had the world's bestselling debut album, or that "Flu is Ulf spelled backwards." And MTV, not wanting to miss out, revived "Beavis and Butthead." When will "Daria" return? Soon? Please?

Nirvana's "Nevermind," the emblematic album of the grunge '90s, had its twentieth birthday in 2011. Almost appropriately, a bundle of other '90s bands took to the road. New Kids on the Block and the Backstreet Boys went on tour -- together -- in the NKOTBSB tour (yes, really). Third Eye Blind went on tour. So did Pavement, Soundgarden, and Alice in Chains. Rage Against the Machine played the last concert on their reunion tour. Unfortunately, following an unsuccessful attempt in 2010, Lilith Fair will not be returning, according to Sarah McLachlan.

Even a dead musician re-appeared in the news: In 2011, Tupac Skakur was briefly alive again (a hoax). Then, we learned that members of his old band, Outlawz, smoked his ashes after his death. And in June, a prisoner in NY claimed online that he had shot Tupac, leading the NYPD to investigate.

Hacking is pretty nineties (see: "Hackers"), but the 2011 version didn't look anything like Angelina Jolie in a silver leather jumpsuit. Instead, we got Julian Assange, the fox-faced, pale-haired Wikileaks mastermind and Anonymous, the Guy Fawkes-mask wearing hordes of digital vigilantes unleashing sensitive information for the Good of the World. Sony underwent an enormous debacle when its customer data was hacked, possibly by another hacking collective, this one called "LulzSec." The U.S. government released its agenda for protecting cybersecurity domestically and abroad, and no one seemed to recall Matthew Broderick's prescient 1983 classic, "War Games."

Look, it's Newt Gingrich! The lizard-named politician man who tried to impeach Bill Clinton but ended up resigning instead? The first Speaker of the House ever to be sanctioned for ethical wrongdoing? He's running for president! But you knew that, you've seen the Tumblr.

"Mad Men" won't be back till 2012, but the TV people decided that they'd make up for it with a basket full of other lovingly costumed, nostalgia-drenched shows set in the 1960s. Like "Mad Men," "Pan Am" and "The Playboy Club" featured gorgeous helmet-headed ladies swaying their hips and broad-shouldered men knocking back martinis. Unlike "Mad Men," this was about the extent of their attempts to stay in any sense historically accurate. "The Playboy Club" has been cancelled, while "Pan Am"'s future is uncertain. England fared better with another 1960s set drama, "The Hour," which will return for a second season.

People are marching across the country (or camping) because they're angry about the state of things in this country. A lot of people think maybe it's sort of like the 1960s, when people marched across the country because they were angry about the state of things in this country. While the hairstyles may have changed, the fervor, idealism, and controversy of the Occupy movement, has definitely given people a lot of reasons to try to compare the decades.

Meanwhile, Fox News accused the Muppets of being Marxist, because this is 1956 and the Soviet Union is really trying to get to space. "This is what they're teaching our kids. You wonder why we've got a bunch of Occupy Wall Street people walking around all around the country, they've been indoctrinated, literally, for years by this kind of stuff," Dan Gainor, of the conservative Media Research Center. Kids movies: They're just socialist propaganda for the left-wing agenda, at least according to some conservatives.

You've heard of the Beatles right? Four mop-headed lads from Liverpool who set the standard for rock reinvention? "Hey Jude," na na na na, etc.? Well, for a band that broke up more than 40 years ago, the Beatles had an incredible year. "Backbeat," a play about the early Beatles, based on the movie of the same name, opened in London, while director Michael Winterbottom announced he'd be making a movie about the Beatles in their pre-breakup period, based on book "The Last Cocktail Party." It was an especially busy year for Paul McCartney, who wrote a ballet, "Ocean's Kingdom," got married for the third time, announced a new album of songs that inspired the Beatles, and was the subject of a documentary, "The Love We Make." A letter he wrote almost 50 years ago sold for $55,000. But even the Beatles who've passed away were omnipresent in 2011. More disgusting than a letter, John Lennon's tooth sold for over $30,000 in November. And, widow Yoko Ono announced she'd be publishing hundreds of Lennon's unreleased letters in a new book. Paul wasn't the only one with a documentary. No less than Martin Scorsese directed a lavish, 3-hour long documentary about "the Quiet Beatle," "George Harrison: Living in the Material World." And, Alicia Keys fronted a concert honoring Harrison. An animated Beatles were even the subject of an anti-piracy ad, "Music Matters."

Marilyn Monroe is one of the icons whose early death and reproducible face ensured that she's never too far from the public awareness. Still, in 2011, it was the flesh-and-blood Marilyn and not the Warhol print that dominated. "My Week With Marilyn," featuring Michelle Williams as Marilyn, gave us a cavalcade of photo spreads featuring the actress done up to look like the real thing, as well as a few grumbles over an ad campaign that, by calling Williams simply "Michelle," had some arguing that such imposed cultural conflation was sexist. Meanwhile, Lindsay Lohan, who posed as Monroe in 2008, proclaimed her love for the the actress, just before she agreed to pose nude in Playboy this year -- just like Marilyn once did back in the day. Plus, that white subway dress (the one that almost but not quite flies up past her no-no zone) sold for over $5 million.

If you think you've seen this movie before, you probably have, and it wasn't in 3D the first time around. There were more sequels in 2011 than in any other year in movie history. The franchises of "Harry Potter," "Transformers," "Pirates of the Caribbean," "Twilight," "Kung Fu Panda," "Furious Five," "The Hangover," and "Cars" all released their latest in 2011, and were all among the top ten grossing films of the year. "Footloose," "The Smurfs," and "The Muppets" were all rebooted. And, desecrating your childhood, both "Titanic" and "The Lion King" appeared in 3D.

The last time people were this excited over a British wedding, it was 1981. Thirty years later, Princess Diana's son, Prince William and his bride, Kate Middleton, got one step closer to being the future king and queen of England. There was pomp, circumstance, a big smacker on a balcony, chocolate groomscake, a Queen, a Pippa Middleton, a hat that became a meme, and finally, a marriage.

Okay, Britney Spears never really went away. But doesn't every Britney Spears song feel like deja vu? In her video for "Hold It Against Me," Britney watches herself in her old music videos, while "I Wanna Go" features Britney reprimanding a noxious press corps who ask her if she's pregnant by Brad Pitt. It also features a movie theater showing "Crossroads 2: Cross Harder" (Can this happen? Somewhere in the multiverse, it probably already has). Honestly, no one else is doing what Britney is doing right now -- not Ke$ha, not Katy Perry, not Beyonce. From innocent schoolgirl sexy, to not-a-girl-not-yet-a-woman sassy sexy, to alien heartbreaker red-latex sexy, to almost-naked-on-stage-with-a-snake 'Slave 4 U' sexy, to slightly insane but still man-eating sexy, to meta-biographical club hits sexually empowered sexy, Britney is just like a great city -- everything changes and yet somehow, everything stays the same. In 2011, Britney Spears turned 30.