The 11 Guests You'll Meet At Your New Year's Party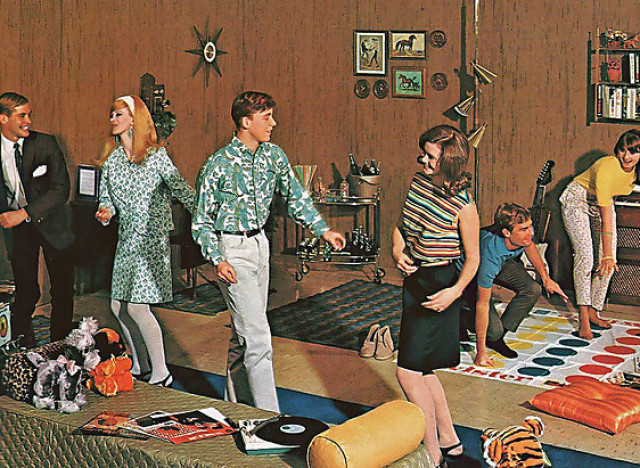 Flickr photo by x-ray delta one
When you're inviting people into your home, regardless of the occasion, you're really taking a gamble. A gamble in the best possibly way, yes. But still, a gamble. No matter how much you vet your list, there's always the question of whether or not people will get along, or if you'll spend the evening trying to make everyone talk. And perhaps crying on the inside.
That's because a party can be likened to a living organism. Scratch that. It's really more like putting on a play: Everyone has a role and the energy ebbs and flows over the course of an evening. And you'll never know what will happen. At best, everyone leaves in a happy haze, at worst, someone passes out.
The stakes are a bit higher on New Year's Eve. If you're not going out and about, you'll either be hosting a party...or attending one. You're pretty much forced to be social, perhaps to balance out all that family time you had over the holidays. And though we can't tell you how the evening will go, we can introduce you to the 11 guests you'll most likely meet at the party--and how to handle them.
The 10 Guests You'll Meet At The New Year's Party
The Guest: You've met this person a million times before, but you can never remember their name. They might be a friend's brother, a co-worker's fiance, or worse, a neighbor. You could've asked for a name earlier in the night, but now that window has closed and it's just too awkward to even ask. How To Handle Them: You could bring in a new person to talk to Mr. Mystery and hope that they'll simply introduce themselves to one another. But technically, you are supposed to introduce whoever you bring in to a conversation. So we go with whatever's easiest: Smiling and nodding, or developing a catchy nickname ("Hi handsome!" "Hello stumblebum!" etc). Flickr photo: U.S. National Archives

The Guest: I can't take credit for this moniker--that came from Amy Sedaris, who cleverly classified the party guest who sticks to you like a, well, barnacle. Maybe she hasn't seen you in months and needs to fill you in on every single detail that's passed since then. Now you're stuck with her. How To Handle Them: This is why you never come to a party alone. And why you should have a code word or phrase. Bring your barnacle over to your significant other, friend or whoever and say something like, "You must bring my good friend up to speed on the McMasters account while I check on the stuffed olives." Again, your code phrase may be different. But what matters is getting the barnacle to circulate. Far away from you. Flickr photo: Seat850

The Guest: Out of politeness, you invited your neighbor to your party. And though you share a sidewalk, you've never uttered more than a "Good Morning!" to each other. Now, this person is in your home and you're not quite sure what to expect. How To Handle Them: Odds are, the neighbor feels just as awkward as you do about your non-friendship. If left alone, they'll probably stand off to the corner, wondering what to do. So, throw open the welcome mat, make them feel at home and introduce them to an acquaintance. Flickr photo: NationaalArchief

The Guest(s): These are the people who will only talk to their small, already-established group of friends. They can be found sitting in a circle (at times in another room), and will only make fleeting references to the people around them, never engaging. How To Handle Them: Clusters happen when people feel insecure about going outside their known world. This usually occurs when you try to mix friend circles (work, friends, family). Clusters are tough to avoid, but not impossible. A good way is to find the least-occupied of the group and introduce them to a new person. Repeat until the cluster dissolves. Flickr photo: U.S. National Archives

The Guest: HELLO-HOW-ARE-YOU-HAPPY-NEW-YEARS, bye! They come by long enough to make an appearance, but keep their coats on, awaiting a more important engagement. Frequently can be found texting off in a corner. How To Handle Them: A drive-by guest is a ball of energy that's hard to contain. If you're set on getting them to stay, make it a party policy to take all coats when guests arrive. That'll make them stay put for at least an extra 15 minutes. Otherwise, it's better to take control of the situation by thanking them for coming by and seeing them off. Who wants someone hanging around that doesn't want to be there? Flickr photo: George Eastman House

The Guest: It's a half-hour before your party officially starts and this guest is in your home. Eager and excited, she really wants to get into the party spirit...while you're finishing up the food and still need to get dressed. How To Handle Them: If you really need a moment, send this guest to get some last-minute necessities--ice, soda, whatever. Make something up if you have to. Otherwise, take advantage of the free help and put them to work. Even the clumsiest person can handle assembling a cheese platter. Flickr photo: George Eastman House

The Guest: Also known as Debbie Downer, this is the one person who can singularly bring down the whole mood with a simple: "Well it was a good year for YOU, maybe." Sad Sacks often arrive in disguise, appearing after one too many glasses of red wine. (And it's always red wine, for some reason.) How To Handle Them: It's best not to ask the Sad Sack any open-ended questions, especially ones that can lead into stories about health, politics or relationship problems. Though that might be in vain, since a Sad Sack often brings things up out of the blue. Instead, laugh it off (if you can) and initiate a change of subject. Or, to make sparks fly, introduce them to The Barnacle! Flickr photo: State Library Of NSW

The Guest: This is the one person who really can't take a hint. They'll stay, long after everyone else has left, even though you're (visibly) falling asleep before their eyes. How To Handle Them: You can try to be polite by dimming the lights or putting everything away...but that's not how you got into this bind in the first place. In this case, it's best to be direct. The charming thing about The Last Man Standing is that they've enjoyed the festivities so much, they didn't even notice their singular situation. Flickr photo: Library Of Congress

The Guest(s): This is the couple that really shouldn't be together. They are content to treat their relationship like a years-long game of chicken, waiting for the other person to make the move. Nobody wins, especially if these people are in your home. How To Handle Them: The thing about Bummer Couples is that they are usually fine...when they are not together. So divide and conquer--engage one half of the couple in a conversation, while the other mingles. Flickr photo: Library Of Congress

The Guest(s): What's that sound? Is it the pitter-patter of feet running through your home, lingering a little too close to the punch and occasionally putting their fingers into the cupcakes? Babysitters are hard to come by on New Year's, so you'll likely find yourself entertaining other people's children. How To Handle Them: Do you have a TV? In an room that's away from the punch? Good. Turn on whatever cartoon is on, give the kids a platter of cookies and hope for the best. Flickr photo: floridamemory

The Guest(s): They're the adults at the party who decline the champagne, nix the cocktails and steer clear of the wine. How To Handle Them: The Teetotaler is actually the best guest you could possibly have (unless they start lecturing everybody), because you're guaranteed at least one more person can act like a responsible citizen instead of a glitter-dusted party monster. The one teensy problem: They'll remember everything that happened at the party. So be on your best behavior and stock up on sodas.