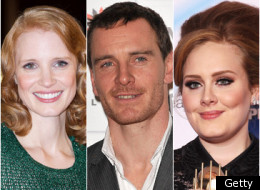 As we count down the final hours of 2011 and look forward to (perhaps drunkenly!) turning the calendar to 2012, the general consensus amongst resolution makers is the same as always: have a better next year.
For some people in Hollywood, however, keeping things exactly the same sounds like a pretty good option, too.
In a town of winners and losers, these stars came out on top in 2011, with big hits, big headlines and big smiles. From breakout stars with a career's worth of film credits in one year to spotlight grabbers with the smarts to keep interviewers wanting more, the following celebs had some of the best years in the business.
An Emmy for "Mike and Molly" and the absolute breakout performance of 2011 in "Bridesmaids." She's developing her own films now, and is impossible not to love during interviews. One of the year's greatest breakouts.

Let's see. Starring roles in "Jane Eyre," "X-Men: First Class," "Shame," "A Dangerous Method" and the upcoming "Haywire." His man part made consistent headlines this fall and helped earn him a Golden Globe nomination. He's got parts in the upcoming "Prometheus" and "Twelve Years A Slave," too.

What wasn't she in? From "The Tree of Life" to "The Debt," "Take Shelter," "Coriolanus," "Texas Killing Fields," and "The Help," she was everywhere. She earned a Golden Globe nod for "The Help," and should do the same at the Oscars. Chastain will continue the epic filmography, with her work in "Wettest County," Terrence Malick's next project and the sci-fi film "Horizons."

Her album was called "21." Might as well have been titled "1." Cue the numbers: It charted #1 in 27 different countries, ranging from the UK to Slovenia. It spent 13 weeks at #1 in the US. It's sold 13 million copies worldwide. It went 14x platinum in the UK. It earned 6 Grammy nominations. Not bad.

Yep, he already had an Oscar nomination for "Half Nelson" and starred in iconic romance "The Notebook," but this was the year Ryan Gosling truly broke out. He starred in three very different hits: "Drive," "Crazy, Stupid, Love." and "The Ides of March." He became George Clooney's surrogate young actor. He broke up a fight in Manhattan. He's dating Eva Mendes. And he became a meme.

Two major hits in "Captain America" and "Thor" launched individual film franchises, and set up fervent anticipation for next summer's epic hero-fest, "The Avengers." The money floweth for the Disney unit.

Segel's childhood dream, and longterm professional goal, came true with a successful relaunch of the Muppets. And Kermit got the spotlight he deserves. Expect more from this pair.

Yes, the Harry Potter franchise ended, but it did so with a billion dollar flurry and the series' best reviews. It also freed Radcliffe to pursue other interests, like starring in the smash hit "How To Succeed In Business" on Broadway.

He had two critical hits, for his acting in "The Descendants," which may win him an Oscar, and for his directing of "The Ides of March." Plus, he dated whomever he wanted, keeping the media breathless and actually respectful.

She anchored the surprise smash civil rights hit "The Help," stole hearts (including Ryan Gosling's) in "Crazy, Stupid, Love." and then met her current boyfriend, Andrew Garfield, while starring in next summer's "The Amazing Spider-Man." Not bad.

Yes, he's getting divorced. And yes, he's being booed by NBA fans. But you know his name. Everyone knows his name -- which means he's getting plenty of product endorsement deals. And for a player on the NJ Nets who has never averaged more than 10 points a game, that's all a win.

Fresh off his first Emmy nomination for "Late Night," Fallon is pacing the field as the most lovable late night host and a breath of fresh air with his fun, celeb-filled nightly joyfest. That laugh!

Let's see... Come out with one of the most anticipated and then heralded albums of the year (and hip hop history): Check. Have your pro basketball team earn the okay to move to your hometown: Check. Conceive a baby with your gorgeous and talented superstar wife: Check.

The 89-year old just keeps on rolling. She's got her own TV show ("Hot in Cleveland"), a hidden camera reality show on its way and an internet army that will donate internal organs if she so requires.

Like Kris Humphries, she's greatly derided. But she's also a teenage girl no one had ever heard of, and now she's a millionaire known to the world.

Okay, okay, things got dicier yesterday with that divorce announcement. But before that, she set Billboard records with her charting singles, she toured worldwide, she hosted "SNL" and starred in "The Smurfs" and put out some of the most original music videos of the year.

She may have set the record for magazine covers and coverage before ever starring in a major film. It's deserved, though; Mara's absolutely spellbinding in "The Girl With The Dragon Tattoo," elevating her to true stardom. If she wants it.

A nighty star alongside Jimmy Fallon on "Late Night," Questo created some headlines (and won some fans) with his choice for intro song for Michele Bachmann. More importantly, he's one of the hardest working men in music, DJing all over the east coast on a weekly basis, and coming out with a hit album with The Roots, "Undun."

Like him or not, Gervais set the world on fire with his Golden Globe hosting job -- and then got invited back. In between, he launched a new show, "Life's Too Short," and another season of "An Idiot Abroad." Oh, and he fought hatred on Twitter on a daily basis.