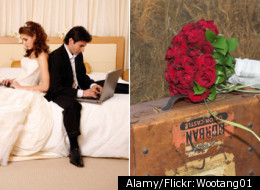 Since our launch earlier this year, we've been at the forefront of all things Big Day-related. We brought you the latest news on celebrity nuptials, reports from the front lines of bridal fashion week, personal essays about everything from gay engagements to inter-faith holidays, and updates on the most hotly-anticipated fictional weddings (ahem, that's you, Bella and Edward). Bottom line: we've seen it all. Including, of course, the hottest wedding trends. Here, we've narrowed down the many, many trends we saw this year to just 11 that we think most took the wedding world by storm this year.
Now it's time for you to weigh in. Click through the slideshow and let us know -- do you love 'em, or hate 'em?
Biggest Wedding Trends of 2011
This year, brides and grooms took wedding food to the next level, rolling out locally-sourced, artisanal fare, creative wine pairings, and new "courses" (late-night after-party comfort food, anyone?) for wedding guests everywhere. Some even swapped the ho-hum chicken-steak-fish trifecta for treats like tacos, donuts and sushi served out of cleverly-named food trucks. Celebs like Tamera Mowry even got in on the act.

Yeah, we know the vintage wedding trend has been around for a while, but it's not going anywhere -- at least for the moment. From eclectic, mismatched décor, faded invitations, 50's era luggage, over-saturated photos of the bride and groom and cutesy DIY details -- we've seen it all, on just about everyone's Big Day. So the question now is: overdone, or still unique?

Wedding dresses with lace sleeves were everywhere this year, thanks, in large part, to Kate Middleton. The Duchess of Cambridge's gorgeous Sarah Burton-designed gown made an unforgettable appearance in April at the British royal wedding, and since then, brides everywhere have been inspired by this dress of fairy-tale proportions. In November, Lauren Bush's wedding gown (designed by her new father-in-law, Ralph Lauren) kept up with the lacy sleeve trend, but added a high-necked collar and an open back for a modern twist. And let's not forget "Twilight" character Bella Swan's wedding dress (designed by Carolina Herrera) which definitely bore some resemblance to Middleton's gown. But wait -- is this "new" trend really that new, or a throwback to Grace Kelly's famed 1956 wedding gown -- which, yes, featured lace sleeves.

There was no shortage of adorably dorky and geeky wedding minutea this year. Who could forget the recent adorably clever meme proposal that went viral, or the man who proposed with the help of Super Mario? One engaged couple even decided to have a Star Wars-themed engagement photo shoot. And some couples even went a little bit further -- letting their nerdy side take the spotlight when it came to their Big Day. One Iowa couple planned to celebrate their nuptials by dressing up as Mario and Princess Peach, while another couple created a Lego portrait of themselves (which guests then put together during the reception) to commemorate their special day. Either way, geeky weddings (and proposals) seem like they're here to stay.

Technology influenced weddings in a big way this year. During the planning process, brides turned to wedding apps and curated search engines like Lover.ly to navigate the wedding world. And when it came time to announce their nuptials, couples utilized YouTube and Vimeo to ask friends and family to save the date. Technology also played a larger role in the actual wedding day -- with guests checking in and posting well-wishes for the newlyweds on Facebook and Foursquare (creating an online conversation that the couple can read later). And who could forget all the heartwarming stories about how video-conferencing, iPads and Skype made a difference for guests who couldn't make it to the wedding?

Creative, over-the-top dessert tables popped up everywhere this year. Gone are the days of boring three-tiered cakes and nothing else for sweet-toothed guests to nibble on -- now we can expect dazzling edible displays, multiple desserts, mini-pies, tiny cookies, and platters upon platters of other sweet treats. More and more couples are opting for these colorful dessert buffets and candy bars ("bars" with bowls and bowls of colorful candy), which often feature something that everyone will love -- and can take home.

This year, brides bucked the trend of wearing just one wedding dress, and, instead, wore two (or even three!) on their Big Days. Among the famous faces who followed suit were Kate Moss (who was reported to have worn a Stella McCartney silk chiffon dress for her first dance, a micro mini for the after-party and a third three piece off-white wool suit to finish the festivities). Then there was reality star Kim Zolciak (who had 3 dresses), Shannen Doherty (who also had 3) and Charlene Wittstock (who had a mere 2). Kate Middleton wore two Alexander McQueen dresses (one for the very proper Westminster Abbey ceremony, and another for the reception), and Kim Kardashian wore three dresses for her nuptials -- all white, and all Vera Wang. Think the trend is relegated to celebrity brides? Not so fast-- we're seeing it in non-celebrity land, too!

We've been seeing the ombre (literally, "shaded" in French) trend popping up at weddings here and there for a while, but in 2011, it really took off -- showing up in gorgeous multilayered, multi-colored cakes, invitations, beautiful bouquets, bridesmaid dresses and even bridal gowns. The gradual shading and blending of colors add a bit of interest -- and sophistication -- and we love the multi-colored warmth of it all. Let's hope the trend sticks around for another year, at least! Photo Courtesy of Be Inspired PR

Traditionally, the color white was reserved for the bride -- and only the bride. But this year, we saw a shift in trends -- and bridesmaids are now wearing white on the Big Day, too! Once again, the Royal Wedding was the trendsetter here, when Kate Middleton's sister Pippa emerged wearing a beautiful white dress as maid of honor. Months later, maids of honor Khloe and Kourtney Kourdashian wore white Vera Wang gowns to their sister Kim's wedding. Kate Moss's young bridesmaids also wore white to the supermodel's wedding. And celebs aren't the only ones who are hopping on this white-hot trend.

For a long time, brides wouldn't be caught dead having flowers like Carnations or Baby's Breath come within 10 feet of their nuptials. But recently, the formerly "ick" flowers have come back into vogue -- in a big way. Carnations used to have a bad rep for being dull and lifeless, but now they're lush and lavish (when the presentation is done right, of course.) This year, we saw Carnations dyed brilliant colors, and we saw Baby's Breath in ultra-pretty arrangements. And the best part? These flowers, unlike so many others, are easy on the pocketbook. Beautiful, inexpensive and versatile, they definitely found their way back into the wedding world in 2011.

For years, brides have been clamoring for unconventional, hip wedding gown choices to reflect their own personal style -- and this year, the wedding industry finally took notice. "Alternative" bridal salons that popped up all over the country this year included Stone Fox Bridal, which features gorgeous boho gowns and other offbeat bridal accessories from designers like Daryl K and Wren, and Chicago's Roslyn Bridal Boutique, which stocks designers like Elise Bergman, Sir of Brooklyn, and Jennifer Diedrich. And earlier this year, the store BHLDN (pronounced beholden) made it's debut. BHLDN is a new retail brand by Urban Outfitters -- offers Anthropologie-esque vintage-inspired bridal wear, bridesmaids dresses, and other romantic wedding decor.