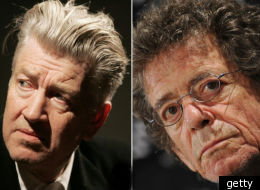 2011 was the year the old guard transfused young blood. From Lou Reed and Metallica's badly-received pipe dream to David Lynch's various casual flings with the younger crowd, established artists threw caution to the wind this year and came out with wacky, oft-maligned, occasionally brilliant stuff. Click through our list of the five most fascinating genre collaborations of the year and judge which ones served their old masters best.
At its simplest level, the thing called "Loutallica" -- Lou Reed's and Metallica's temporary conjoining -- produced an album based on German expressionism with a song about magnets on it for some reason. Beyond that, Loutallica and their album Lulu inspired death threats, gleeful insults from critics, and the inevitable "more nuanced views" from contrarions. For all Reed's insistence that he didn't care what the critics thought, the lashing of his beloved had to sting. Chuck Klosterman's barbed piece for Grantland crediting Lulu for opening his eyes to the value of pushy record execs, because artistic freedom produces "records like this," went more viral than Lulu. The muppets got in on the roast, and ultimately Loutallica brought our country together as only truly terrible things can. Let the cat above explain.

It was the tweet heard round the television critics' circle: Jonsi -- the half-blind lead singer of Icelandic band Sigur Ros -- was scoring Cameron Crowe's latest movie, "We Bought A Zoo." Makers of impossibly pretty music, Sigur Ros went on hiatus last year to accomodate their growing families and Jonsi's solo career. Voila: Jonsi's solo career! The soundtrack -- out now -- features a song co-written by Crowe and Jonsi, a soaring piece of Sigur Ros memorabilia: "Gathering Stories." As invisible as Crowe's influence is, the storyline of young music critic turned songwriter makes this more than a random collaboration. Check out the windy animated video for "Gathering Stories" above.

This summer The Huffington Post premiered an animation by the director David Lynch, set to music by post-punk NYC trio Interpol. Big Lynch fans, Interpol's members met with the director over the waft of his best ground and boiled coffee beans (David Lynch sells coffee beans, fyi) and came up with a plan. Lynch would expand on a character he'd thought of already -- "I pushed a red button man," who, sure, is a man who touches red buttons -- in an animated video. Interpol could then set said video to their song "Lights." Neither the song nor the video was conceived with the other in mind, but they work in concert. And that's why "I Touch A Red Button Man" is so cool, man. Watch it above.

"With Karen O's pretty voice and the galloping rock beat, it's as though Lynch is trying to ease us into his album." So wrote a critic for NPR, who was onto something. For anyone not given to interpreting titles absolutely literally, David Lynch's off-kilter debut album "Crazy Clown Time" probably required some easing into. "Pinky's Dream," the Karen O/Lynch intro track, may have been a collaboration in service of a risky solo project, but there's no shame in that. Loutallica: take note. Easers. Hire 'em.

The son of a conductor, Francis Ford Coppola decided to use his latest movie "Twixt" to go back to the days of widespread live performance, when "if the audience was loving what was happening the conductor would go...to the top and they'd do it again." He enlisted 30-year-old electro-showman Dan Deacon, whom he'd heard wax poetic on live performance in an interview on NPR. Speaking to an audience at San Diego's Comic Con this summer, Coppola sketched out an intriguing festival season in which the Gothic horror "Twixt" would be scored differently for each venue, played in real time each time by Deacon via iPad. Deacon told an Australian newspaper he's spent the entire year preparing the multiple scores. "Twixt" is yet to release in the U.S. Check out a demo led by Coppola and Deacon at the S.D. Comic Con above.