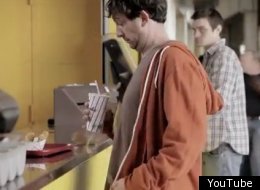 From health public service announcements to companies trying to promote their latest and greatest, 2011 has been a year of memorable commercials and advertisements.
Some ranged from ridiculous and over the top (talking about treatments for bloating during a wedding, really??), to absolutely terrifying (click over to slide No. 2, the anti-meth ad -- you'll never want to do meth, ever).
Check out our round-up of the funniest, saddest and weirdest health-related commercials of 2011 -- do you remember seeing any of these?
Never before has water, fat-free milk, seltzer and unsweetened tea looked so good.

(WARNING: THE MATERIAL MIGHT BE GRAPHIC OR DISTURBING FOR SOME VIEWERS) Absolutely terrifying, but it certainly gets the message across.

Nothing like being persuaded to quit smoking by seeing the health effects first-hand.

First-date worst nightmare. Need a tissue?

The perfect time to talk about a remedy for diarrhea, gas and bloating is obviously during a wedding.

Because those chicken nuggets sure put up a mean fight.

Ahh, if only we could learn how to skateboard while holding a giant yellow umbrella.

Instead of featuring damaged lungs or emphysema that come with smoking to deter people from cigarettes, this New York City subway ad features cute, adorable bunnies to spread the stop-smoking message. The ads feature hearts, songbirds and floppy-eared bunnies holding balloons, as well as messages that say, "Kissing a dirty ashtray is never loving," "Listening to the birds sing again," and "Stop smoking before your kids start." For the story behind the ad, click here.