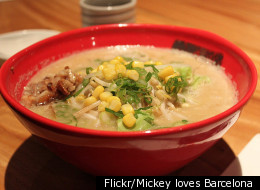 Here in New York, revelers kicking off 2012 with a raging hangover have plenty of options when it comes time to nurse that morning-after pain. So throw off those bedsheets, don your most ridiculously oversized sunglasses, pop two aspirin and call us after you've had your fill.
Have we missed your favorite recovery spot? Let us know in the comments.
Did you know that Jan. 1 is also National Bloody Mary Day? Nothing helps a hangover like a little "hair of the dog," so we fully endorse a glass or two of this curative cocktail to help celebrate both holidays. Top honors for our favorite in the city go to Restaurant Marc Forgione, who serves his with Sriracha, house-cured shrimp, house-picked seasoned vegetables, Havarti cheese, smoked sea salt and, of course, the requisite giant olive. We should also mention a longtime New York favorite, Prune, which offers a stunning nine variations on the classic brunch drink. Good luck getting into the tiny space for brunch though -- at this Lower East Side standby, patrons often wait hours to be seated. Worth noting: Enid's (Williamsburg), Poco (Alphabet City)

Williamsburg residents who've had a few too many PBRs and pickleback shots gather en masse at Bagelsmith and the Bagel Store. The former offers an especially delicious variety of tofu cream cheeses, while the latter's two locations serve up strange bagel flavors -- try the French toast bagel, the jalapeno cheddar bagel, or the bacon, egg and cheese bagel, for starters. More traditional bagel enthusiasts swear by Ess-a-Bagel's two locations, where bagelmaking is a revered institution in its own right.

Some of the best pho exists outside of Manhattan, so consider taking the 7 train to Flushing to check out Phobang, where the food is no-frills but plentiful and cheap. Ramen lovers swear by Ippudo's noodles, but make sure to come early -- patrons line up outside for a first chance at seating long before the restaurant opens its doors. Fans also flock to Joe's Shanghai for perfectly-formed dumplings filled with pork or crab and a savory broth, often served steaming hot.

A favorite among night owls as well as brunch enthusiasts, the East Village's 7A caters to both the drunk and the hungover. The brunch menu, including massive breakfast burritos and pancakes with bananas and rum butter, goes great with a spicy bloody mary or mimosa. On the Upper East Side, head to Gracie Mew's for whole wheat pancakes and amazing home fries. On the Upper West, check out Regional, where the kitchen takes a break from its usual Italian fare to provide brunch options from breakfast frittatas to eggs with veal sausage. And did we mention the two hours of bottomless drinks?

If you find that nothing eases a night spent over-imbibing like the one-two punch of an icy beverage packed with plenty of fresh, detoxifying fruits and vegetables, the city offers plenty of smoothie and juice stops that fit the bill. At the East Village's Liquiteria, the Royal Flush (a detoxifier that includes golden pineapple, pear, ginger and aloe vera) does wonders on the worst morning-after pain. Union Square's Jus offers a more bare-bones but affordable assortment of blended fruit and veggie concoctions.

Head to the Financial District for a unique specialty: at Harry's Italian, the staff serves up a white "Hangover Pie" pizza topped with french fries, pepperoni and hot sauce. And in the East Village, carnivores should check out This Little Piggy's heaped-to-the-top roast beef sandwiches, served "This Way" (with au jus and cheez whiz) or "That Way" (gravy and fresh mozzarella).