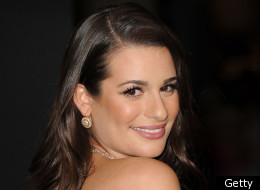 Whether you are vowing to do something better, get thinner or give more in 2012, celebrities can relate.
TV stars have been sharing their New Year's resolutions in recent weeks and many have ones we can identify with: Lea Michele, who plays irritating perfectionist Rachel Berry on "Glee," said she hopes to challenge herself this year, while "Mad Men" sexiest star Christina Hendricks plans to give back in this year.
But, there are a few who are going out of the box with their 2012 vows. From TV producer J.J. Abrams' surprising hope to Rob Kardashian's sock-centric aspirations, see which small screen stars' resolutions make them "just like us" and which are totally Hollywood.
TV Stars' New Years Resolutions
On New Year's Day, the "Two & A Half Men" star shared a New Year's resolution for everyone. "In 2012 let's agree to a resolution to feel one another's pain & joy, & create the peace we desire through proactive generosity. XO," Kutcher tweeted.

"My new year's resolutions are to keep working, doing things that are challenging, exciting and enjoyable," the "Glee" actress said, according to Contact Music. "Maybe that will get me closer to my idols, Natalie Wood or Barbra Streisand."

The former eponymous "Dawson's Creek" star will return to television on ABC's "Don't Trust The B---- In Apartment 23" in 2012 with a new outlook. "My resolution: To give everyone the benefit of the doubt. Imagine the world if we did that instead of rushing to judgment," Van Der Beek tweeted on Jan. 1.

"I think balance in life is the key to good health. My goal in 2012 is to maintain balance by finding time to give to others," the sexiest housewife on "Mad Men" told Fitness. Hendricks plans to raise funds for the Make-A-Wish Foundation.

On "The Voice," Blake Shelton is one of four judges/coaches. He guided quiet crooner Dia and impressive teen Xenia throughout the first season. Though the show is returning with Season 2 soon and Shelton will have a new crop of talent to coach, he's still devoted to Dia and Xenia. "I really would like to see Dia's record take off and do well, and Xenia has made a great record," he told the Associated Press. "My heart is there for them."

Shortly before ringing in 2011, Kim Kardashian told Rachel Ray: "I want to try to be single my whole year of being 30." Clearly, that didn't work out for the now 31-year-old E! reality star who married and divorced Kris Humphries in 2011. But now, she's settled on a new resolution for 2012. Kardashian recently tweeted: "decided to change my twitter background to nothing. i wanna be more simple in 2012."

The "Jersey Shore" DJ has a lot to be thankful for as his MTV reality show enters its fifth season. "2011 has been an amazing year and I feel truly blessed. My New Year's Resolution is to use the blessings I've been given this past year to make a difference in any way I can in 2012," Pauly D told Celebuzz.

The former "House" star told "Extra!" that she's vowing to up her quality time with books in 2012. Her New Year's resolution is to "try to read more novels."

The lonely boy on "Gossip Girl" wants to make sure he isn't just all talk in 2012. Badgley told Us Weekly his resolution is: "less talking and more doing."

"I would love to run a marathon in 2012. I think it's time, especially since I've run half-marathons," the new "Law & Order: SVU" detective told Fitness. "I also want to be able to do more pull-ups than my co-star, Danny Pino."

As the co-creator of "Fringe" and the producer of two other current shows -- "Person of Interest" and the upcoming "Alcatraz" -- J.J. Abrams certainly has his hands full. "I have so many," he told My Fox NY of his prospective New Year's resolution before joking, "To stop producing so much stuff!"

The eldest Kardashian told Seventeen that she plans on being nicer to the father of her children, Scott Disick. She also plans to "push the limits a little more when it comes to fashion design."

The "Maroon 5" frontman and judge-turned-coach of "The Voice" tweeted: "Potential new years resolutions: take more hikes. Start smoking. Communicate. Enjoy. Share. Kill my own food. Make friends with a Lion."

"My big one is to let go of my tendency to control everything," pregnant "Grey's Anatomy" star Sarah Drew told Us Weekly. "I am about to become a mom and I'll have no control over anything. I need to be a chill parent!"

The youngest child of Kris Jenner and the late Robert Kardashian is looking to follow in his sisters's footsteps with big branding in 2012. "I'm working on a dress-sock line that I want to launch successfully," the latest "Dancing With the Stars" runner-up told Us Weekly. "I have all these crazy patterns in my head!"

The recurring guest star on "The Good Wife" -- and daughter of Meryl Streep -- told My Fox NY she's going to get more personal with her correspondence in 2012. Gummer's resolution? "To call people, not text them."

The "Dancing With The Stars" two-time winner told Us Weekly she plans "to focus more time on [her] personal life." Burke added: "Everything has been focused so much on my career, which is amazing, but I feel like the rest of my life has suffered a lot."

The Scrooge-like judge of "The X Factor" told "Extra!" that he doesn't do New Year's resolutions: "Never. You're never going to keep them."