Military Families: 'Growing Up With War,' High School Students Report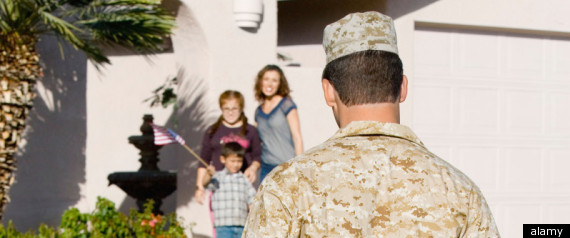 About the authors: Matt is a junior at Evanston Township High School and Britni is a senior at Glenbrook North High School. Both are student reporters for The Mash, a weekly teen publication distributed to Chicagoland high schools.
Most teens rarely find themselves wrapped up in foreign affairs, but for military families, it affects many aspects of their lives and the lives of their loved ones as well.
According to the U.S. Department of Veterans Affairs, 43 percent of active duty service members have children. More than 1.7 million American service members have been deployed in Operation Enduring Freedom in Afghanistan and Operation Iraqi Freedom in Iraq.
Along with the stress caused by having a family member placed in a very dangerous setting, there are many unexpected hardships which teens in military families must deal with, such as new family responsibilities, as the family deals with the absence of a parent or relative, says Linda Kupferschmind, project coordinator at Operation: Military Kids Illinois, an outreach effort sponsored by the U.S. Army Child Youth and School services.
"Many times [children of active duty service members] get overlooked and we think of the young men [who are serving]. we don't typically think of the children they are leaving behind," she says.
Paige Markley, a freshman who recently moved from Wheaton to Maryland, has moved about half a dozen times in her lifetime—her father has been in the military for 21 years, since well before she was born.
"When we move for the military, it's kind of random," Markley says. "It's wherever they need the person of that rank. It's wherever they need my dad's rank."
Markley said she doesn't think it's too tough to actually make the move anymore because she's used to it by now, but leaving friends is always difficult when you have to move every few years. Typically, she says, if she makes close friends, those are the only people she talks to about her father's deployment.
Her father, an active duty reservist, has been deployed twice before in her lifetime; first in Kuwait, then Iraq.
"Communication wasn't great [when he was away before]. My dad didn't even have a cell phone at that time and email ... was really slow," Markley says. She notes that with his latest deployment, this time to Afghanistan, communication will be much more advanced than before.
"We're setting up Skype accounts for all of us right now, and I know other families that have deployed [have said] that communication is way better. ... I'm excited to see how that goes down and hopefully we'll be able to call him every day."
Although Markley doesn't like for her father to be away, she knows he's there to help other people and "get other countries on their feet."