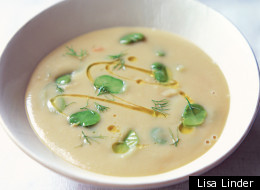 As soon as winter is over we immediately look forward to all the wonderful vegetables that will soon be stocked in the markets -- asparagus, peas, leeks, greens, artichokes and more. But as we wait for spring weather to truly show its warmth, we're often still stuck with chilly weather. So, what's a person to do? Make spring soups of course! Warm and creamy, hot and brothy, chunky and packed with vegetables -- these are the soups that keep us cozy while we wait for the promise of warmer weather.
As you can probably tell from looking through our slideshow, most of our recipes are green! But besides the classic asparagus soup and pea soup, we've got creamy carrot soup, spring onion soup, artichoke soup and more. Enjoy a hot soup on a chilly night for a quick and simple supper -- just add a chunk of crusty bread and you're all set for a fresh and refreshing dinner.
What's your favorite spring soup? Let us know below.
This pureed pea soup is simply amazing, because it's so easy to do. Feel free to skip shucking -- just cook the peas in their pods and strain the soup after pureeing. Use yogurt to create a creamy texture without the fat of cream. Dill adds a nice citrusy note to the soup. Get the Amazing Pea Soup recipe

This luscious fava bean soup includes both dried and fresh spring favas. The dried beans create the base of the pureed soup and the fresh beans are stirred in just before serving. A bit of wild fennel (or use fennel seed) adds a unique savory flavor to the creamy soup. Get the Fava Bean and Fennel Soup recipe

This recipe is naturally sweet from fresh spring carrots, which are cooked and pureed to create a creamy soup. A garnish of sauteed scallions and poppy seeds adds a pretty finishing touch. Get the Creamy Carrot Soup with Scallions and Poppy Seeds recipe

This soup recipe straddles the line between winter and spring with its combination of hearty French lentils, chard, spinach and broccoli. The dish is uniquely flavored with the addition of toasted spices (cumin and coriander) and fresh herbs (cilantro and mint). You'll find it very aromatic and flavorful. Garnish with crumbled feta. Get the Very Green Lentil Soup recipe

This creamy pureed asparagus soup has all the flavor of spring and includes fresh herbs and peas, which add natural sweetness. Savory parmesan shortbread makes a nice pairing and the recipe is easy to make -- just form the dough into a log, then slice and bake. Get the Asparagus Soup with Parmesan Shortbread Coins recipe

This simple brothy soup is enriched in flavor with the use of a parmesan rind that's cooked in the soup (discard it once the soup is done). Cook the spinach in the broth just until it's wilted and serve with Parmesan toasts to soak up the liquid. Get the Parmesan and Spinach Soup recipe

Feature the subtle flavor of spring onions in this creamy soup recipe. (You could also use green garlic for a different flavor profile.) To accentuate the onions, leeks and fennel are also used for sweetness. A bit of buttermilk mixed with goat cheese makes a nice garnish, swirled into each bowl before serving. Get the Creamy Spring Onion Soup recipe

Broccoli soup is a classic dish that's easy to make using this recipe. The soup gets pureed with cream and milk to create a rich flavor and texture everyone will love. Garnish with sauteed broccoli florets and croutons. Get the Creamy Broccoli Soup recipe

Green curry paste gives this soup its wonderful aroma and spicy flavor, not to mention a pretty emerald color broth. The soup is packed with fresh vegetables including spinach, mushrooms, green beans, broccoli and more. Get the Green Curry Soup recipe

This soup's flavor will have you praising the bounty of spring vegetables. Leeks, asparagus, snap peas and a blend of herbs (chives, parsley, dill and chervil) make this soup special. A bit of milk and yogurt make it creamy but not heavy. Get the Leek, Asparagus and Herb Soup recipe

A bit of goat cheese, lemon juice and sherry wine add a unique zip to this spinach bisque. Using the goat cheese means there's no need for heavy cream in this recipe. Reserve some crumbled goat cheese to top croutons for a garnish. Get the Spinach and Goat Cheese Bisque recipe

Artichokes have a subtle flavor that really shines in this soup recipe. Using potatoes in addition to the artichokes ensures the soup has a thick texture. A bit of half-and-half lends creaminess. Feel free to use frozen artichokes in place of fresh. Get the Potato-Artichoke Soup recipe

Dana Angelo White's speedy soup with spinach and mushrooms is both healthful and delicious.