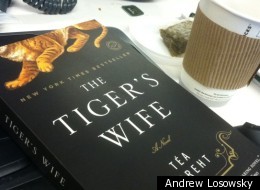 Where are you reading "The Tiger's Wife"? Is there anybody there who reminds you of Natalia or her grandparents? How does the environment affect your reading? Upload your photo below and share with our group where you're reading, and why.
It's hard not to check my email every five minutes... but the story helps me forget where I am!

kianziti:I like to read in my comfy chair next to the fireplace in my bedroom!

Suzy Alamo:Makes work go by fast and relaxing at home.

Brie KleinFowler:I read it cozied up in bed and it fills my dreams with snowbanks and images drawn in ash

Meredith Rutter:Reading in the living room, at least when hubby doesn't have the sound up on his laptop.

fatamo:One of my favorite reading spots at home. Unbelievably comfy and arms are big enough to hold many books, ipad, phone, cat, etc.

EMartin99:Good words are as cozy as a sleeping pup

saj485:Reading "Malke Laurids Brigge"

Nancy Chen:Makes my commutes feel shorter when I choose to pay more attention to my book rather than my surroundings. Notice the empty seats? I missed my stop completely and had to ride to the end of the line and swing back around.

bonsterblack:Seems like the only time I sit down long enough to read.

Inger70:My teen doesn't drive so I wait in the car a lot. I read during my lunch break. I think the couch & bed are self-explanatory!

trjones87:Some Téa Obreht with a side of cabernet sauvignon is a great way to end the night.

Erynn3:Reading my first google e-book on the computer. So far, so good.

daloia:Reading while on my train ride to NYC. Best interrupted time to read.

HuffPost Blogger Annemarie Dooling:Here's the cozy corner at home where I'll be reading and analyzing 'The Tiger's Wife' for #hpbookclub!

Jason Golomb:Reading at Kung Fu, in bed and on the bus

ThatsVy:I work in travel, but sometimes I want to escape to a different world, so on my breaks I do just that!

Cherylanne Farley:Reading with my own tiny Tiger!

Katie Dvorak:Reading The Tiger's Wife on the couch with a hot cup of coffee.

montanareelgal:Reading in my log home in Southwestern Montana

librarygirl92:Reading at the doctor's office - waiting for over an hour and figured I would make good use of the time.

Mikki-Jean Burzon:Reading on a long train ride home. Traveling with a good book is the only way to travel.

andresmarin:From my offince at San José Costa Rica

:Reading on the couch with coffee--perfection!

Kelly Aheimer:Where do I read? Wherever I can hide from the three-year-old!

neurogrl:Waiting to board my plane with some breakfast and book club reading.

dnguyenny:Attempting to pack for a move while reading has been an epic fail thus far, but it's worth it!