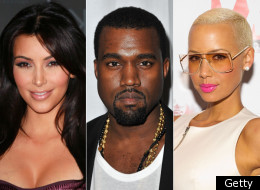 Old news becomes new news when one person decides to talk. Typically reticent Amber Rose is finally speaking out about the ultimate demise of her very public, very contentious relationship with Kanye West, which ended in 2010 because the hip hop mogul was cheating, according to Rose.
Specifically? Rose points the finger at Kim Kardashian, calling her a "homewrecker" and "one of the main reasons why me and Kanye are not together" in an interview with RadarOnline. She also accuses Kim of cheating on her then-boyfriend, Reggie Bush, by sending Kanye a litany of salacious messages and photos.
Rose first hinted at Kim and Kanye's hookup on the "Wendy Williams Show" in November 2011, when she neither denied nor confirmed rumors of a Kanye-and-Kim affair in summer 2010 when Kim was filming "Kourtney and Kim Take New York." A former publicist for Kim later confirmed that Kanye and Kim had been romantically involved on "The Elvis Duran Morning Show."
But in a case of romantic musical chairs, Rose also admitted on the talk show to hooking up with Bush shortly after he and Kim split up, saying simply: "We were each other's rebounds."
CORRECTION: A previous version of this article misidentified Kim Kardashian's ex as "Reggie Watts," not "Reggie Bush." It has been updated to reflect the correction.
Take a trip down memory lane with some of Kardashian's exes below.

Kardashian began dating New Jersey Nets player Kris Humphries in December 2010 after watching him play basketball in late November. The pair took their fast-moving relationship to the next level when Humphries proposed -- on camera for her E! reality show, of course -- in May and they wed on August 20, 2011. But the wedded bliss ended October 31, 2011 when Kim filed for divorce after 72 days of marriage.

Halle Berry and Gabriel Aubry announced their split in April 2010, and in November, the model was spotted out and about with newly-single Kardashian. The couple enjoyed a Lakers game and a movie date together, but less than a month later, Kardashian would meet Kris Humphries -- and he would sweep her off her feet.

Kardashian was rumored to be casually dating "One Tree Hill" actor (and her "Beyond The Break" co-star) Michael Copon in October 2010, and he even appeared on her E! reality show, "Kourtney & Kim Take New York," but that's about it.

Kardashian switched teams after splitting from Bush -- literally. She began dating Dallas Cowboys football player Miles Austin in July 2010 but the pair split in September after just a few months together.

Kardashian found love once again later in 2007 -- this time with football player Reggie Bush. Their relationship drama was documented on the E! reality show, "Keeping Up With The Kardashians," and we thought Kim had finally found "The One." However, the on-and-off couple ended things for good in March 2010. Bush continues to play football -- now for the Miami Dolphins -- and was most recently linked to Melissa Molinaro, an actress bearing a striking resemblance to Kardashian.

After her split from Ray J, Kardashian moved on with actor/rapper/comedian Nick Cannon. The couple reportedly split in early 2007 after the release of Kardashian's sex tape. Cannon, who is currently a radio personality on New York's 92.3 NOW FM, tied the knot with Mariah Carey in April 2008. The couple welcomed their first children, fraternal twins, in April 2011.

Also in 2006, Kardashian dated R&B singer Ray J -- who is the brother of singer Brandy. The relationship didn't last, but the public release of their infamous sex tape in early 2007 shot Kardashian into the spotlight...and eventually got her $5 million after settling a lawsuit against Vivid Entertainment. Ray J went on to star in the VH1 reality show "For The Love of Ray J" in 2009, and continues to work in the music industry.

After her divorce, then-stylist Kardashian casually dated Nick Lachey in 2006 -- just six months after his divorce from Jessica Simpson -- but they were never serious. Lachey also began dating TV personality Vanessa Minnillo in 2006 and the couple married in July 2011.

Kardashian may be walking down the aisle on August 20, but it's not the first time she's been a wife. The reality star married 30-year-old music producer Damon Thomas in 2000 when she was just 20 years old. Their love wasn't meant to last, however, and the couple split in 2004. In 2010, their divorce papers were leaked to the press, revealing Kardashian claimed Thomas was physically abusive toward her. Thomas denied the allegations and responded with a press release where he called her a fame-loving liar.