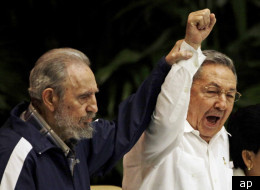 The latest Twitter-fueled rumors about Fidel Castro's death may be exaggerated, but doctors have ordered the 85-year-old Comandante to get some bed rest, according to Castro's half brother.
"It's a lie, a big lie!," Martin Castro told The Huffington Post, referring to the latest speculation about his brother's demise. "He's resting now. But he's more or less fine."
"More or less" is the operative phrase when discussing the delicate health of the octogenarian who has held a firm grip on the largest island in the Caribbean since his 1959 revolution.
Rumors of his death, which started many years ago, became more frequent after Castro underwent extensive intestinal surgery in July 2006 and his brother Raul became acting head of state.
The latest rumor, which spread via Twitter in recent days, coincided with two important anniversaries for Castro. His revolutionary movement overthrew dictator Fulgencio Batista on Jan. 1, 1959, and on Jan. 2, 1961, the Roman Catholic Church excommunicated Castro for embracing communism.
News of Castro's death even reached Biran, the town in eastern Holguin province where the Castro brothers were born, according to Castro's 82-year-old half brother, Martin, who immediately dialed another Castro for information. Martin Castro said he never heard of Twitter.
Martin Castro is the son of Fidel Castro's late father, Angel, and a young farmhand who worked for him named Generosa Mendoza. He is a family member, but holds no position in the Communist Party hierarchy. He has no special knowledge of his older brother's condition other than news his eldest brother, Ramon Castro, and other officials bring when they visit, he said.
"We called the home of Ramon Castro and his wife said doctors ordered Fidel to get some rest," Martin Castro said in a brief phone interview with The Huffington Post on Wednesday. "They told him he had to take it easy, that he must follow orders. They don't want him doing anything or coming out."
Fidel Castro had been publishing his "Reflections of Fidel" column on international affairs every couple of days last fall when the columns abruptly stopped on Nov. 14.
The Cuban state's official website Cubadebate addressed the latest killing off of El Comandante on Wednesday with a story headlined, "New lie against #FidelCastro fails on Twitter." The article accused the social networking site of helping fuel the death rumor and blasted anti-Castro exiles it called "necrophiliac counterrevolutionaries" for spreading the news.
Cubadebate said Twitter allowed an account holder with the sign-on "Naroh" to start the Castro rumor on Monday from an Italian server before deactivating the account, according to the Associated Press:
"It said Twitter then helped spread the disinformation by allowing the hashtag "fidelcastro" to become a trending topic. It briefly became the fourth most popular in the world as it drew many more people to the subject.

The site also accused Twitter of censoring subjects in the past that were in favor of the Cuban government.

There was no immediate reaction from Twitter. Rumors that a celebrity or other public figure is dead are common on social media sites and can spread quickly because of their nature."
The Cuban website said another false story about Castro's death last August included a computer virus in a spam email titled "Fidel is Dead." The email came with a doctored photo of the former Cuban leader lying in a coffin.
Cuba's government has declined to make official comments on Castro's health. On Dec. 31, Castro sent a get-well letter to a Cuban baseball star that was read over state television, the Associated Press reported.
Cubadebate proudly noted Fidel Castro's place in the Guinness Book of World Records for having survived 638 assassination attempts. The website said the record book should include a citation for "enemies of the Cuban revolution as the most frustrated assassins in history."
In its annual forecast, a state-sanctioned body of top Afro-Cuban Santeria priests earlier this week warned of the loss of many people to old age, a delicate subject on an island ruled by an 80-year-old president and several octogenarian aides. But the priests insisted their message was not a reference to Cuba's aging leaders or former President Fidel Castro.
WATCH SLIDESHOW:
As The Guardian reports, Cuba became the first Communist state in the western hemisphere after Castro, then a 32-year-old lawyer, leads his rebels to victory on the streets of Havana, overthrowing the regime of U.S.-backed dictator Fulgencio Batista.

As Reuters is reporting, Castro holds the Guinness Book of Records title for the longest speech ever delivered at the United Nations: four hours and 29 minutes, on Sept. 29, 1960. Still, even that pales in comparison to his longest speech on record: a whopping seven hours and 10 minutes, at the III Communist Party Congress in Havana in 1986.

Though the image of Castro as a cigar-chomping guerrilla fighter has become iconic, the Cuban leader actually gave up cigars back in 1985, Reuters is reporting. "The best thing you can do with this box of cigars is to give them to your enemy," he once said.

According to former Cuban Security Chief Fabian Escalante, Castro is said to have survived 638 attempts on his life since he came into power. According to The Independent, Castro is quoted as saying, "If surviving assassination attempts were an Olympic event, I would win the gold medal."

As Reuters points out, Castro outlasted nine U.S. presidents, from Eisenhower to Clinton, and faced increased hostility under President George W. Bush, who tightened enforcement of financial sanctions and a travel ban.

Though Castro was once believed to have been scouted by the New York Yankees and the Washington Senators, the rumors are false. Still, according to The Independent, Castro is known to be a baseball fan and excelled at the sport as a student.

As Reuters is reporting, Castro has at least eight children. His eldest son Fidel Castro Diaz-Balart, who is the image of his father and is known as Fidelito, is a Soviet-trained nuclear scientist. Daughter Alina Fernandez, the result of an affair with a Havana socialite when Castro was underground in the 1950s, escaped from Cuba disguised as a tourist in 1993 and is a vocal critic of her father's rule from her Miami radio program. Castro has five sons with his second wife Dalia Soto. Their names all begin with A. The youngest, Antonio, is the national baseball team's doctor.

In his years as Cuban leader, Castro was rarely seen wearing anything other than his trademark green fatigues. Still, as The Independent reports, Dutch designer Merel Van't Wout is said to have once persuaded Castro out of his fatigues and fitted him for several suits in dark blue, grey and dark green.

The Associated Press is reporting that Castro's 85th birthday will be celebrated in his native Cuba with "Serenade to Fidelity," an extravaganza featuring two-dozen singers and musicians from nine Latin American nations.


WATCH RELATED: