Occupy Wall Street: After Iowa Caucus, Questions About Movement's Force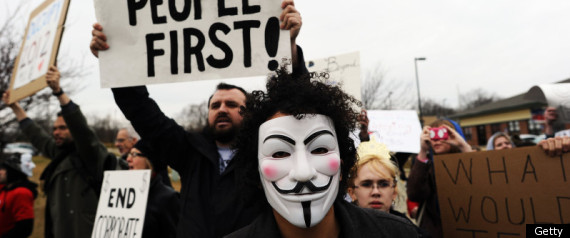 By MICHAEL CRUMB and RYAN J. FOLEY, Associated Press

DES MOINES, Iowa -- With several attention-grabbing protests before Iowa's caucuses, Occupy Wall Street activists proved their movement did not end when its encampments in big cities dispersed. But they also showed the group hasn't matured into a political force, and it's not clear whether it will become a liberal counterweight to the tea party this election year.
Following Tuesday's vote in Iowa, on which the movement had little impact, Occupy organizers are pledging to stage more protests in New Hampshire and South Carolina as the presidential nomination process moves east. But the smaller-than-expected crowds, a muddled message that was mostly ignored by candidates, and tactics that seem to limit their appeal raised questions about its long-term viability.
The most memorable moments from the Occupy Wall Street protests:

Protesters Begin Encampment At Zuccotti Park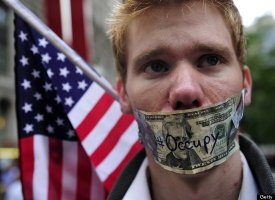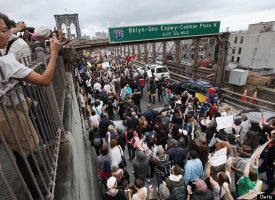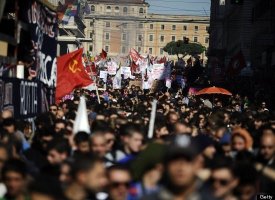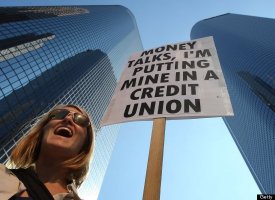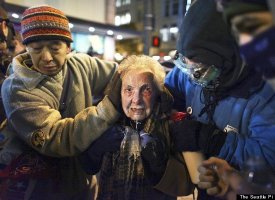 "This is a sign that the way they have been trying to do it probably isn't going to work," said Dave Petersen, director of the Harkin Institute of Public Policy at Iowa State University, who said Occupy's only discernible impact was tighter-than-usual security at Republican events. He said the group needed to develop leaders and a more coherent message if it wanted to make the transition from a grassroots movement to an electoral powerhouse.
Occupy protesters credited their Iowa counterparts with keeping the movement going even as they questioned tactics such as heckling candidates and blocking campaign offices.
"Every place politicians go from here they are going to hear the same message about the corrosive impact of money in politics," said Mark Provost, an organizer with Occupy New Hampshire, which is planning four days of events beginning Friday.
The week of protests in Iowa, largely limited to the Des Moines area, did not generate as much support as organizers hoped. Fewer activists came from other states than they anticipated, and their largest event attracted about 250 people, roughly half the size of crowds at earlier caucus events featuring GOP candidates like Ron Paul and Mitt Romney.
Generally small groups of protesters showed up at campaign offices and events of Republican presidential candidates. They often found locked doors, and dozens were arrested for trespassing. They heckled and interrupted candidates on several occasions, often to chant a prepared script.
"We still had a pretty decent turnout, fewer than expected but not by much," said Brandon Griffis, an Occupy the Caucuses spokesman.
Democratic Party of Iowa Chair Sue Dvorsky gave the group credit for calling more attention to issues important to ordinary people, such as Wall Street financial reform, tax cuts for the middle-class and health care.
Republicans were less generous, generally dismissing them as liberal agitators. Romney's supporters drowned out Occupy protesters who tried to interrupt him at a campaign event this week. "Go to work," a Romney supporter yelled, prompting applause and laughter. Michele Bachmann called the protesters President Barack Obama's re-election team after they caused a scene at her campaign office.
Drew Ivers, Iowa campaign chair for Paul, said the Occupy movement had "no impact at all" on the campaign. Five protesters were arrested outside Paul's Iowa campaign headquarters in suburban Des Moines last week.
The protestors' message seemed to vary by the day. One theme was the influence of corporate money in politics. But Iowa protesters also denounced everything from Romney's reluctance to release his tax returns to Paul's plan to eliminate the Environmental Protection Agency to Obama's decision to sign a law giving the president the power to indefinitely detain enemy combatants.
In New Hampshire, which holds its primary election Jan. 10, Occupy protesters are planning a gay pride parade Saturday and a "funeral for the American dream" outside a candidate debate the same day. They expect hundreds of activists from along the East Coast to join their events.
Lauren Dickson of Occupy New Hampshire said activists would be trained on the art of "bird-dogging," or confronting candidates with hard questions. She credited Iowa's protests with bringing attention to the movement.
"This is the beginning of the Occupy movement. As time goes on, we'll see the effect it's having," she said.
Tim Liszewski, an activist with Occupy Columbia in South Carolina, where the third nomination vote will be held, said he was only aware of one event – a gathering outside a Jan. 16 debate – planned so far. He said the movement will avoid aggressive steps that would limit its appeal in the heavily Republican state.
"We want to reach out to people in all parties. Heckling people might show the Republicans who were willing to work with us that, `Oh, they're just a partisan group,'" Liszewski said.
Related on HuffPost:
Via HuffPost Miami:
When an Occupy Miami member offered evicted protestors vacant apartments in a building he owns in Downtown Miami's Overtown neighborhood, it seemed like the perfect solution: the 'Peace City' space would provide headquarters for the movement and shelter a small faction of the group's most vulnerable members. But it hasn't gone well. Other tenants say the building has become a cesspool of drug use and violence while non-resident Occupy Miami members are trying to distance themselves from the 'radicals' -- all while the two factions are wrestling for control over Occupy Miami's social media sites and future plans.
The feud between the Overtown occupiers and more mainstream members has only gotten worse. The two factions are now battling for control of Occupy Miami's social media sites. The movement's main Twitter account recently announced it had been "hijacked by a small, non-consensus group of radical members." The Occupy Miami Facebook page was also temporarily hacked by someone inside Peace City. Meanwhile, the Overtown occupation is slowly driving away more moderate members.

"This is a black eye on the Occupy movement," says Shannon Reaze, an Overtown community organizer and Occupy Miami supporter who is now helping tenants move out of Paz's building. "The violence and drugs going on here are way outside of what I thought Occupy stood for. This place is destabilized."

...The supposedly hard-core activists here spend their days drinking and getting high. And as Peace City devolves into lawlessness, the most committed occupiers are leaving. Local landowners and politicians want the place shut down, while cops are suspicious. Yet as long as Paz wants the protesters around, nothing short of a demolition order can keep them out.
Subscribe to the HuffPost Money newsletter!