Yayoi Kusama's 'Obliteration Room' For 'Look Now, See Forever'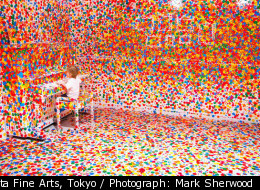 Since the fifties, 82-year-old Japanese artist Yayoi Kusama has been unusually relevant, her sales among the highest for living female artists (bar none in 2008). Now Kasuma's latest installation, on display at the Queensland Art Gallery in Brisbane, Australia until March 12, is invading corners of the internet normally reserved for twenty-somethings.
"Look Now, See Forever" deals in stylized kid imagery, with the the star installation a space called "The Obliteration Room." The room starts out like a page out of Dwell -- painted and furnished all in white, until kids armed with thousands of colored stickers descend. The result, which you'll see develop as you click through the images below, is the thoroughest expression of a plastic ball pit we can imagine. For more images from "Look Now, See Forever," head to the Queensland Art Gallery's site.