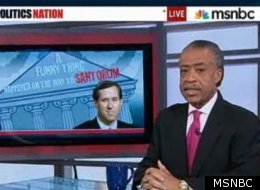 Al Sharpton tore into GOP candidate Rick Santorum on his MSNBC show Wednesday night, who he described as "one of the most right-wing candidates" in the Republican primary race.
Sharpton was discussing what he called the Republican party's desire to find a "non-Mitt Romney" candidate, which has resulted in the emergence of many "flavors of the month." Sharpton added, "Each one has really been the extremist of the month, and Rick Santorum may just have been the most bitter taste of all."
Sharpton played clips of Santorum articulating his positions opposing abortions and same-sex marriage. He also played a clip of Santorum discussing the "dangers of contraception."
Sharpton summed up his thoughts and said, "Folks, the Republican Party has been in a mad rush to its extreme white wing, and Rick Santorum has been there waiting the whole time." (Of course, Sharpton probably intended to say "extreme right wing.")
WATCH:
Visit msnbc.com for breaking news, world news, and news about the economy
Below, see some of the biggest on-air gaffes of 2011.
Todd was caught giving someone the middle finger on "Morning Joe" when he thought the camera was not on him.

Mark Halperin was suspended from MSNBC for calling President Obama a "dick" live on air during an appearance on "Morning Joe."

Gregory appeared on "Today" and made an awkward KKK-related gaffe while discussing the mounting sexual harassment allegations against Herman Cain. He later apologized for his "poor choice of words."

Kate Couric said she would not castrate Miley Cyrus while she co-hosted "The View" in August. "View" co-host Barbara Walters responded by telling Couric she would give her a lesson in human anatomy.

Ed Schultz went on unpaid leave from MSNBC after calling conservative radio host Laura Ingraham a "right-wing slut" in July.

During the early weeks of Al Sharpton's new MSNBC show, the host had some difficulty reading the teleprompter.

A Fox News graphic that aired in December showed President Obama in a poll with GOP hopefuls. Obama was mistakenly placed above GOP candidate Mitt Romney's poll numbers.

A local news producer seemed fairly frustrated on this KBOI newscast.

South Carolina's Greenville News had one copy edit mistake that packed a whole lot of punch.