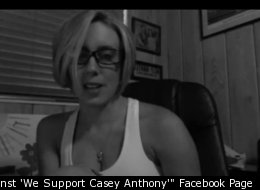 Casey Anthony has finally surfaced in the form of a grainy black-and-white video posted to Facebook. It is the first time Anthony has spoken since she was acquitted in the murder of her two-year-old daughter, Caylee.
"It's just a little surreal how much things have changed since July and how many things haven't changed," Anthony says in the webcam video. "But the good thing is that things are starting to look up and things are starting to change in a good way. I just hope that things stay good and that they only get better."
The video, which has been dubbed a "video diary," surfaced Wednesday night, on both YouTube and the Facebook page, "People Against 'We Support Casey Anthony.' According to the person who posted the video, it was filmed on Oct. 13, 2011.
"This video is for one purpose. To expose the fact that she is extorting supporters for money ... I didn't pay for this video. It was given to me. I would never pay Casey for anything. Not one red cent," the Facebook group administrator wrote on the website.
The individual said the purpose of posting the video was to prevent Anthony from earning any money from it.
"If people are sending her donations for these videos they won't have to if they are up for free," the person said.
On July 5, 2011, a jury of seven women and five men acquitted Anthony of killing Caylee. The little girl's remains were found in December 2008 near the family home, some six months after she was last seen.
During the trial, Anthony's attorney, Jose Baez, said Caylee had drowned in the family swimming pool. That revelation stood in direct contrast to previous statements Anthony had given police, saying her daughter had been kidnapped.
In August 2011, Judge Belvin Perry ordered Anthony, who was living in another state at the time, to return to Florida to serve a year's probation on charges stemming from a check fraud conviction.
Baez did not immediately respond to a request for comment from The Huffington Post in regard to the video. People magazine and NBC News have reported they have confirmed the person in the video is Anthony.
In the four and a half minute video diary, the 25-year-old, who appears to have put on weight, has short blonde hair and is wearing black-framed glasses and a white tank top. Anthony is also sporting her signature wrist bands.
Anthony does not mention her location, but said she plans to remain there until "at least until the end of February." She chats about how happy she is to have a computer and camera and said she has adopted a dog.
"I'm extremely excited," she says. "I'm excited that I'll be able to Skype and obviously keep a video log, take some pictures and that I have something that I can finally call mine. It's been a long time since I've been able to call something mine."
Anthony does not discuss her six-week murder trial or Caylee. Instead, she keeps the video focused on herself and her current situation in hiding.
"Now I in some ways have someone to talk to even when I am by myself so I am not bothering the poor dog who I have adopted and I love," she says.
At the end of the video Anthony jokes that she hates being on camera, but promises more video diaries will be forthcoming.
"This is the first of many, and I'm looking forward to this," Anthony says. "I''s a little scary, because I hate being on camera. But I need to conquer that fear at some point and this is a good start."
CASEY ANTHONY PERSONAL PHOTOS:
Casey Anthony Personal Photos
The bombshell trial of Casey Anthony captivated the nation's attention. The Florida mother, pictured in this photo from her Photobucket.com account, was found not guilty of murdering her two-year-old daughter, Caylee.

Amidst all of the hoopla surrounding the trial, some of Casey Anthony's personal photographs were released. Several of Anthony's photographs were used as evidence.

Prosecutors alleged that Casey Anthony killed her daughter, then misled authorities who were searching for the toddler. But her attorneys insisted that Caylee drowned in the family's swimming pool. The defendant's lawyers claimed that after years of abuse, Casey Anthony felt unable to reveal the truth.

Prosecutors attempted to cast Casey Anthony as a party girl -- revealing that she took part in a "Hot Body" contest just four days after she claimed her daughter drowned in her family's pool.

Lawyers showed jurors photos of Casey Anthony partying, like this image, which was posted on the defendant's Photobucket.com account.

Casey Anthony reportedly told investigators that her daughter had been kidnapped by a nanny, but during the trial her attorneys claimed the child drowned.

One question that remains unanswered is the identity of Caylee Anthony's father. Casey Anthony reportedly told friends that the child's father was a "one night thing."

But her lawyers have floated a theory involving incest. Casey Anthony's attorneys pressed an FBI witness to tell jurors that the agency conducted a paternity test on the defendant's brother, Lee Anthony. The test came back negative.

Investigators also conducted a paternity test on Casey Anthony's father, George Anthony, which also came back negative.

Tests also revealed that Jesse Grund, a man Casey Anthony once dated, was not Caylee Anthony's father.

Casey Anthony's family said they knew something was amiss when they detected a foul odor coming from the back of the defendant's car in July, 2008.

The trunk of the car actually contained a bag of trash, but prosecutors claimed that Caylee Anthony's body decomposed in the rear of the vehicle before it was moved to another location.

An insect expert for the defense stated that the body didn't decompose in the car because there wasn't any evidence of bugs that are often attracted to remains.

Caylee Anthony's remains were discovered near the family's home in December, 2008.

Prosecutors alleged that Casey Anthony killed her daughter by placing duct tape over her mouth. Duct tape was discovered wrapped around the todder's skull when the child's remains were recovered.

Casey Anthony was indicted on October 14, 2008, on charges of first-degree murder.

The Casey Antony trial became the year's biggest legal event. Spectators lined up every morning to get tickets to the trial. In one case, attendees got into a fistfight over access to the courtroom.

The case became one of the most monumental trials in Florida's history.

Some photos of Casey Anthony and Caylee Anthony were classified as evidence.

Jury selection for the Casey Anthony trial began on May 9, 2011.

Alongside capital murder, Casey Anthony was also charged with aggravated child abuse, aggravated manslaughter of a child and misleading law enforcement in the case of the death of her daughter, Caylee Anthony.

The prosecution sought the death penalty.

Meet Don Gennaro Annunziata. He was at the sentencing protest in front of the Orange County Courthouse. Don said he is a 38-year-old window washer from Orlando.

Bachelor number two is Tim Allen, a 24-year-old resident of Orlando, Fla.