How To Be Family-Friendly In Sin City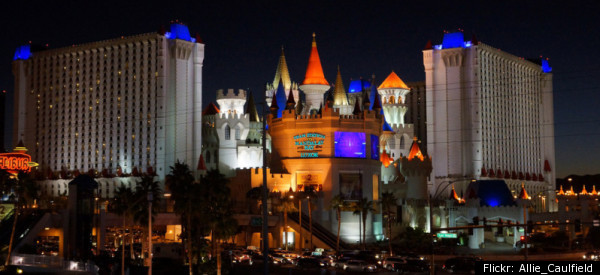 While Las Vegas isn't always thought of as a family-friendly town, you can still find plenty of things to do in Sin City that will be fun for youngsters and oldsters alike. Hotels like Circus Circus or Excalibur are the perfect settings for families, with plenty of entertainment on the properties. When you're in Las Vegas, head out to these eight attractions that keep kids in mind:
Lied Discovery Children's Museum
If your kids are in to science, art, culture and early childhood, stop by the Lied Discovery Children's Museum, where 100 of these exhibits take up the 23,000 square feet. Look for the "Growing Up With The Berenstain Bears" exhibit that gives kids a chance to participate in the stories of the beloved family of bears. Or at "Desert Discovery," little ones under age 5 can play in the desert. The two levels of the museum are sure to keep families entertained.
Lied Discovery Children's Museum
833 Las Vegas Blvd. N.; 702-382-3445
Shark Reef Aquarium
Something lingers under the deep, dark depths of the Shark Reef Aquarium, but don't worry, they can't bit. It's North America's only predator-based aquarium and exhibit with sharks of all kinds, sawfish, giant rays, endangered green sea turtles, piranha, moon jellies and the rare golden crocodiles. During the holidays, visit Santa Claus or go through the haunted exhibit with fearsome predators including sharks and a rare Komodo dragon with dagger-like teeth and piercing razor-sharp claws will lurk in exhibits.
Shark Reef Aquarium
Mandalay Bay, 3950 Las Vegas Blvd. S.; 702-632-4555
Adventuredome Theme Park
Thrill rides galore await at the Adventuredome, a five-acre indoor amusement park inside Circus Circus, with 25 rides and attractions. The Canyon Blaster, the only indoor double-loop, double-corkscrew roller coaster in the United States, flies at 55 miles per hour. The Disk'O combines a breathtaking dual rocking/spinning motion with front row seats for all. There's also a 18-hole miniature golf course, arcade, clown shows, midway games and more for kids of all ages. And every October, the Adventuredome converts into Frightdome with Halloween themes throughout.
Adventuredome Theme Park
Circus Circus, 2880 Las Vegas Blvd. S.; 702-794-3939
Lion Habitat
Watch lions as they hang out at the Lion Habitat at the MGM Grand. Greenery and a waterfall (within the soundproof, one-and-a-half inch thick glass windows) make the lions feel at home and keep you safe from their claws. While the exhibit is open daily from 11am to 7 pm, feeding time is at 11:15am and 4:30pm daily.
Lion Habitat
MGM Grand, 3799 Las Vegas Blvd. S.; 702-891-1111
Springs Preserve
No matter what your age, you'll love the Springs Preserve. The 180-acre cultural institution not only commemorates Las Vegas' history but looks to provide a vision for a sustainable future. Inside the park, discover museums, galleries, outdoor concerts and events, colorful botanical gardens and an interpretive trail system that meanders through a scenic wetland habitat. The highlight here is the native and non-native plants in the variety of gardens covering cacti, palms, herbs, roses, vegetables and fruits.
Springs Preserve
333 S. Valley View Blvd.; 702-822-7700
Tournament of Kings
Fire-breathing dragons and brave kings come together to battle it out to the death at the Tournament of Kings at the Excalibur. Cheer on your favorites as they joust, duke it out and race their mighty steeds in contests to determine the best as fair maidens vie for their hearts in this extravagant dinner show where you eat with your hands. Like all good fairy tales, good wins over evil and the heroes reign over the land. Tickets start at $56.95 and include a three-course dinner.
Tournament of Kings
Excalibur, 3850 Las Vegas Blvd. S.; 702-597-7600
Dolphin Habitat and Secret Garden
Discover the worlds of Atlantic bottlenose dolphins at the Dolphin Habitat at the Mirage. The 2.5-million-gallon Dolphin Habitat is home to a family of dolphins who occupy four connected pools, with an artificial coral reef system and sandy bottom. You can even swim with the dolphins while you're there and check out the two new dolphin calves this year. Tickets are $15 for adults, $10 for children ages 4 to 12 and free for children 3 and under.
Dolphin Habitat
Mirage, 3400 Las Vegas Blvd. S.; 702-791-7188
Las Vegas Ski & Snowboard Resort
Even though Las Vegas sits in the midst of the Mojave Desert, you can still find fresh powder for skiing. An hour north of the Strip sits the Las Vegas Ski & Snowboard Resort. Kids can take lessons on the mountain or take part in the youth racing league. The 11 runs serviced by three chair lifts and one surface lift offer adventure for every age.
Las Vegas Ski & Snowboard Resort
Highway 156, Mount Charleston, 702-385-2754

Photo Courtesy of Allie_Caulfield, flickr

Where does your family go when you visit Las Vegas? Let us know in the comments!