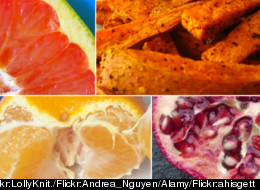 It's a new year, which for many of us means a new (or at least a renewed) focus on healthy eating. Fortunately, the drop in temps doesn't mean the fruit and veggie aisles are bare. Far from it! Now that January's in full-swing, there are plenty of good-for-you, in-season options just waiting to be scooped up and worked into your daily meals.
So check out our list of six January superfoods that make for a great way to ring in the new year. Any favorites we forgot? Let us know!
Why we love them: The clementine, another seasonal superfood, is everywhere this time of year, but oft-overlooked tangerines are also plentiful and pack a serious nutritional punch. They're sweet, slightly tangy and a good source of Vitamin C (according to Livestrong, nearly 40 percent of the amount the Food and Drug Administration recommends you consume daily ). How to enjoy them: Just peel and go! Tangerines are a great snack food and are also nice for a bit of sweet juiciness in winter salads.

Why we love them: People often think of brussels sprouts as a Thanksgiving food, but they're still right in season and are veritable nutrition powerhouses. Keri Gans, registered dietitian and author of "The Small Change Diet," explains that they are full of antioxidants and fiber, which helps lower cholesterol and fills you up at meals. How to prepare them: You can always channel Thanksgiving and roast 'em. If you do, Gans recommends using a bit of olive oil, which will help your body better absorb the fat soluble vitamins in these hearty veggies. Looking for something new? Gans suggests cutting brussels sprouts into very thin slices and using them like cabbage in a winter slaw.

Why we love it: Registered dietitian Keri Glassman recommends grapefruit as an excellent source of Vitamin C, which she says helps support the immune system and prevents the free radical damage that triggers inflammation. How to enjoy it: "Add grapefruit sections to salads to add a nice sour kick!" Glassman says. She also recommends adding the juicy citrus fruit to salsas or as a topping for plain yogurt. Need a sweet treat? "Broil half a grapefruit for a healthy winter dessert," Glassman says. " Simply broil with cinnamon and a drop of honey."

Why we love them: Experts can't say enough about how great sweet potatoes are, health-wise. Gans says that, among other things, they are a great source of Beta Carotene, while Glassman describes them as a natural exfoliant "chock full of Vitamin A." And that antioxidant? She says it's "responsible for producing new skin cells and shedding worn cells, defending the body against free radicals that may lead to wrinkles." How to prepare them: Glassman recommends them as an alternative to traditional baked or mashed potatoes, or suggests trying a spicy sweet potato and quinoa salad. Gans suggests slicing them and making healthy, roasted sweet potato fries.

Why we love them: As the New York Times once pointed out, leeks offer great onion flavor for those who don't necessarily love onions. They're also a good source of calcium and potassium -- a mineral that Glassman says can help "repair and replenish sore muscles after a workout." How to enjoy them: Use leeks in hearty winter soups and stews or work them into quiches or tarts. They also work well as a standalone vegetable with dinner.

Why we love it: Glassman says that antioxidant-rich pomegranates pack a cancer fighting punch. "The seeds contain fiber, ascorbic acid, vitamin K, potassium and iron," she explains. "While each seed is barely a centimeter, it is amazing how much nutrition can be packed into such a tiny space!" How to enjoy it: First things first ... when opening a pomegranate, Glassman reminds you to be careful: The juice will stain fingers and fabric. Once you've got the seeds out, try sprinkling them on salads, adding them to wild rice or serving them in a glass of champagne or seltzer, Glassman recommends.

Why we love them: Ok, so calling liquids a superfood is a stretch. However, as Gans reminds us -- if you want to feel really refreshed and renewed as we enter into another year, you have to make sure to stay hydrated. "In the winter months, people don't think about thirst because they're not particularly warm, so they tend to get a little dehydrated," she said. "Keeping your body hydrated is very important." Gans says water is really your best bet, but adds that any drinks that are low in sugar and calories should help do the trick. So think tea, or even coffee (as long as you stick to one or two cups a day, she says). Other options? Warm your water and have it with lemon or even try vegetable broth, so long as it doesn't have a lot of sodium, Gans says.
For more on diet and nutrition, click here.