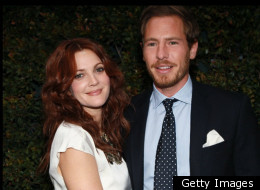 You've probably heard by now that Hollywood's bad-girl-turned-good Drew Barrymore and her dreamy art consultant boyfriend Will Kopelman are now engaged. Cheers to the happy couple!
In their honor we have compiled a slideshow of other brave celebrities who decided to take the plunge and marry into the tumultuous art world. Or are the artists the brave ones? Either way, check out the selection of sometimes unexpected but always intriguing art/celeb marriages.
Drew Barrymore, Hollywood starlet who has starred in many films including 'E.T.', 'Grey Gardens', and 'Charlie's Angels', is now engaged to art consultant Will Kopelman.

Charles Saatchi, illustrious collector, sponsor of Young British Artists and owner of the Saatchi Gallery, is married to Nigella Lawson, a food journalist and broadcaster sometimes called 'The Queen of Food Porn.'

Sam Taylor-Wood is a Young British Artist who does conceptual films, photography and art. She married actor Aaron Johnson, star of her film 'Nowhere Boy,' who is 23 years her junior.

Bjork is an Icelandic singer whose genre-crossing numbers have been critically acclaimed for their eclectic beauty. She is married to contemporary artist Matthew Barney, who combines sculptural installations with performance and video.

Sibylle Szaggars is an expressionist painter whose abstract works are inspired by Hopi Indians. She is married to Robert Redford, star of 'Butch Cassidy and the Sundance Kid' and 'The Sting.'

Alan Cumming, Scottish stage, television and film actor, singer, writer, director, producer and author, married Grant Shaffer, an inventive illustrator and comic artist.

Doug Hitchinson, a 51-year old actor known for his role in 'Lost', married 16-year old pop artist/ bizarre Twitter performance artist Courtney Stodden. Perhaps the odd coupling is the real work of art.