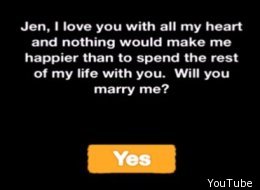 When Joe decided that it was time to pop the question to longtime girlfriend Jen, he knew that no ordinary proposal would do.
So the gamer boyfriend reached out to Foozle -- one of his girlfriend's favorite iOS puzzle games -- and asked developer William Thurston to help him out with an in-app proposal.
The result? A special copy of the physics-based puzzle game, which contained a hidden message at the end of the seventh level. The message (shown above in the video) reads: "Jen, I love you with all my heart and nothing would make me happier than to spend the rest of my life with you. Will you marry me?"
Although Jen initially had problems getting past the level, she finally got to the buried proposal message -- and did a happy double-take before selecting "YES."
But Joe isn't the first to propose in this way -- many others have used video games to pop the question.
Click through the slideshow below to see other cleverly-constructed video game marriage proposals.
In October 2008, Phil decided he wanted to pop the question to his girlfriend, Anna -- and figured out how to hack into Chrono Trigger, a video game that she was playing at the time. The computer science student added a few memories of their own into the game (such as stargazing and dancing) and even included a sweet note of his own -- skip to 0:48 to see the in-game proposal.

Gary Hudston always promised his girlfriend Stephanie Harbeson that his proposal to her would be geeky and unique -- so when he figured out that his girlfriend loved playing Portal 2, he just knew he had to incorporate his proposal into the game -- somehow. So Hudston set off on a mission -- tracking down the voice actress who plays GLaDOS in the game, as well as the game's writer and other members of the Portal 2 team-- to create a custom version of the game. The entire project took six weeks -- and of course, she said "Yes!" Watch above as Stephanie plays through the level without knowing that a proposal is waiting for her at the end.

In April 2010, game designer Anders Howard proposed to his girlfriend via a video game he designed, called "Dinner Love and the Quest for Soup." Watch the actual footage of Howard's girlfriend playing the game above.

In April 2011, Ben Ambroso asked the developers at Gearbox Software to help him out with a marriage proposal to his girlfriend Tora. And they said yes -- after all, both Ambroso and his girlfriend were huge fans of the game "Borderlands." See what happens next in the video.

In October 2009, one gamer proposed to his girlfriend within a Super Mario World game by spelling out the words "Lisa Will You Marry Me?" using gold coins. Watch how she reacts as he gets down on one knee -- to offer a real ring.

In October 2008, gamer DimmuJed used Little Big Planet to propose to his girlfriend. According to his YouTube description of the video, she was so shocked that she just kept playing the game. Watch the proposal above.

In December 2007, computer programmer Bernie Peng reprogrammed his girlfriend's favorite video game -- "Bejeweled" -- to propose to her. As she reached a certain score, a ring and marriage proposal popped up on the screen -- and she said "Yes!"

In 2010, Matt Gilgenbach created A Mobius Proposal to pop the question to his girlfriend. Gilgenbach built a fully-functional co-op puzzle game -- which took him a total of three months to make -- but it was totally worth it.

In December 2011, Mihai used a Google+ online game called "Crime City" to propose to his girlfriend. Mihai approached the game's creator, Funzio, who then created a virtual engagement ring especially for the proposal. The ring appeared in his girlfriend's virtual inventory -- and she said yes.