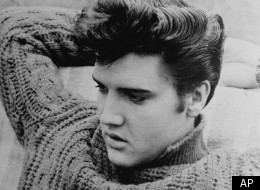 The 'King of Rock & Roll' was born on January 8 in Tupelo, Miss., and would have turned 77 today if he had not died on August 16, 1977 of a heart attack and rumored drug overdose.
Anxious to remember the days of "Hound Dog" and "Love Me Tender"? Click here to see Marpop's lengthy list of places you can pay tribute to the 'Godfather of Graceland."
This is a big year for Elvis fans, MSNBC reports. Exhibits, tours, concerts, and celebrity cruises are "in the works" in honor of the 35th anniversary of the King's death. Additionally, potentially one of the most extensive Elvis collections opened last month at a museum in Dusseldorf, Germany.
"People love it," Andy Schroeer, one of the founding collectors, told MSNBC. "They all go out with a big smile on their faces."
Tennessee's Graceland can expect a spike in tourism for the landmark anniversary, the Memphis Daily News reports.
"When you get to that milestone date, it becomes bigger," Wayne Tabor, chairman of the Metropolitan Memphis Hotel and Lodging Association, told the paper. Special merchandise commemorating the 35th year anniversary will also be sold around the U.S. and beyond, the paper reports.
Check out Elvis' iconic "Hound Dog" performance:
WATCH:

Elvis Presley -Hound dog by LostPirate77
Remember this famous performance?
SCROLL:
Rock'n roll legend Elvis Presley in file picture dated 26 March 1958 in Fort Chaffee at the beginning of his military service. Elvis spent 17 months in Friedberg, Germany, between October 1958 and March 1960 as a GI. Elvis Aaron Presley was born 08 January 1935 in Tupelo, Mississippi and was found dead 16 August 1977 from a drug-induced heart attack in his bathroom at Graceland, a colonial estate in Memphis, Tennessee. (Getty Images)

FRIEDBERG, GERMANY - JANUARY 1: Picture taken in 1959 in Germany of US rock star Elvis Presley (C) cheered by fans upon his arrival at Friedberg, to do his military service. (Getty Images)

Undated picture of US rock star Elvis Presley, born in Tupelo Mississipi in 1935 and died 16 August. 1977 at his home 'Graceland' in Memphis, TN. (Getty Images)

Elvis Presley, rock and roll singer turned movie actor, poses with house guest, Venetia Stevenson, Hollywood starlet recently dubbed "World's Most Photogenic Girl" in a photography magazine contest. Elvis and guest were spotted leaving through the rear door of a downtown theater early August 9, 1957, where they attended private showing of his latest movie, "Loving You". He lives here with his parents. (AP Photo)

Elvis Presley, 23, home on furlough after 8 weeks basic training, with a couple of the fans who besieged the gate to his $100,000 mansion in Memphis, Tennessee on June 2, 1958. He's holding Donna Harrison, 5, and Ronnie Brown, 2, both of Memphis. (AP Photo)

Lisa Marie Presley poses for her first picture, safe in the lap of her mother, Priscilla, on February 5, 1968, while proud father, Elvis Presley, beams his approval. The baby is the first child for Elvis and his wife, the former Priscilla Beaulieu. (AP Photo/Perry Aycock)

Rook 'n' roll singer Elvis Presley, his army stint nearly at an end, is greeted at Ft. Dix. New Jersey on March 3, 1960, by the 19-year-old daughter of Frank Sinatra. Nancy Sinatra was on hand to greet Presley who flew in from Germany for discharge. Presley's first TV appearance will be on the Frank Sinatra show. (AP Photo)

Elvis Presley is shown performing in Providence, R.I. on May 23, 1977, three months before his death. (AP Photo)

Elvis Presley is shown with his Gibson J-200 guitar in a 1957 MGM studio publicity photo. Born in Tupelo, Miss., Elvis was an immediate sensation in the mid-1950s with his blend of blues rock and rockabilly. Because of his stage gyrations, television producers initially refused to show him below the waist on screen. Critics called him "Elvis the Pelvis," but his fans called him the "King of Rock 'n' Roll." The Elvis empire grew with live performances, records, films and a grand estate in Memphis,Tenn., known worldwide as Graceland. Elvis died at Graceland on Aug. 16, 1977. He was 42. (AP Photo)

This 1958 photo provided by RCA Victor shows Elvis Presley. Cirque du Soleil (French for circus of the sun) will produce a series of shows focused on Presley's life and music and help design interactive, multimedia museums called "Elvis Experiences," CKX Inc., the parent company of Elvis Presley Enterprises, said Thursday, May 18, 2006. (AP Photo/RCA Victor)

Elvis and Priscilla Presley cut their wedding cake after exchanging nuptials in the Aladdin Hotel-Casino in Las Vegas in this 1967 photo. (AP Photo/Las Vegas News Bureau)
CORRECTION: A previous version of this entry stated that 2012 is the 35th anniversary of Elvis Presley's birth. It is the 35th anniversary of his death. The post has been corrected and we sincerely regret the error.