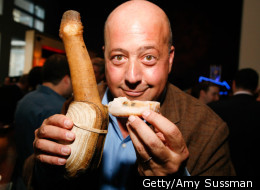 "Bizarre Foods" star Andrew Zimmern is hosting a pop-up dinner themed "California Dreaming" at Royal/T this Friday, and while diners won't be served courses of medicinal dirt or moth larva, they'll still be getting an off-beat taste of the best that Southern California has to offer. On the menu: crispy goat chuchules, tongue two ways and sea urchin -- nothing an Angeleno foodie couldn't handle on a tame day.
Zimmern, a New York native, lives in St. Paul, Minn. full-time (his Midwestern politeness and unwillingness to offend is so outsized it could be its own character on "Bizarre Foods") but he's traveled to Los Angeles at least six times a year for about 40 years. He's got a lot of opinions about what's happening here in the Golden State, and in a phone interview with The Huffington Post, Zimmern didn't hold back when it came to some of the more controversial topics in the food world today.
Shark fin ban? "An absolute must." Foie gras ban? "I feel the exact opposite way." Medical marijuana? "I'm very pro-marijuana." Sounds like he fits right in with the likes of Los Angeles food critic Jonathan Gold and some of our city's chef-stars like Ludo Lefebvre, Jon Shook and Vinny Dotolo.
Of course, the last time Zimmern visited Los Angeles in an official capacity was 2008, when he filmed an episode of "Bizarre Foods" featuring chefs Wolfgang Puck, Ben Ford of Ford's Filling Station and Nobu Matsuhisa of Nobu. Seems like conventional fare, except he also paid a little visit to Oki-Dog in West Hollywood (home of the hot dog burrito) and Typhoon in Santa Monica (where he ate sea worms, scorpions and ants).
Zimmern has a lot of love for Los Angeles, so he's glad that critics have finally recognized our fair metro as a national food destination. He pegs the birth of our status as a top food city to one person: Suzanne Goin. "When rustic Italian/French-influenced farmhouse cooking started being done at the level it was being done at Lucques," Zimmern explained, "I think something magical happened in LA."
Not to rankle any feathers (Zimmern is good friends with a certain Wolfgang), he clarified, "It wasn't that Puck wasn't cooking good food or that Michael McCarthy's restaurants in the 80s weren't doing wonders for Southern California cooking."
Still, Zimmern gives props to the Puck where props are due, citing one of his early Southern California restaurants as a harbinger of the adventurous cooking that dominates Los Angeles today. "When he first opened Chinois on Main, he had Szechuan-style rooster testicles on the menu," Zimmern laughed. "Little-known fact!"
Check out the rest of our interview with Andrew Zimmern, and details below on how to snag tickets for the Friday pop-up.
California Dreaming Pop-Up Menu for Friday, January 13.
Sea Urchin and Yellow Tomato-Vegetable Aspic
Pasta a la Vongole, Linguine and 'Clams' with Oregano, Olive Oil, and Garlic
Tongue Tied: Veal Tongue Tartare and Chile braised Lambs Tongue Quesadilla
Grilled Broken Arrow Ranch Venison Chop, Crispy Goat Chuchules, Posole, and Avocado Salsa
Cioccolato Orrare da Gustare
WHO: Foodie fans who love both "Bizarre Foods" and California cuisine.
WHAT: Andrew Zimmern hosts "California Dreaming," a one-night pop-up that benefits the Los Angeles Regional Food Bank
WHEN: Friday, Jan. 13, 2012. Reservations start at 6 p.m., with the last seating at 9:30 p.m.
WHERE: Royal/T, 8910 Washington Blvd., Culver City, CA 90232. (310) 559-6300
WHY: Because Valentine's day just came early for you and your adventure-seeking date. Besides, don't you want to know what crispy goat chuchules tastes like? We're pretty sure it's some kind of aphrodisiac.
HOW: Tickets cost $150 per person, which gets you five courses and gives the Los Angeles Regional Food bank a portion of the proceeds. Make reservations online. Anyone who dines at the restaurant for this pop-up event also agrees to be filmed for Andrew Zimmern's show.
As for those who want to enjoy Andrew Zimmern on the tube, the next season of "Bizarre Foods America" with Andrew Zimmern premieres Monday, Jan. 23 at 10pm EST on the Travel Channel.
Click through for Huffington Post's interview with the weirdest eater on television.
Andrew Zimmern interview.
Huffington Post: LA's now considered a major food destination. Does that surprise you? Andrew Zimmern: You always had the little great hole-in-the-wall Thai restaurants. Jonathan Gold keeps extolling those places -- brilliantly so, I'm addicted to what he writes about. But I think at a certain point, LA dining went mainstream. And now, I mean you have Vinny Dotolo and Jon Shook -- I think what they're doing at Animal and Son of A Gun is as emblematic as how much of a national dining city Los Angeles has become. Because their style of food is as gritty and urban as anything that's being done by some tired old hipsters in Brooklyn. Access to product. Chefs respond to access to product. We could talk about that for hours. The things that are being grown, foraged, raised and taken out of the water in Southern California -- what a wonderful larder to choose from for chefs. NEW YORK -- OCTOBER 08: TV personality Andrew Zimmern attends the 2010 Burger Bash after-party at Superfine on Oct. 8, 2010 in Brooklyn, New York. (Photo by Jason Kempin/Getty Images)

HP: The pop-up you're hosting at Royal/T benefits the LA Regional Food Bank. Why them? AZ: In another life, I was a homeless junkie living on the streets of New York. If it wasn't for the graces of organizations like the LA food bank (I was in New York City, obviously)... [trails off]. I took advantage of having meals and getting clothes and getting a warm bed and facilities in New York. When I'm doing something on a national level, I have my national charities. Certainly things like Share Our Strength are very, very important to me. But when I did something in San Francisco and was able to support a cause like I did up there with a local food bank -- I want to keep it local. I believe in growing where you're planted. NEW YORK - APRIL 23: Host of "Bizarre Foods" Andrew Zimmern attends the Discovery Upfront event at Jazz at Lincoln Center on April 23, 2008 in New York. (Photo by Amy Sussman/Getty Images for Discovery)

HP: California recently made the move to ban foie gras and shark fin, and d-day is soon approaching. What's your opinion on the ban, given everything you've eaten? AZ: Shark fin is an absolute must for me -- it has to be banned. It's the only way to save some species of sharks that have been overfished. The treatment is inhumane. The entire animal has to be harvested. There's no adequate defense for that practice. Foie gras ban I feel the exact opposite way about. Gavage techniques in 2012 are not as horrific as they are painted to be, and I think more importantly, foie gras production relative to feedlot beef, feedlot pork, commodity chicken, amateur hour aquaculture, is just a fraction of the production of those. The crimes against animals are not happening in farms as related to ducks and geese being processed for their livers. The crimes against animals in this country are being committed in factories and -- and they are atrocities -- they're being committed in factories and by food companies who have put so much money into the political system that there are laws that protect those companies from telling you or I what's in those hotdogs that they produce. Thats the crime. That's what we should be banning, not foie gras production. Andrew tries the amuse-bouche, kidney terrine cake, created by Vince Jones at Haute Dish

HP: What about another heavily-regulated food stuff, marijuana? AZ: I feel on a personal level that I'm an addict and I can't put a chemical in my system. I don't know how to just stop once. It's like an allergy. However, I have friends and loved ones for whom medical conditions -- no pills, nothing else, has made them feel relaxed. Whether it's a horrific ocular condition, nausea from cancer and leukemia treatments -- nothing works for them except marijuana. We could talk for hours about this subject. It is one of the great issues of our times. But I am for decriminalization of it and I am for a heavily-regulated medial marijuana opportunity for anybody who needs to have it afforded to them. Andrew Zimmern with a BLT dog at Tilia in Minneapolis

HP: How are Los Angeles diners different from the rest of the country? AZ: You talk to most Angelenos and they're all familiar with menudo -- the Mexican tripe soup with hominy and posole in it. There are foods thanks to the Asian and Latin populations that have long been a very vibrant part of the dining scene there. For all the jokes about people in Hollywood having a decaf latte and a cesar salad for lunch every day, the dining community in LA is pretty adventurous. I'm not sure many cities, other than a handful, could support Jose Andres' Bazaar or Ink or Animal and Son of a Gun -- or as vibrant a food truck scene. It's not just immigrant day laborers that are lined up for Oaxacan tongue tacos. Andrew talks with Piccolo Restaurant Chef, Doug Flicker in the Twin Cities area of Minnesota.

HP: What's on the Zimmern family table during the holidays? AZ: I'm from New York and we're very traditional there about our holidays. My wife is from rural Minnesota. We celebrate [in Minn.] for Thanksgiving obviously. We do a pair of roast turkeys, sausage and cornbread stuffing. I do a chestnut and foie gras stuffing. Roasted onion pan gravy. Seven or eight different vegetable sides. My mother-in-law's apple raspberry jello salad. We do the whole deal. Pumpkin pies, apple pies. The whole regular Christmas smorgasbord. Being jews, we also do the latke fry on the first night of Hanukkah. We're a mixed race family. A still from an upcoming episode of "Bizarre Foods America."

HP: What did your parents serve you growing up in New York? AZ: My parents were very adventurous eaters and I traveled with them. By the time I was 10, I had eaten fetal baby lambs roasted in Valle de los Caidos in Spain underneath the Roman aqueduct there. Growing up in the New York, you eat a tongue sandwich at your grandma's on Sundays. You go to Chinatown and eat all kinds of things on the weekend when you're with your buddies. By the time I got to college, I was well-traveled and exposed to a lot of foods. I knew I wanted to be in the food business, and I spent the rest of my life pursuing great foods and telling the stories behind them. And that's what got me into doing "Bizarre Foods." A still from the upcoming "New Orleans" episode.

HP: What do you teach your son, Noah? AZ: As far as my son is concerned, he's almost 7 and his lifespan is equal to the length of time I've been at Travel Channel. I went overseas to shoot the pilot of my first show when he was born. I shot my first contracted episode when he was about 10 months old. He's never known a different way. He travels a lot with my wife and I and he eats guinea pig, tacos de cabeza in Mexico. At the sushi bar he eats better than most of my friends my age. Little shrimp heads, geoduck clams, I mean there's nothing he shies away from. A still from the upcoming "New Orleans" episode.

HP: As a professional eater, what do you do to say lean and mean? AZ: Oh my gosh, I don't! The biggest struggle of my life is my weight. Try as I might, I'd love to exercise more. I desperately need to exercise more. But I love to play sports. If there's a game where I can keep score, I want to do it. And I like to run. Andrew with a big carp, caught with a bow and arrow in Big Maring Lake. Photo credit: Travel Channel

HP: Time for a segment on weird food news around the world. What's your reaction to the news that a Chinese billionaire died after eating poisoned cat stew? AZ: It sounds like the Florence of the Medicis in the 16th century. I mean my gosh, it's Lucrezia Borgia all over again. There's a horrible, horrible joke with the most childlish sexual sub-reference that I would love to make right now, but I can't because it would come off as being in horrifically bad taste. But it's very funny so I want credit for the joke. Andrew eating a spring roll at Hmongtown market in Twin Cities, MN. Photo credit: Travel Channel

HP: On a more serious note, what do you think about Georgia's controversial public health campaign against childhood obesity? AZ: The ads are kind of tasteless, but let me put it this way, and I've written about this before here in Minnesota. The idea is that if you and I went to pick up our kid at the grade school and we saw other kids being handed a beer or cigarette by an adult, we would call the police. When I am at the state fair here in Minnesota and I see a morbidly obese child being handed a foot-long hot dog, a small bucket of french fries, and a 64-ounce sugar soda by their parents, I get confused about what the difference is. This is an education issue. This is a social wellness issue and this is a class issue in our country. We have destroyed our food system and cheapened our food. We have created food deserts, and this is the net result -- we have put some parents in the position of not having any education oaths issue or resources to feed their children properly. Would I criminalize this behavior? I'm not really sure. But I think we need to throw some very serious firepower at this because the child can't decide for himself and is being continuously fed by their parents in this way -- it's dangerous for their health and it's going to kill a generation of our children. A still from an upcoming episode of "Bizarre Foods America."