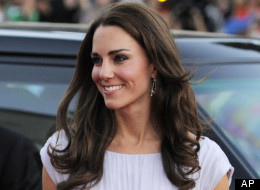 Kate Middleton turns 30 today, and in honor of her birthday, we thought we'd celebrate all the reasons to love being done with your 20s. While Kate's last decade involved some significant personal milestones -- receiving her MA in Art History from St. Andrews and the royal wedding, to name a few -- we think her best years are ahead of her. From a stronger sense of self to a better sex drive, a better sense of what you want to do with your life and who your real friends are, there are many reasons to love your 30s.
If you're over 30, what do you love most about this new decade? What were you happiest to leave behind in your 20s? Tweet @HuffPostWomen with hashtag #Loving30 and we'll publish your responses.
SLIDESHOW: Reasons To Love Your 30s
... but not be ruled by it. Rumors that Kate Middleton is pregnant have been all over the press -- but the pressure to reproduce by a certain age isn't just for women marrying into the royal family. While it's important to realize when your body's ready for children, it's also to good to make sure you're emotionally ready. And if you end up deciding you don't want children, that's fine, too. Go at your own pace.

Whatever you think is wrong with your body, stop worrying about it -- you'll look back someday and realize how great you looked! The press has already made much of monitoring Kate Middleton's weight loss -- we hope she'll see this decade as a time to celebrate her body and be confident in her own skin.

There's no telling whether Kate Middleton would ever be able to follow this advice, but your 30s can be a great time to recover from the social whirlwind (read: chaos) of your 20s and learn to enjoy just spending time with yourself.

You're not 20 anymore, and hopefully a few additional years have lessened the pressure to go out every night. By now, you're likely to have a pretty strong grip on who you are: you've made headway in the career you want for yourself, you have a strong group of friends -- so why not allow yourself to have fun on your own terms, too? Kate Middleton's low-key birthday celebration -- taking in a play, followed by attending a private party -- is a testament to the fact that she knows what she enjoys and chooses that over a more raucous and possibly less meaningful extravaganza.

Your 20s are a time to define yourself -- and unfortunately, that often means defining yourself against or in relation to your peers. In your 30s you have a better appreciation of who you are -- without having to look to other woman to make sure your weight, career, style or character are okay and worthwhile.