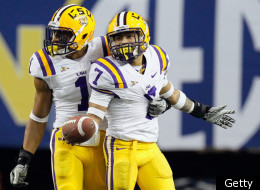 The taut 9-6 regular-season match up between Alabama and LSU could hardly have been closer. In fact, a few extra feet to the left or right on any of Alabama's four missed field goal attempts and perhaps it would be the Tide rolling into New Orleans undefeated.
As we learned in that defensive-minded tilt, when a game features squads with similar strengths and weaknesses, it tends to be remarkable individual plays -- or uncharacteristic individual gaffes -- that make the difference. Case in point: Had LSU safety Eric Reid not hustled back to tear away the ball from Alabama tight end Michael Williams at the Tiger 1-yard line in the fourth quarter then the Crimson Tide would likely have won this year's "Game of the Century" in regulation. But Reid did make the play, enabling LSU did get the ball back and ultimately secure the victory in overtime.
Ahead of tonight's BCS National Championship Game, we've dissected some of the likely candidates to make the one play that will define this game. The candidates range from Heisman finalists to back-up quarterbacks and a punter, but we feel each of them could ultimately have the final say on who wins college football's biggest prize.
Click Here To Participate In Our National Championship Predict The Winner Game
Browse the selection of game changers and vote on your choice. Think we overlooked a player who could have a big impact on the tonight's final result? Please state your case in the comments section.
One of the leaders of the stout Crimson Tide defense, you can bet Dont'a Hightower, a consensus All-American, is going to be hungry to make an impact in this game after being forced to take a medical redshirt during Alabama's run to the championship in 2009.

He may not have gotten an invite to the Heisman ceremony like his fellow secondary-mate Tyrann Mathieu, but Morris Claiborne is every bit as dangerous. Like Mathieu, Claiborne was named a first-team All-American. He's expected to be a top 10 pick in the upcoming NFL draft and should make life difficult for Crimson Tide wide receivers on Monday night.

Arguably, the most important cog in the Tide offense (with apologies to Trent Richardson), Barrett Jones is an All-American with experience mauling the opposition at all five positions along the offensive line. Expect Jones to battle LSU's best linemen all night long.

Jarrett Lee is statistically LSU's most proficient passing quarterback, but in the closing week's of LSU's season he fell behind Jordan Jefferson on the depth chart. Lee hasn't gotten much playing time since his first game against the Crimson Tide, in which he was pulled for good in the third quarter after turning the ball over. But it wouldn't be a shock to see him get reps in this game if Jefferson struggles.

Alabama lost their first match-up against LSU by three points, but missed four field goals during the game. Three of the misses were done by long kicking specialist Cade Foster, leading Nick Saban to rely more heavily of Shelley the remainder of the season. If this game is anything like the last, you can bet that his accuracy is going to be a big factor. But if the game comes down to a long kick, it will be interesting to see which kicker Saban decides to call on.

Drew Alleman has been extremely reliable for the Tigers accounting for all of LSU's points in their first match up against the Tide and knocking in 16 of 18 attempts on the season. Although Alleman is 3 for 3 on attempts between 40-49 yards, he has only attempted one field goal longer than 50 yards this season. He missed. In a game where points will be at a premium, Alleman may very well have his range tested.

It's not every game a punter is singled out as a key player, but this isn't every game and Brad Wing isn't just any punter. Wing nearly scored a touchdown on a trick play earlier this season (which was called back on an unsportsmanlike conduct penalty) and has had a very impressive punting average on the season. In the SEC championship game, Wing may have been the Tigers most valuable player averaging more than 50 yards a punt including one kick that traveled 67 yards. The team that wins the field position game should be in very good shape in this contest, making Wing and an underrated weapon for LSU.

You can't discuss Alabama's chances in this game without mentioning their Heisman Trophy finalist -- running back Trent Richardson. The Florida native actually played quite well against LSU in their first meeting, racking up more than 80 yards rushing and receiving. But the Tide's inability to punch one into the endzone would ultimately be their undoing. If Alabama's battering ram is able to put up a similar performance this game but also cross the goal line a couple of times then the Tide should be able to roll to their second championship in three years.

Michael Ford is the most explosive back on LSU's rosted and averaged 6.5 yards-per-carry against the Tide in the team's first contest -- no other SEC running back that had at least 10 carries against the Tide managed better than a 3.7 average. If LSU is going to have any luck moving the ball this game, it's likely going to be with the help of the elusive Ford who seems to be the only person in the conference capable of running on Alabama's top ranked defense.

Anybody who has watched Mathieu play needs little explanation as to why he could be a game changer. The Honey Badger has been the most disruptive defensive force in the nation this season, finding numerous ways to score and get turnovers for the Tigers. If there's a single player likeliest to change the complexion of this game with one play, it's Mathieu.

A.J. McCarron does not need to be great for the Crimson Tide to win this game, merely serviceable. The good news is that McCarron seemed to only get better for Alabama as the season progressed. The bad news is that he will be tasked with finding holes to pass into against an LSU secondary full of players destined to be playing on Sundays. Expect heavy doses of Trent Richardson, but a well-timed play-action bomb from McCarron could catch the Tigers off guard for a game-altering score.

The Tigers' fate seems to have been entrusted to the right arm of Jordan Jefferson, who won his starting job back as a result of his performance against Alabama in November in relief of Jarrett Lee. Jefferson has been solid but not great since taking over the reins. Most importantly, he has mostly avoided turning over the football. Jefferson will need to manage this game very well for LSU to win once again, but if he makes any bad decisions, expect Alabama's defense to most definitely take advantage.