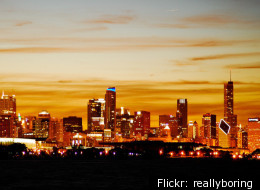 Last Week, the New York Times released its list of "The 45 Places to Go in 2012." (That's top 45 in the world.) And the first North American location on the list wasn't New York or Chicago or even San Francisco. It was the coolest new kid in the country, Oakland.
Oakland came in at number five overall on the Times list, cited for its "new restaurants and bars beckoning amid the grit." Even we have to admit that we were a bit surprised by the honor, but we were nevertheless excited. At first glance, the high ranking seemed a wee bit premature, but considering the much-lauded bar and restaurant scene, the grassroots arts community and new ideas with retail (see Popuphood), we are reminded why our Oakland really is on the international radar.
Ever since James Syhabout snagged the city's first Michelin Star for Commis in 2009, bars and restaurants have opened in Oakland with unrelenting energy. Art and nightlife lovers still flock to Art Murmur every month. And, as this last fall reminded us, Oakland still has the capacity to demand the political spotlight.
The Times focused on downtown's nightlife scene, mentioning the Fox Theater, Commis, Hawker Fare, Plum and newcomer Haven. But we've got our own list of reasons to believe in Oakland.
Check out our editor's picks for the reasons we heart Oakland in our slideshow below:
A small but formidable concert hall right downtown, The New Parish is perhaps the most amazingly underrated music venue in town. The layout offers a good view from any point in the house, and the bar serves up surprisingly good drinks. On stage, expect both local bands and big name headliners like Estelle, as well as the occasional secret show by old time favorites like Too Short and The Chris Robinson Brotherhood.

Tucked into off-the-beaten-path West Oakland, Brown Sugar Kitchen serves gourmet soul food that is absolutely worth the trip. Chef and Owner Tanya Holland is a regular on Food Network and The Cooking Channel, but the restaurant is still as unpretentious as ever. If there's a wait (and there will be a wait), brunchers can grab a cup of coffee and a bacon cheddar scallion biscuit to munch on out front. Once inside, the famous chicken and brown sugar butter waffles (the best waffles the San Francisco Chronicle's Michael Bauer has tasted) is a sure bet.

Bakesale Betty doesn't do a lot of things, but the things it does are nothing short of spectacular. The popular Temescal eatery has just two sandwich options (egg salad and fried chicken) and, if you want, you can order a take-and-bake chicken pot pie. This may not seem like much but there's a very good chance one bite of each will forever change the way you think about egg salad, fried chicken and pot pies. Let's just say Bakesale Betty is the type of place where, as you wait in the ever-present line to order, they'll bring you biscotti to munch and, yes, it's going to be the best biscotti you've ever had. - Aaron Sankin

It's hard to believe that the view above is in Oakland, but this little city is indeed full of surprises. We love Redwood Regional Park for its stunning views and empty paths, just a few miles from downtown.

Beer Revolution seems to capture Oakland's spirit perfectly with a welcoming atmosphere "where only quality, non-mainstream beer is supported and served." The beer shop and tasting bar offers an incredible selection of local and international craft beers.

There's always something romantic and vaguely hopeful about drinking where a famous novelist used to whet his or her whistle--as if some of their literary genius somehow oozed out of their pores and seeped into the barstools, just waiting to be sopped up by anyone with a valid drivers license and a desire to get tipsy. Perched at the edge of Jack London Square, Heinold's First And Last Chance Saloon was London's favorite watering hole and it's easy to imagine him drinking there over a century ago. Floor slanted from seismic activity and roof blackened from being the only commercial operation in the state still using gas lamps, Heinold's is a piece of California history that just so also happens to serve a killer Bloody Mary. - Aaron Sankin

Stepping into Cafe Van Cleef is kind of like stepping into another planet -- a planet where the only music worth listening to is red hot blues bands and it's considered uncouth to refrain from packing every inch of every wall with pictures, stuffed animal heads and virtually every type of bric-a-brac imaginable. - Aaron Sankin

By no means a part of the city's recent renaissance, Eli's Mile High Club is a solid reminder that Oakland is still Oakland. The bar slash venue slash restaurant slash art gallery slash tattoo parlor is certainly rough around the edges, but with a killer back patio, local punk bands, strong cocktails and great barbecue, there's no better spot in town on a sunny afternoon.

Tamarindo was a game-changer in Oakland and it's not hard to see why. The Old Oakland restaurant showcases beautiful Mexican dishes, as well as innovative cocktails that display just how versatile a spirit tequila really is. It was also one of the first new restaurants to open in Old Oakland, injecting a much-needed boost of nightlife into the neighborhood. Other bars and restaurants soon followed suit.

The project of a Chez Panisse alumni, Camino offers a modern interpretation of old school Bay Area cuisine. Though the calendar is marked with classic neighborhood bistro events like Crab Night at Camino, the food is anything but ordinary: Sunday's menu featured seafood stew with absinthe sauce and dishes regularly dazzle the taste buds.