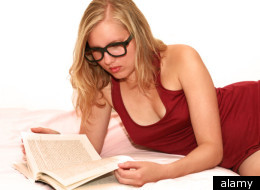 While classic literature may not be the most obvious go-to source for sex advice, according to Jack Murnighan there's nothing hotter than a good book.
Along with Maura Kelly, Murnighan is the author of "Much Ado About Loving: What Our Favorite Novels Can Teach You About Date Expectations, Not So-Great Gatsbys, and Love in the Time of Internet Personals." Their book inventories the love and sex tips we can find in other books -- in other words, a welcome alternative to some of the sex advice you find in ladymags.
"Not to disparage women's magazines, but there's obviously so much more you can do in a novel than you can do in a short essay," Murnighan said in an interview. "The fundamental difference is dramatization."
"The great thing about novels," he continued, "is that they can show instead of simply telling and we, in turn, can not only learn, but feel."
And as is clear to anyone who has ever enjoyed a bodice-ripper -- or just that famous scene in "Lady Chatterley's Lover" -- few things can be sexier than reading something sexy. In fact, Murnighan admitted that he's begun first dates with two long-term girlfriends by reading them Milton. "I don't, however, advise this as standard dating practice," he said. Instead, he recommends Lydia Davis' short story "This Condition," racier poems by E.E. Cummings, Maya Angelou and Pablo Neruda, and "Basia" ("The Kisses") by Johannes Secundus for women looking to get in the mood.
We asked Murnighan to share 10 pieces of love advice for women he gleaned from the pages of our favorite novels. His answers probably don't resemble anything you heard in an intro literature class.
SLIDESHOW: 10 Love And Sex Tips From Classic Literature
Book: "Lady Chatterley's Lover" Lesson from one of said lovers asking, "You do love me, don't you?" post-coitus: "[This is] the classic 'Don't ask!' question -- because if you have to ask it, it probably isn't the case. Even worse, what response can the other person make?"

Book: "Pride and Prejudice" Lesson from the relationship between Elizabeth Bennett and the initially off-putting Mr. Darcy: "If you have a hard time believing the complete transformation of Darcy ... it's very hard to understand why Lizzy would actually come to believe that she loved him. So, to explain, at least in part, I'd like to introduce the concept of 'champagne goggles': A distant cousin to the distorting beer goggles you get from too many Heinekens at the pub, champagne goggles come with the natural human desire to get married, causing us to romanticize, idealize, or otherwise let off the hook potential partners and their various flaws."

Book: "War and Peace" Lesson from Natasha attracting both Pierre and Andrei: "When you are joyful, when you say yes to life and have fun and project positivity all around you, you become a sun in the center of every constellation, and people want to be near you. Natasha is just such a life force, as we see in the vital scene ... when, despite being a woman, she participates in a wild chase on horseback through the woods and countryside in pursuit of a fleeing she-wolf."

Book: "The Brief Wondrous Life of Oscar Wao" Lesson from the lovable narrator's philandering: "We think we get selfhood by influencing and seducing, doing and building and earning, but a lot of men never experience the deeper, more meaningful self that can be achieved in the sharing and communing, in all the trials and triumphs, with a lifelong partner. This is all summed up rather nicely by the cheating but otherwise utterly delightful narrator of 'The Brief Wondrous Life of Oscar Wao -- Yunior de Las Casas, Dominican player extraordinaire and on-and-off lover of Oscar's sister, Lola."

Book: "The Bell Jar" Lesson from protagonist Esther Greenwood's proto-Woody Allen Complex: "If you're like Esther ... if you become appalled by any and every guy you've ever had a crush on as soon as he liked you back -- please for your sake, ask yourself what's up with that. Think about why you wouldn't be a member of any two-person club that would have you as a member."

Book: "Moby Dick" (workaholics) and "Revolutionary Road" (guys trying to find themselves). Lesson: Part 1: "Dear readers, Melville's classic is a cautionary tale that operates on as many levels as the whale symbol does, warning us -- among other things -- that a relationship in which you're yearning for closeness and face time more often than you're getting it is rarely worth it." Part 2: "It may sound funny to say this, but a person who has gone after his dreams, even if only to fail and move on, is going to be a more loving partner -- though probably not a more wealthy partner -- than someone who's always coasted by on his natural talents without ever quite living up to his promise or testing his abilities. Someone who has tried is likely to know himself, to be humble, and to have empathy."

Book: "Infinite Jest" Lesson from the narrator's incessant chatter: "And in reality, what we have is something that happens in literature more often than people realize: an author acting through his book almost exactly as he would act on a first date -- and for the same reasons. He's lonely, insecure, nervous, jumpy, and a little spazzy, in dire need of affirmation, but proud of certain parts of himself and desperate to show those to you (his date)."

Book: "A Farewell to Arms" Lesson from the affair between (macho) American Frederic Henry and Scottish nurse Catherine Barkley: "What Hemingway at times makes clear -- and to me, these are his best times -- is that even the toughest guys can run deep, even the guys who don't want to have feelings can still have feelings, and that doesn't take away from their masculinity at all."

Book: "Remembrance of Things Past" Lesson from the romantic failings of protagonist Marcel: "Sadly in many get-back-togethers, Proust's description is pretty much on the mark; there are weak moments when we can't help but covet a shared body, that sense of closeness and comfort, the freedom from problems and reality -- even if the object is completely inappropriate. What we forget, of course, is the reality will always win out, and the pleasure might 'last only a few moments.'"

Book: "The Sun Also Rises" Lesson from the sexual failings of narrator Jake Barnes while in bed with Lady Brett Ashley:"So once you have a handle on yourself not taking it personally, help him realize that he shouldn't take it personally either. He probably thinks that he's stopped being a man in your eyes, so make sure he understands that you know it's a fluke and no big deal."