'Glee' Michael Jackson Tribute Episode Photos: First Look (PHOTOS)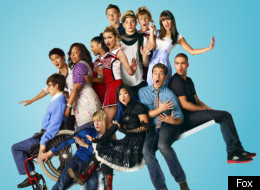 Darren Criss' Blaine and Harry Shum Jr.'s Mike take center stage in "Wanna Be Startin' Somethin'." During rehearsals, Criss said, "I'm nervous I won't be able to do some of the moves, which are so iconic and cool."
In a dream sequence set to "Scream," Kevin McHale's Artie will get up out of his wheelchair and dance. "He's probably our best male dancer, second to Harry (Shum Jr.)," says Lea Michele.