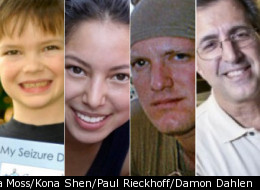 Editing a Good News section is often a lesson in the unbeatable buoyancy of the human spirit. Even in the midst of overwhelming negativity, people like retired schoolteacher Margo McAuliffe are affecting incredible change in the world.
Each day, The Huffington Post's 'Greatest Person Of The Day' editorial series profiles one person who has used creativity, passion and unlimited generosity to make a difference.
So, as we launch a section dedicated to positive and inspiring news, we're paying tribute to the greatest of the good -- we're revisiting the 10 most uplifting stories in our 'Greatest Person' series. These are men and women who are leading by example -- whether it's speaking out against bullying or cooking pasta for California's poorest children.
From Evan Moss, the 7-year-old who raised $42,000 for seizure dogs and appeared on the Today Show to Bun Lai who turned a popular Connecticut restaurant into a leader in the sustainable seafood movement, these superstars have taken ordinary circumstances and turned them into extraordinary good.
Take a look.
Bruno Serato is known for more than just serving celebrities at his Anaheim, Calif. restaurant, Anaheim White House. Instead, he's made a name for himself feeding "motel children" free pasta seven days a week. On average, Serato and his restaurant feed about 150 children, and have given away 245,000 meals to date. "A customer once asked me, 'Bruno, how can you afford to do this?' I said, 'How can I afford to stop?' This is my passion. If I could not do what I do every day, I'd be devastated." To help Serato feed hungry children, he asks that pasta donations be brought to his restaurant, or visit the nonprofit he began to help raise funds, Caterina's Club.

When Kona Shen, 23, saw the energy that Haitian children had for sports, she realized that she could utilize that energy to make a difference. She founded Global Outreach And Love of Soccer, or GOALS, which works to provide youth leadership, community development and environmental awareness through sports teams and summer camps. "Kids here don't even need a ball or cleats to excel in soccer," she said. "They have a chance when playing soccer to really excel even when they have no resources ... it's a really powerful way for kids to regain and maintain normalcy in their lives." To get involved, click here.

For as long as he can remember, Evan Moss has been suffering from epileptic seizures. One semi-successful brain surgery and thousands of seizures later, Evan, now 7, wrote a book about his epilepsy to raise money for a seizure dog, which will alert help if Evan is having a seizure. To buy Evan's inspirational book, My Seizure Dog, click here.

When Tom Wargo first introduced the idea of a food bank for pets, food banks thought he was crazy. Now he gives away 600,000 pounds of pet food a year at his four Georgia locations -- while managing to help food shelters focus on what they do best: feed people. "[People are] not going to let their animals starve, they're not going to kill them at the pound, so they're going to feed them, just like if you have kids." To learn more about Wargo's pet food banks or get involved, click here.

What started as a popular Connecticut restaurant has since transformed into the first sustainable sushi restaurant in the world. Bun Lai is the chef and owner of Miya's, which has been honored by several organizations for its work with environmentally-friendly seafood. "Sustainability is about your impact on others. Early on I knew that in whatever I chose to do for a living, I -- like my parents -- needed to impact others in a positive way. Giving and receiving are two sides of the same coin."

In 2004, Paul Rieckhoff, an Iraq War veteran, founded the Iraq and Afghanistan Veterans Association. The nonprofit is the nation's largest for Iraq and Afghanistan veterans, with some 200,000 members -- and focuses on awareness, advocacy and assistance for soldiers returning from war. "I had the support of my family, but I still felt alone as an Iraq veteran," Rieckhoff said. "And I didn't want others to feel the same." To get involved, click here.

Gabrielle Ford suffers from a degenerative neuro-muscular disorder that weakens her body's muscles. It's an illness that she tried to hide for many years. That changed when she got a dog, Izzy, who was eventually diagnosed with a similar muscle-degenerating disease. Having been a victim of bullying, Fords toured the country with her dog, speaking out against bullying, and inspiring others to do the same. "I didn't plan on affecting people, it just happened with the life story or hand I was dealt," Ford said, "One person said, 'you didn't find your meaning and purpose in life, it found you and you're a hero to thousands of students bullied in American schools every year.'" To buy Ford's book and donate to her cause, click here.

Ron Shaich, founder of Panera Bread is more than just a fast food mogul. In the last few years, Shaich has opened three Panera Cares restaurants, built around a "pay what you can" model. "A lot of investors really didn't like this idea back then," Ron said. "But I saw it as a vehicle to, shall I say, serve real food to real people. At the time, fast food had basically become self-service gas stations of the human body. We wanted to give people food they could respect."

Officially, Margo McAuliffe has long been retired. But in reality, she's nowhere close to retirement. When she finished teaching high school math in 2003, she took a trip to Kenya and decided to help fundraise for a new school there. A million dollars later, McAuliffe had helped build a school. So far 17 girls have graduated high school, and 46 more are expected to graduate next year. "It gave me helpful insights. I took away that I -- we -- need to appreciate the education that we have here." To get involved and see the school's progress, click here.

Thousands upon thousands of Christmas wish lists addressed to Santa make their way to Pete Fontana's hands each year. He is the "chief elf officer" at the New York post office, where he readies the letters for donor pick-up, then delivers the presents that volunteers bring back. "That's the best part, is meeting these people," Fontana said. "They energize me."