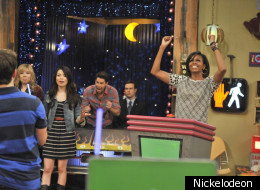 Who: Miranda Cosgrove
18-year-old Miranda Cosgrove is Nickelodeon's dearest darling. Starting off in commercials as a toddler, Cosgrove was quickly in the spotlight at 9 years old when she was cast as one of the lead children in the ever-popular Jack Black comedy "School Of Rock." From there, Nickelodeon took over and catapulted the actress into some serious levels of fame. Miranda was born and bred in Los Angeles and still considers this city the only place to call home. The teen star caught up with HuffPost LA this week to talk chocolate bread pudding, her love of The Supremes, and guest starring with First Lady Michelle Obama. We know her as Miranda, but thousands of families around the world know her best as Carly. Check out the Q&A in the slideshow below:
LA Transplant or Native Angeleno? Native Angeleno. I've lived in Los Angeles in the same house my whole life. Do you have a song that reminds you of growing up in LA? When I was in first grade, I used to love the song "Stop in the Name of Love" by the Supremes. My mom would drive me and my friends around and we'd sing it at the top of our lungs. That's one of my first memories and it always makes me think of growing up in LA. Photo: Actress Miranda Cosgrove arrives at the 2010 MTV Video Music Awards at NOKIA Theatre L.A. LIVE in Los Angeles, California. (Credit: Frederick M. Brown/Getty Images)

We all remember you as the overachieving prepster in "School Of Rock." You were 9 years old. Was that your first major role? When did you know you wanted to be in show business, and was there anything about it that scared you? I fell into show business. When I was three I was just out with my parents at a food festival and an agent came up to them. I find it crazy that my life probably would've taken a completely different path if that hadn't happened, because I love acting and singing so much I can't really see myself doing anything else. I got a part on "Drake and Josh" when I was 8 and the creator of that show, Dan Schneider, ended up creating "iCarly." My experience on "School of Rock" really made me fall in love with acting and music. Clip: YouTube

You have worked with some great comedians -- from Jack Black ("School Of Rock") to Steve Carell and Jason Segel ("Despicable Me"). What actors make you laugh the most? What movie or song has recently made you cry? I'm a big fan of strong girl comedians. My favorites are Tina Fey, Kristen Wiig, and Chelsea Handler. The last movie that made me cry was "Like Crazy." There's a song that plays over the end titles called "Dead Hearts by Stars." It's a haunting song that really made me remember my first love. Photo: Miranda Cosgrove attends the UK Premiere for 'Despicable Me' at The Empire Cinema, Leicester Square on October 11, 2010 in London, England. (Credit: Getty)

What is your favorite LA restaurant? Favorite place to get dessert? I absolutely love food. I'm always trying new places and falling in love with different restaurants. Pizzeria Mozza has great Italian food and never disappoints. Izakaya on third is my favorite sushi place of the moment. Hungry Cat, which is right by the studio I film, has the most amazing chocolate bread pudding I've ever had. Photo: Miranda Cosgrove at the 19th Annual Elton John AIDS Foundation Academy Awards Viewing Party in 2011. (Credit: Larry Busacca/Getty Images for EJAF)

Morning person or night owl? I'm a night owl all the way. I stay up until 3 a.m. a lot of nights just playing guitar and watching movies with my mom. It gets me into trouble a lot though because I usually have to get up pretty early. What do you think are the biggest misconceptions about growing up in Los Angeles? Not everybody is into the club scene. There's a whole other artsy side of LA. The beach is always fun, the Art Walk downtown is a really cool event, and I love going to concerts at the Hollywood Bowl. There are great comedy troupes in the city that some of my favorite comedians started out in. Photo: Miranda Cosgrove performs on NBC's 'Today' in Rockefeller Center in 2010 in New York City. (Credit: Astrid Stawiarz/Getty Images for Nickelodeon)

You are one of the faces of Neutrogena, alongside huge female stars like Diane Lane, Jennifer Garner, Emma Roberts, Vanessa Hudgens and Gabrielle Union. How do you define beauty? Is there anything that makes you feel un-beautiful? I think beauty comes from being yourself. I always find that I want to be friends with people that are offbeat and not afraid to embarrass themselves and just have fun. I used to feel the least beautiful when I didn't have makeup on, but over the last couple years I hardly ever wear makeup when I'm out with my friends. Photo: Nickelodeon actress and singer Miranda Cosgrove arrives at ELLE magazine's second annual Women in Music event in Los Angeles on Aug. 11, 2011 (Credit: AP).

Most embarrassing thing you've ever done on camera? Probably when I had to kiss ["iCarly" co-star] Nathan Kress because we've known each other since we were twelve and he's one of my best friends. It ended up being no big deal, but I was definitely nervous at first. Photo: Actress and singer Miranda Cosgrove during an appearance on MTV's "Total Request Live" in 2008 in New York City. (Credit: AP)

Your show "iCarly" and you have been nominated for a very long list of awards. What does it feel like to get ready for and attend a show where you are nominated? Is it all nerves or are there fun things about it? I have a great time at award shows. I love fashion and getting to try different dresses and have my hair and makeup done. Photo: Actors Miranda Cosgrove and the cast of "iCarly" celebrate after winning Favorite TV Show during Nickelodeon's 24th Annual Kids' Choice Awards at Galen Center on April 2, 2011, in Los Angeles, Calif. (Credit: Kevork Djansezian/Getty Images)

How would you describe your personal style? Is there an LA store you can't resist? My personal style changes a lot. I like to try new things. I like jeans, boots, and oversized sweaters and shirts for more casual wear, and I love dresses and high heels when I'm going out. I like sweet, girly dresses mixed with more edgy jewelry. My favorite places to shop are the Grove and the Beverly Center. Also, Opening Ceremony is a great store and there are definitely some hidden treasures on Melrose. Photo: Actors Jim Parsons and Miranda Cosgrove backstage at the 2011 People's Choice Awards at Nokia Theatre L.A. Live in Los Angeles, California. (Credit: Frazer Harrison/Getty Images for PCA)

What do you think is the most beautiful place in this city? The city has some amazing views. I'd say below the Hollywood sign is one of my favorite spots. There's a place where you can park and look out on all of LA. If you had an entire day to yourself in Los Angeles to do whatever you wanted... what would you do? I'd go to the Santa Monica Pier. I've had a lot of great memories there. The view at the top of the ferris wheel at night is beautiful and I love all the rides.

You have done quite a bit of singing both for "iCarly" soundtracks and on your own. What is the biggest difference between acting and singing for you? Do you prepare in the same way? Does one feel more natural to you? Singing for me has always been something I found on my own and wanted to do. I've been writing songs and playing guitar for as long as I can remember, and I feel lucky that because of my show, I get to share my music with a lot of people. I love going on tour, meeting fans and performing. It's completely different than acting, but both are creative and fun in different ways. A lot of my songs are about different experiences I've had, so I'd say I feel more natural singing because I'm just being myself. Photo: Miranda Cosgrove performs at the Beacon Theatre on February 5, 2011 in New York City. (Credit: Steve Mack/Getty Images)

What advice do you give to kids who want to become actors or musicians like you? I say if you know you want to do something, then don't let anyone stop you. Keep trying your best and getting better and don't ever give up. Are you often recognized around the city? What is the most common thing fans say to you? People come up to me a lot on Sunset Boulevard where I film "iCarly" and pretty often when I'm out places with my friends. Usually fans tell me their favorite episodes and lines ... and ask if I'm dating Freddie. Photo: Actress/singer Miranda Cosgrove receives flowers from a fan in Manhattan Beach, Calif. in 2008. (Credit: AP)

"iCarly" has a pretty exciting guest star next week -- First Lady Michelle Obama! How did the set transform for her visit? We know her girls are big fans. Did they come to the set? What most surprised you about working with the first lady? Having the First Lady on the show was definitely one of the most exciting days on the set. There was a lot of preparation for her arrival and lots of secret service checking out the set days before she came. We were all honored to get to have her and even though we were a little nervous, she made everyone really comfortable. What surprised me the most about the First Lady was that after spending some time with her, I realized that she's just a normal, down-to-earth person that cracks jokes and likes to dance and have fun. Photo: "iMeet The First Lady" iCarly episode. (Credit: Nickelodeon)

Speaking of presidents, in April you were honored as the "Best Role Model in a Digital Age" at the Common Sense Media Awards, alongside President Bill Clinton. How do you think you are the best role model you can be for young kids? I try my best to make smart decisions when it comes to my career and just my everyday life. I really appreciate all the families that watch "iCarly," and I think it's an honor to get to be a role model for kids. I really want to make the people that have supported me proud. Photo: Chelsea Clinton and Miranda Cosgrove attend the 7th Annual Common Sense Media Awards honoring Bill Clinton in 2011 in New York City. (Credit: Stephen Lovekin/Getty Images for Common Sense Media)

Best birthday memory in this city? One of my best birthday memories was my 18th. I had a party on a rooftop with all my favorite people. All my closest friends and family that I've known throughout the years came and we all just had a really good time. What is the craziest thing you've seen in LA? The craziest and best thing I've ever seen in LA is the entire 10 freeway coming to a complete stop with people getting out of their cars to help save a dog. LA really knows how to work together when it comes to saving animals.

What do you like to do in LA with friends who are visiting from out of town? Disneyland! I have a pass and my friends and I go a lot. I have an app on my phone that tells me how long the wait is for all the rides. When do you feel you are the most calm? I like driving. When I'm in my car just listening to music I feel really calm. Photo: Miranda Cosgrove at the 84th Annual Macy's Thanksgiving Day Parade in 2010 in New York City. (Credit: Michael Loccisano/Getty Images for Nickelodeon)

If not shooting or in the studio, where might one find you in this city? I'm a huge movie buff, so I go to the ArcLight in Hollywood all the time. I love seeing all different kinds of movies. I take a kickboxing class with my best friend and also love to bike ride around my neighborhood. Photo: Miranda Cosgrove of Nickelodeon's "iCarly." (Credit: Williams & Hirakawa/Nickelodeon© 2012 Viacom International, Inc. All Rights Reserved)

Why do you hate Los Angeles? The traffic! Why do you love Los Angeles? I love the people in LA. I love that everyone comes from different places, with different interests and dreams, and they all bring something special to the table.