Tomorrow Never Knows: A Procrastinator's Guide To Chicago's First Music Festival Of 2012 (VIDEOS)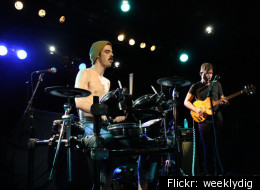 Wednesday evening marks the start of the 2012 Tomorrow Never Knows music festival in Chicago.
As the city's first music festival of the year, sneaking up annually on Chicagoans on the heels of the bustling holidays and in the midst of what is typically a dreadfully cold, treacherous month in Chicago, Tomorrow Never Knows tickets aren't usually anticipated to fly off the shelves, but, perhaps, due to the unseasonably warm temperatures to date and some really solid acts being booked, much of the festival has already sold out in advance.
Nevertheless, HuffPost Chicago wanted to present a procrastinator's guide to some of the must-see shows to which tickets, as of mid-Wednesday, remain up for grabs including shows headlined by Glass Candy, Theophilus London and Gauntlet Hair. Scroll down to check out a selection of shows we're still hoping to check out.
The festival launches its kickoff party at Lincoln Hall at 7 p.m. Wednesday and will continue with shows at Schubas Tavern, the Hideout, and the Metro through Sunday. Click here for ticket information and here to listen to a streaming mix featuring musicians playing this year's festival.
Photo of Gauntlet Hair by weeklydig via Flickr.
Tomorrow Never Knows Festival '12
Chromatics share a bill with Glass Candy, Desire and Mister Joshua. Wednesday, Jan. 11, 8 p.m. Lincoln Hall, 2424 N. Lincoln Ave.

Canon Blue share a bill with Plants And Animals, Herman Dune and Cloudbirds. Thursday, Jan. 12, 8 p.m. Schubas, 3159 N. Southport Ave.

Theophilus London plays a headlining show with Lunice, Chrome Sparks, Retrospect and DJ Misa. Friday, Jan. 13, 9 p.m. Lincoln Hall, 2424 N. Lincoln Ave.

Gauntlet Hair are joined with Caveman, Prussia and Like Pioneers. Friday, Jan. 13, 9 p.m. Schubas, 3159 N. Southport Ave.

Two Gallants headline alongside Carter Tanton, Boy and Death Ships. Sunday, Jan. 15, 9 p.m. Lincoln Hall, 2424 N. Lincoln Ave.

Plastic Plates joins Kid Color, Michael Serafini and Adulture. Sunday, Jan. 15, 10 p.m. Smart Bar, 3730 N. Clark St.