Chicago's mild winter came to an abrupt end Thursday when the season's first significant snowstorm brought what could total as much as 8 inches of the fluffy, white stuff to the area.
Temperatures are expected to plunge significantly during the storm that, as the Chicago Weather Center's meteorologist Richard Koeneman puts it, "will remind us that this is, after all, January in Chicago." Temperatures will likely dip into the 20s by Thursday evening, while the wind chill Friday morning could approach zero.
A winter weather advisory remains in effect in the Chicago area through 9 a.m. Friday.
We will be following weather and travel developments as the storm continues. Stay tuned here. Have a cool photo or snow-related story to share? Email us at chicago@huffingtonpost.com!

01/12/2012 9:55 PM EST
@ TWCBreaking :

FAA.gov says all flights bound for Chicago O'Hare (ORD) "will not be allowed to depart until at or after 8:30p EST" #snowisback
01/12/2012 3:08 PM EST
Chet Sees You.
@ CHETHAZE :

All my girls in the fur hooded jackets and the leggings I see you
01/12/2012 2:54 PM EST
Rush Hour Nightmare Looking Likely
The National Weather Service has issued a winter warning storm warning, saying snow could accumulate an inch an hour just as the evening rush hour hits.

"Heavy snowfall rates of around 1 inch per hour may make it difficult for snow removal operations to keep up in some areas late this afternoon and early this evening," the weather service said in the warning.
01/12/2012 1:03 PM EST
THE PLOWS ARE EVERYWHERE!!
Seriously. THIS is pretty cool.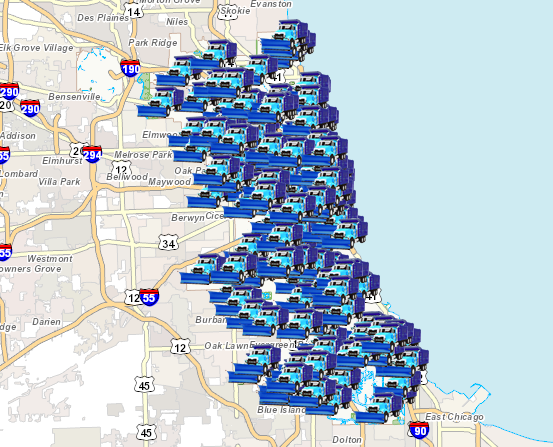 01/12/2012 12:53 PM EST
More Travel Woes
Aside from Southwest Airlines canceling all flights between 1 p.m. and 6 p.m. (for now) at Midway, the the Chicago Tribune has more bad news out of O'Hare:
At O'Hare, airlines have canceled more than 325 flights in and out of the airport. As of 11 a.m., airlines were reporting 20-minute delays for flights to and from the East Coast averaging.
01/12/2012 12:34 PM EST
@ nbcchicago :

RT @Matt_Rodewald: SW Airlines to cancel ALL flights between 1pm & 6pm to/from #Chicago Midway Airport #firstsnow
01/12/2012 12:20 PM EST
Behind The Scenes At Snow Command
FOLLOW HUFFPOST