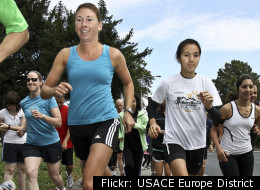 Our friends over at Food Network Magazine compiled a great list of wacky running races that all have to do with food. Though eating Twinkies while running doesn't sound like a particularly smart idea, it sure does add some fun to the miles. Pizza, however, we are totally down with. Check out some of these wacky food races below:
More from the Food Network:
Paula Deen's Recipes Get Healthy, Y'All
Chatting with the Latest Celebrity Cook-Off Exile
You don't have to eat Twinkies during this April Fool's Day race, but you get to shave two minutes off your total time if you inhale a snack cake at each of two stops along the 5K course. Race organizers say two-thirds of the 300 competitors in last year's inaugural race ate at least one cake on the run. Others waited until after crossing the finish line to treat themselves. "I ordered 500 Twinkies in preparation for the event," says organizer Amanda Mercer, "and there were no leftovers." April 1; runmichigan.com

Spots for this four-person relay race sell out within seconds during registration in February or March each year -- long before the Memorial Day weekend event. Each team member must devour a meal from a local restaurant before running, biking or swimming his or her leg of the race. Organizers didn't forget about dessert: All four team members must come back together to eat treats like ice pops or cupcakes before crossing the finish line. May 26; doughman.org Photo by Flickr user: zigazou76

No trip to New York City is complete without a slice, and this race ensures you'll have at least three while you're in the Big Apple. Each June, runners circle Tompkins Square Park four times, stopping to eat a piece of cheese pizza after each of the first three laps. If you've got your eye on one of the prizes -- a pizza stone, say, or gift certificates to local pizzerias -- start training now; the current record holder finished the 2.25-mile race in 14 minutes, 25 seconds! Date to be announced; nycpizzarun.com Photo from Flickr user: roolrool

Oklahomans kicked off last year's Tulsa State Fair with a new event: the Corn Dog Classic, a fair-food race for competitive eaters. Each runner had to finish some cotton candy after mile one, a cup of lemonade after mile two and a mini corn dog after mile three. Close to 100 runners competed in last year's inaugural race, and organizers are ready to fire up their deep fryers for round two. Date to be announced; corndogclassic5k.com Photo by Flickr user: Jeffrey Beall

Although many runners in the hugely popular Hot Chocolate Race series have asked for hot cocoa stations along the route, organizers are sticking to their plan to keep the starring drink at the end of the course -- all 1,500 gallons of it -- and just provide water during the morning 5K and 15K runs. Sign up early: Registration for the event opens, appropriately, on Valentine's Day. December 9; hotchocolate15k.com Photo by Flickr user: Jo Anslow

Read about more wacky food races over at Food Network Dish.