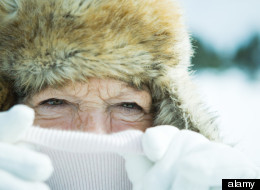 Wind. Not enough water. Dry indoor heat. Poor circulation. These are just some of the major dehydrators that can make skincare during the winter months such an arduous, uncomfortable process. Add to that the misinformation that dermatology patients take to heart, and it's no wonder we're confused about our dry, itchy skin.
"Winter skin care comes down to adequate hydration of the dermis," says Dr. Bobby Buka, a practicing dermatologist in New York City. "Most of the water we have in our skin is in the dermal layer, which is just below the epidermis, or the surface."
The trick to beating the effects of the coldest season? Help lock in moisture to the dermis while still letting the skin breathe. There are also a couple of general wellness tricks that help keep skin supple, like staying active and using cooler water to bathe. For more skin myths -- and a few better remedies to replace them with -- click through below.
While that dry heat from the radiator doesn't help, many factors can zap moisture from skin during the winter months. Increased wind can cause irritation and redness, while decreased movement can worsen circulation (preventing the water we drink from circulating to the skin cells of our lower extremities, says Buka). He explains that that's why most people tend to get dryness on the skin on their legs first. We also drink less water overall during cold months, providing less moisture. Remedy: Keep vigilant about the radiator, but also make an effort to stay active for improved blood circulation -- and drink water, even if you don't feel thirsty.

Dermatologists used to recommend thick, impenetrable moisturizers that sealed in moisture -- things like petrolatum (most famously known as Vaseline) or prescription ointments with aquaphor, a blend of petrolatum, lanolin and glycerin. And while those emollients do work to prevent water from exiting the dermis, they can also cause acne, hair follicle irritation and a residue on skin that stains clothes and sheets. And even if it doesn't cause acne, petrolatum won't deeply penetrate the skin, says Sarah Dakar, vice president of Research & Development for Sonya Dakar Skincare. Remedy: Buka recommends using a ceramide-based moisturizer. Ceramides are naturally-occurring lipids between skin cells that work to deliver moisture to the cells and help it stay there. "You can think of skin cells as the brick and ceramides as the mortar," he says.

Conventional wisdom has long been that you must apply moisturizer within 20 minutes of bathing while the skin is still damp in order to take advantage of the leftover water on the skin's surface. But emerging research shows that the timing of a person's moisturizer routine won't increase the skin's hydration. In a small study from the University of California San Francisco Medical Center, researchers found that ten participants (aged 11 to 30), half of whom were prone to eczema, had a 40 percent increase in skin moisture levels 90 minutes after moisturizing whether they used a lotion immediately after bathing or several hours later. What's more, when the participants moisturized without taking a bath at all, their moisture retention more than doubled in the 90 minutes. When they bathed without adding moisture, there was a nearly 10 percent decrease in moisture retention. Remedy: Moisturize often, but consider changing your bathing routine as well: "Take shorter showers and baths in the winter and consider making them less hot," advises Dakar. "That's very drying."

When we think of atopic dermatitis, known as eczema, we often consider it an allergic reaction. And while it is an immune system response, the irritant isn't always a harsh soap or other allergen. According to Buka, wind can inflame eczema, causing flare-ups among those who are prone to the chronic skin condition. Remedy: Try an over-the-counter hydrocortisone, which can cut down on inflammation. If it persists, see a dermatologist.

Between the chapping effect of wind and close contact with irritants like hot drinks, winter is unkind to lips. An old, but persistent rumor suggests that lip balm, meant to hydrate dry and chapped lips, actually robs the lip skin of moisture, making it reliant on a balm for hydration. But Buka says there is nothing physiologically drying or habit-forming about lip balms. Remedy: Be vigilant about drying factors with lips. Here is one place you can use a heavy, petrolatum-based moisturizer: lips don't have hair follicles, so there's no danger of clogging follicles and causing acne.