'Tangled Ever After' Wedding: Rapunzel And Flynn Get Hitched In Preview Of Short (VIDEO)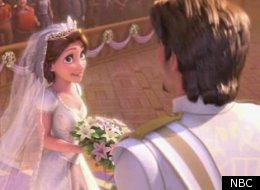 One of Disney's favorite couples, Rapunzel and Flynn Ryder, will be tying the knot on the big screen in an adorable short film called "Tangled Ever After." The short will play before "Beauty and the Beast 3D", which was just released in theaters Friday.
"Tangled Ever After" is the highly-anticipated mini-sequel to the 2010 movie, "Tangled" and will follow the couple on their mishap-filled wedding day.
In this sneak peek from the film, Rapunzel (voiced by Mandy Moore) and Flynn (Zachary Levi) are just about to exchange their vows when their adorable steed Maximus sneezes...watch what happens: