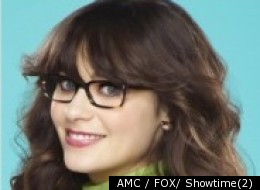 Before Bryan Cranston was cooking up meth as Walt White, before Zooey Deschanel played Jess, the most enthusiastic girl in horn-rimmed glasses, before Alec Baldwin met Tina Fey and before Claire Danes started obsessively investigating terrorists, they all made previous forays into the world of television.
Of course, now they're 2012 Golden Globes nominees. But take a look back at where their small screen careers began. Which nominee had a bit part on the series finale of "Party of Five" and who got the crap kicked out of him by Don Johnson and Willie Nelson's characters on "Miami Vice"?
Find out in the slideshow below of Golden Globes-nominated TV stars earlier small screen appearances.
Before They Were Nominees: Globes Nominees Earlier TV Appearances
In the mid-'80s, Baldwin played a man abandoned as a baby, who comes to Knots Landing as a young preacher. Of course, thanks to forever drama-filled soap style, his character Joshua eventually becomes an abusive televangelist husband. Does it sound like a show Baldwin's Golden Globe-winning character Jack Donaghy would want for Kabeltown on "30 Rock"?

A soft-spoken Zooey Deschanel played a mentee on a 1998 episode "Veronica's Closet" who wants to be a model because she's "really good at standing and sitting really still" and "not blinking." Considering she has one monologue in the episode, she's clearly a far cry from Deschanel's Jess on "New Girl," which earned her a Golden Globe nomination.

A few years before he would earn Golden Globe nominations for his role as patriarch on "Malcolm in the Middle" and more than a decade before he'd win the award for playing a meth-making chem teacher on "Breaking Bad," Cranston had a recurring role on "Seinfeld." As Tim Whatley, Jerry's dentist, Cranston made several appearances, usually as some sort of manifestation of Jerry's dental paranoia. And check out the hair!

Before she earned a Golden Globe nod for Best Actress In A TV Drama as The Hampton's bandage-dress wearing Ice Queen, Victoria Greyson on ABC's "Revenge," Stowe played blind artist Annie Crane on a 1980 episode of "Little House On the Prairie."

Buscemi just can't seem to stay away from a good on-screen butt kicking. On a 1986 episode of "Miami Vice," Don Johnson and Willie Nelson's characters deliver a massive beating to Buscemi's. And Nucky Thompson -- Buscemi's Golden Globe-winning "Boardwalk Empire" character -- can definitely feel the pain.

As amazing as Danes is as Carrie on "Homeland" -- hence the nomination for Best Actress In A TV Drama -- it's really her iconic red-headed angst-filled Angela Chase from "My So-Called Life" where we first fell in love with her.

On the second episode of "St. Elsewhere," a baby-faced Tim Robbins played a homegrown terrorist who bombed a bank, wounding an innocent bystander and himself. Clearly keen on playing the villain, the esteemed actor played cheating family man Bill Loud in HBO's "Cinema Verite," earning him a Globe nomination.

Some things never change. On a 2002 episode of "My Wife and Kids," Vergara played a sexy, Spanish-speaking salsa teacher named Selma, threatening Michael's (Damon Wayans) wife. Though she does little dancing as Gloria on "Modern Family," her looks still play a part in her hilarious performance that's earned her two Golden Globes nominations.

In the very early '90s, Duchovny had a three-episode arc as a flirty DEA officer, who was formerly Dennis, but becomes Denise Bryson. It wasn't too long after that that Duchovny was winning a Golden Globe for his performance on "The X Files" and now, he's racking them up again as sex-addicted erratic writer Hank Moody on "Californication."

Wood has been spending a lot of time on TV lately: Apart from her Golden Globe-nominated performance in the "Mildred Pierce" miniseries, her stint on "True Blood" was a fan favorite. And though she's now a movie star, the small screen is where Wood began her career. From 1999 to 2002, she was on "Once and Again" as pre-teen Jessie. The character struggled with an eating disorder and her sexuality, as you can see in this clip with Mischa Barton (who played Katie).

Check out the Golden Globe-nominated actor behind "Modern Family's" hilarious Cam as a scruffy-faced mover (at 4:51) helping the Salinger's move out of their longtime home on the series finale of "Party of Five."

Before she decided Knope We Can on "Parks and Recreation," Amy Poehler was, of course, a "Saturday Night Live" staple. But before that, she made a very brief appearance on a 1998 episode of "Spin City." Check it out at 3:55 as desperately-apartment-seeking "Susan" gets frightened by devil worship.

Galecki has been on the small screen for two decades now and it all started with "Roseanne." For five years, he played Darlene's (Sara Gilbert) equally curly-haired boyfriend (and eventual husband) David. Now, he's earned a Golden Globe nomination for his portrayal of Leonard Hofstadter on "The Big Bang Theory," but he hasn't strayed from the show that first brought him into the spotlight: Both Gilbert and Laurie Metcalf (who played Roseanne's sister, Jackie) have had recurring roles on "Big Bang."

Before Dern became the Golden Globe-nominated star of "Enlightened," she brought a different element of enlightenment to the small screen back in the legendary 1997 "Puppy Episode," in which Ellen came out and Dern played Susan, the first woman she fell for.

Of course, LeBlanc's television past is not under the radar. For 10 years, he played Italian Casanova Joey Tribbiani on "Friends." But did you know he played the same character on three different series? Check out LeBlanc as spacey greaser Vinnie Verducci, here on "Married ... With Children" in 1991, but he also took Vinnie to "Top of the Heap" and "Vinnie & Bobby." It seems "Episodes," which earned him a Golden Globe nomination this year, is the only show in which he didn't play a ditzy Italian.

Her performance as Sarah Linden -- a homicide detective heading up the investigation of Rosie Larsen's murder -- earned Enos a Golden Globe nod. But not long before "The Killing" kicked off, she was playing twin sister wives Kathy and JoDean Marquart in the third and fourth seasons on "Big Love."

Dinklage has already earned an Emmy for his performance as Tyrion Lannister on "Game of Thrones." But the Golden Globe nominee had a stint on "Nip/Tuck" in the modern day as Marlowe Sawyer, a nurse who helps care for Julia (Joely Richardson) and Sean's (Dylan Walsh) newborn boy Conor. In his 2006 episodes, Marlowe interjected his opinion about what to do about the baby's deformed hands and things got a bit complicated.

Though many are first learning Thorne's name thanks to her Golden Globe nomination for "Necessary Roughness," she's been a small screen mainstay for years. Besides her role on "Rescue Me," she also played Det. Laura Ballard for two seasons on "Homicide: Life on the Street."

For three seasons, Elba played Stringer Bell, who served as drug kingpin Avon Barksdale's second in command on the critically acclaimed drama, "The Wire." Though the British actor has been nominated for an Emmy for a guest stint on "The Big C," it's his latest work in "Luther" that's gotten him both an Emmy and a Golden Globe nod.

Anyone who saw the 2001 World War II miniseries "Band of Brothers" was not at all surprised by Lewis' impressive performance in "Homeland." For most of the episodes, he led the cast as Major Richard Winters, whose right-hand man was future "Sex and the City" star Ron Livingston and whose enemy was former "Friends" funny man David Schwimmer. Clearly, Lewis does good work while in uniform.