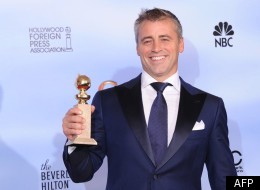 The winners of the 2012 Golden Globe Awards certainly weren't TV's usual suspects. In most categories, the stars and shows being represented at the winners' mic were ones audiences aren't exactly interested in. TV winners at this year's Globes proved that Nielsen ratings mean little to the Hollywood Foreign Press Association, who gave nearly all of its small screen awards to actors and series in their first season.
It didn't seem to matter that few people have even seen an episode of "Enlightened" or "Episodes" -- or that "American Horror Story" is one of the most divisive shows among critics.
"Boss" star Kelsey Grammer, for example, beat out fan favorites Steve Buscemi ("Boardwalk Empire"), Bryan Cranston ("Breaking Bad") and Damian Lewis ("Homeland") to earn the title of Best Actor in a TV Drama.
Interestingly enough, two of the winning stars were people we were surprised to even see nominated in December.
So who should have gotten a statuette and who should be giving his/her's back? Click the slideshow below and let us know who you think was undeserving or neglected at the 2012 Golden Globes.
Golden Globes 2012: TV Snubs & Surprises
How YOU doin', Hollywood Foreign Press voters? Guess the HFPA is comprised of big "Friends" fans. Matt LeBlanc's win for Best Comedy Actor might've been the biggest shock of the night -- he beat out Alec Baldwin, David Duchovny, Johnny Galecki and Thomas Jane, all of whom star on more critically-acclaimed shows -- for playing a more exaggerated version of "himself" on under-the-radar Showtime show "Episodes."

This was Poehler's first Golden Globe nod, and we had high hopes that she'd go home a winner. Alas, Laura Dern took home the gold for HBO's freshman not-really-a-comedy "Enlightened." We'd like to send over a clip reel of Poehler's finest moments as Leslie Knope to enlighten the HFPA. Knope she can!

A frequent Golden Globe name, Jessica Lange has been nominated 12 times and this is her fifth win. Beating out a "Downton Abbey" dame and a "Modern Family" funny lady, among others, Lange representing for FX's twisted freshman thriller was as shocking as the show can be.

This one was a very welcome surprise. Idris Elba is so insanely good in "Luther," but he had stiff competition in this category -- including William Hurt on his sixth nomination with no wins; previous winner Bill Nighy; and Elba's fellow "The Wire" alum Dominic West. So we were thrilled that the award went to Elba.

They say it's an honor just to be nominated, but we'd have to ask Bryan Cranston about that. The three-time nominee has never won, and tonight he lost out to Kelsey Grammer from "Boss." Really? We thought the race was between Cranston and "Homeland" star Damian Lewis, but guess the HFPA has a soft spot for Grammer (he's been nominated nine times, won 3). Also, we're pretty sure presenter Paula Patton called him "Bryan Crasston," but that's just salt in the wound ...