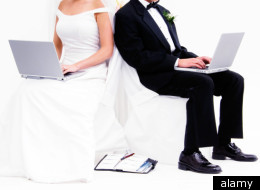 It's no surprise that the Internet has made the wedding planning process a little bit easier for couples everywhere -- with websites that put the bridal world at your fingertips, clever wedding-planning apps, and services like Google Docs, which some have dubbed "the perfect bridesmaid."
But some brides and grooms are choosing to use technology in big ways on their Big Days, too.
From video-conferencing to texting, couples are taking advantage of the fact that technology can bring people together -- no matter how many miles separate them.
Click through the slideshow below to see how brides and grooms have shared their weddings using modern technology.
In August 2011, bride Ashley Broering was crushed when doctors told her that her cancer stricken mother might be too sick to attend her wedding day. But in the end, her mother, Patty Davisson, was still able to attend -- via Skype. Using a pair of laptops and headphones, the proud Mother of the Bride was able to watch the entire ceremony -- from the vows to the cutting of the cake. Davisson passed away just three weeks later.

In March 2011, groom Samuel Kim fell ill with a lung infection and landed himself in a hospital isolation ward -- right before his wedding. But instead of pushing back the wedding date, Kim and his fiancee decided to marry via video conferencing system Skype. Even though he was in the hospital, Kim donned a suit, and his brave bride stood alone in a white gown at the altar -- while he was projected on a big screen at the church where they were to be married. Over 500 guests attended.

Maryland groom Dana Hanna surprised everyone--including the bride--when he pulled out his Blackberry at his own wedding in 2009 to update his status on Facebook and Twitter. His tweet? "Standing at the altar with [Tracy Page] where just a second ago, she became my wife! Gotta go, time to kiss my bride." The minister could only reply: "It's official on Facebook; it's official in my book."

When bridesmaid Renee Armstrong told bride Jamie Wilborn that she wouldn't be able to physically attend her wedding in August 2008, the two devised a way to make it work -- with modern technology. The solution? Armstrong would attend via iPad. Even though she wasn't physically there, Armstrong was very present at the ceremony -- chatting with guests, posing for pictures and more -- even though she was 1,600 miles away. Clever!

Perhaps this bride is a little too connected to modern technology! In this video clip from August 2008, the bride is seen texting just after her father walks her down the aisle. Was it part of some modern vow-exchange at the wedding ceremony? Who knows!