'Occupy Congress' Protesters Swarm Capitol Hill To Represent The 99 Percent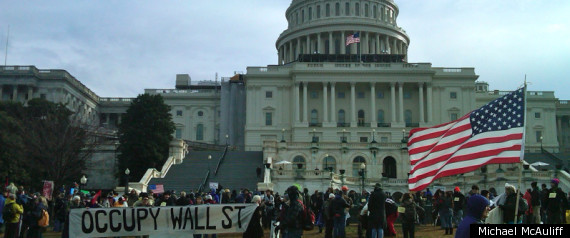 A diverse crowd of hundreds from around the country descended on Capitol Hill Tuesday as the Occupy movement tried to get its point across to a Congress returning from a long recess.
"We came to add to the numbers, to be heard," said Rosetta Star, a social entrepreneur from Asheville, N.C. "We came to inspire others; we came to inspire our children. We came because we can't sit still and pretend like nothing is going wrong, when we feel like the collective bus of the country is getting driven off a cliff."
Star, who with her husband, Jack, runs the restaurant Rosetta's Kitchen and a compostable packaging firm, Jack's Boxes, as well as a third business, said she wanted Congress to stop paying the majority of its attention to the most fortunate.
"Our systems are flawed by a for-profit mentality, and therefore the needs of the masses are being ignored for the profits of the few," said Star, who is managing to make a go of her own entrepreneurial ventures while balancing activism.
"We make a living between hustling for those three different small businesses," said Star, who traveled to Washington with her four children and one of their friends, as well as her father. "We even make a living enough that we got a hotel when we came to Occupy."
"Grandpa and the boys camped" though, she added.
Ryan Blackwell, 18, of Columbia, Mo., said he joined up with Occupy D.C. a week before Thanksgiving, much to his parents' displeasure. "Let's just say I had to defriend them on Facebook," he said.
For all his difficulty with his family, Blackwell saw in Tuesday's gathering a chance for his voice to be heard. "It's gorgeous," he said, referring to a crowd that started small, but was well into the hundreds by early afternoon. "We want our rights back."
Like Star, the teenager pointed to a growing economic disparity in America, but also named as infringements things such as the recent passage of the National Defense Authorization Act, which codifies indefinite military detention of American terrorism suspects. "It's evil," he said.
Roland Fellot, 52, a health inspector from Silver Spring, Md., volunteered to carry a sign calling for the reinstatement of the Glass-Steagall Act, the measure repealed during the Clinton administration that allowed banks and investment houses to unite their businesses. Many blame the measure for allowing banks to get infected with the toxic mortgage assets that sparked the 2008 meltdown.
"The connection to Occupy is that when the backers of removing this actually got their way and they did away with it, that was just a typical example of the top 1 percent, the wealthy, influencing enough politicians here on Capitol Hill to get what they want," Fellot said.
But he said the message demonstrators want to convey is larger than a bill or two.
"The Occupy movement and the issue about 1 percent is so much beyond just one or two acts. It's about the whole system," Fellot said. "The super wealthy have always been heard, and they've usually gotten what they wanted. What's happened of late is they're the only ones who get heard."
"Congress has been screwing us for far too long, and I'm not okay with that, and neither are a lot of people," said Deejay Paredi, 20, of Charlotte, N.C., also singling out the NDAA, which President Obama signed on New Year's Eve.
"It's really taking our rights away, and most Americans do not even realize what's going on," Paredi said. "So I feel like it's up to those of us who are aware to make ourselves heard. Most of this I feel is being done on the down-low. Unless you actually care and are actually interested in what's happening in the government -- most people aren't and don't care -- you don't know that this is happening."
The crowd was largely calm, although a handful of people were arrested for apparently testing the limits of the boundaries set by Capitol Police. One man, William Griffin, was charged with assault on a police officer, a police spokeswoman said. Members of the protest tweeted at the time that police instigated the altercation. Nathaniel Schrier, Clinton Boyd and Heron Boyce were charged with crossing a police line, said Sgt. Kimberly Schneider.
Prostesters also walked the halls of Congress without apparent incident, visiting members' offices, although many lawmakers still had not yet returned to work. By Tuesday afternoon, hundreds of protesters spread out through the halls.
Overall, the protest had much the feel of 2009's Tea Party rallies, minus the tri-corner hats. There were even a handful of the "Don't Tread On Me" flags that have become iconic for the conservative movement.
Rosetta Star said the atmosphere did not surprise her. "I believe that the Occupy movement and the Tea Party movement have a huge amount in common," she said, noting that she has reached out to more traditionally conservative groups in her community on the belief that they share similar problems.
"If we could figure out what we all have in common, then we could truly be the 99 percent," she said. "The 99 percent right now is a slogan that's been taken but hasn't actually been represented. People are trying to, and it's true that the negative situations are being experienced by the 99 percent."
Star said she thought moments like Tuesday's protest would help raise that awareness.
"I believe that we are going to hit a tipping point, and it's kind of un-ignorable and unavoidable," she said, with her 3-year-old clambering around on her back. "The tipping point for me would be when 99 percent of the people become politically active, they participate on some level with what's happening around them in the world that they're living in, other than just their own families immediate needs."
One big difference between the Tea Party and the Occupy movement is that the Tea Party was organized in part as a deliberate electoral effort that helped the Republican Party take over the House of Representatives in 2010. It is not clear what impact Occupy will have in the fall's campaign season, although Democrats have been trying to harness at least some of the energy and feelings expressed by the movement.
Still, Star said that she will keep at it whether others do or not.
"I will always fight the good fight regardless of the expected outcome so that I can always feel clear looking at myself in the mirror, and looking back and reflecting on my own life and my own choices," she said. "Apathy is the worst poison in my mind."
Michael McAuliff covers politics and Congress for The Huffington Post. Talk to him on Facebook.
Related on HuffPost:
Via HuffPost Miami:
When an Occupy Miami member offered evicted protestors vacant apartments in a building he owns in Downtown Miami's Overtown neighborhood, it seemed like the perfect solution: the 'Peace City' space would provide headquarters for the movement and shelter a small faction of the group's most vulnerable members. But it hasn't gone well. Other tenants say the building has become a cesspool of drug use and violence while non-resident Occupy Miami members are trying to distance themselves from the 'radicals' -- all while the two factions are wrestling for control over Occupy Miami's social media sites and future plans.
The feud between the Overtown occupiers and more mainstream members has only gotten worse. The two factions are now battling for control of Occupy Miami's social media sites. The movement's main Twitter account recently announced it had been "hijacked by a small, non-consensus group of radical members." The Occupy Miami Facebook page was also temporarily hacked by someone inside Peace City. Meanwhile, the Overtown occupation is slowly driving away more moderate members.

"This is a black eye on the Occupy movement," says Shannon Reaze, an Overtown community organizer and Occupy Miami supporter who is now helping tenants move out of Paz's building. "The violence and drugs going on here are way outside of what I thought Occupy stood for. This place is destabilized."

...The supposedly hard-core activists here spend their days drinking and getting high. And as Peace City devolves into lawlessness, the most committed occupiers are leaving. Local landowners and politicians want the place shut down, while cops are suspicious. Yet as long as Paz wants the protesters around, nothing short of a demolition order can keep them out.
Subscribe to the HuffPost Hill newsletter!