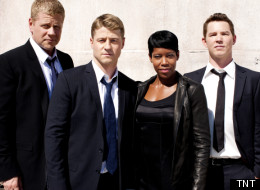 "Southland" is one of those show that always delivers, both as a strong police procedural and a compelling character drama. With the show's return (Season 4 premieres Tues., Jan. 17, 10 p.m. EST on TNT), we thought we'd take a look at why it's so addictive.
Of course the characters are always at the heart of this show -- when the new season kicks off, Officer John Cooper (Michael Cudlitz) is back after some rehab and joined by a new partner; Officer Ben Sherman (Ben McKenzie) is no longer the "boot"; Det. Sammy Bryant (Shawn Hatosy) is moving on after the death of his partner and the birth of his baby; and Det. Lydia Adams (Regina King) continues to let her work and personal life intersect. But there's more to a good TV series than just compelling characters.
When you break them down, all of the best TV detective shows have some similarities that help make them a success. Here are seven elements to build a detective show that all-time favorites, like "The Shield," "The Wire," "Law & Order," "CSI" and "Southland," have mastered.
How To Build A Detective Show
Audiences are automatically inclined to feel a separation between themselves and law enforcement, even on TV, so giving on-screen cops and detectives real-world problems helps to instantly evaporate any disconnect. "The Shield" had some of the most flawed cops in the business and L.A.'s finest on "Southland" aren't exactly perfect either. The worst of Dr. John Cooper's (Michael Cudlitz) addiction to pain meds might be behind him, but that doesn't mean he'll ever be perfect.

People often complain that there's not enough diversity on TV, but if you're trying to capture a realistic glimpse at life on a police force, diversity is key. "Southland" already boasts a pretty varied cast, but it's even more so this season with the addition of Lucy Liu, Dorian Missick and Lou Diamond Phillips to the cast.

Realism is key, and the stakes don't ever feel real if no one's life is truly on the line. Yes, people get wounded in action, but more believable than that is having a major character die in the line of duty. "NCIS" killed off Agent Caitlin Todd (Sasha Alexander) in a shocking Season 2 finale and "CSI" left Warrick Brown (Gary Dourdan) shot to death after eight seasons on the show. "Southland" took a page from that same book, saying goodbye to Det. Nate Moretta (Kevin Alejandro) last season after a shootout.

In real life, the bad guys don't always get caught, and "The Wire" was one of the best examples of that. Omar Little (Michael K. Williams) killed Stringer Bell (recent Golden Globe winner Idris Elba) in Season 3, and finally got his due when he was shot in Season 5, which meant that neither of the show's career criminals got locked away as punishment -- they died on the streets they ran. "Southland" has shied away from larger story arcs in recent seasons so the antagonists aren't nearly as well known, but they do make a point to show cases hitting snags or cops catching the wrong guy every now and then.

We didn't often see Det. Elliot Stabler's (Christopher Meloni) home life on "Law & Order: SVU," but when we did, it always reminded us why he was so good at his job, and also why he and partner Olivia Benson (Mariska Hargitay) could never be together in real life. Same goes for "Southland" -- what keeps these characters from being too one-note is seeing them out of uniform. Knowing that Cooper is still coming to terms with his sexuality, Ben is a bit of a playboy, Lydia is romantically challenged and Sammy will always have drama with Tammy makes us worry about these cops even more when they're on duty.

"The Shield" worked for six seasons not because viewers thought the cops at the Barn were in the right, but because they felt like a part of their investigations, chases and crackdowns. "Southland" uses some similar techniques to get that same reaction, including a generous dose of shaky cam during the more intense, adrenaline rush-inducing scenes. If you feel nauseas watching it, imagine how cops feel living it.

We may not know what a 417 is, but the second we see a perp holding a gun, we can pretty much guess that it means someone's brandishing a weapon. (It does.) The beauty of good cop shows is that they don't try to dumb things down for audiences. (You'll see plenty of "Code 7" calls in the "Southland" premiere -- Liu's character, Officer Jessica Tang, loves a good meal break.) Some complain that "Southland" is too fast-paced in that regard, but in our minds, that's what keeps it smart and interesting.